Donald Trump Jr. Attacking Biden For Not Curing Cancer Left Senator 'At a Loss For Words'
First son Donald Trump Jr.'s attack at leading Democratic 2020 presidential candidate Joe Biden regarding cancer during President Donald Trump's reelection campaign launch Tuesday left a senator "at a loss for words."
Trump Jr. at this father's campaign kickoff rally in Orlando said, "What was the good one last week? Remember? Joe Biden comes out, 'Well if you elect me president, I'm going to cure cancer,'" referring to the former vice president's announcement in Iowa that he would seek to find a cure for the disease.
"Wow, why the hell didn't you do that over the last 50 years, Joe?" Trump Jr. said addressing Biden, who lost his son Beau to brain cancer.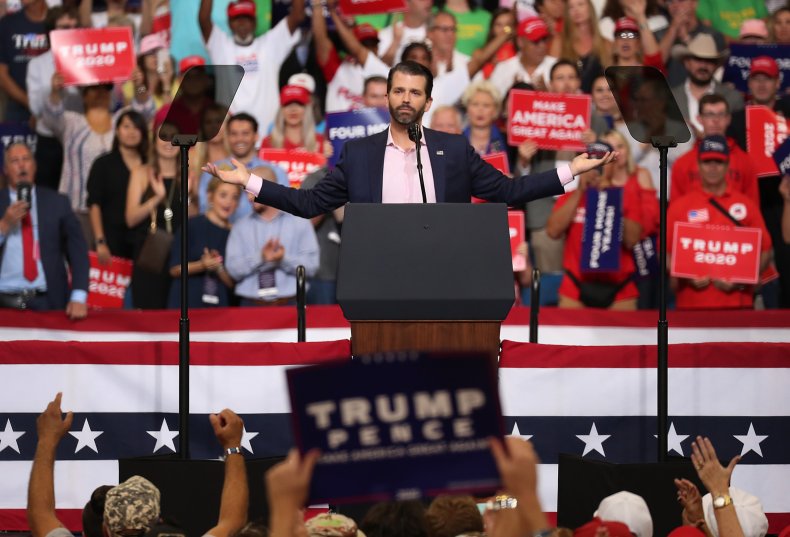 CNN's New Day co-anchor John Berman on Wednesday morning asked an opinion from independent Maine Senator Angus King, who has had successful battles with cancer. Berman noted that Biden has made cancer one of the defining causes in his career as a politician and played the clip of Trump Jr.'s comment.
"Why would anybody say something like that?" King reacted. "I mean, I'm not usually at a loss for words. But I am on that one. That's outrageous."
King continued that cancer "is a deeply personal issue" for Biden and pointed out that the former vice president has talked about the Cancer Moonshot, a coalition the Obama administration launched with the aim of developing vaccine-based immunotherapies against cancer.
"We've learned in our country in the past that when we put the resources toward a problem, it can go a long way," King said. "Cancer is a very complicated, awful, awful disease. It strikes families all over this country and if Joe Biden wants to take that on as one of his priorities, more power to him."
King concluded: "But to criticize him for it is just ridiculous."
After Trump Jr. mocked Biden, Trump pledged at his rally that curing cancer would be one of his goals, too.
"We will push onward with new medical frontiers. We will come up with the cures to many, many problems, to many, many diseases—including cancer and others," Trump said. "And we're getting closer all the time."
Trump also promised to "eradicate AIDS in America once and for all" and "lay the foundation" for landing in Mars.
Biden at his campaign rally in Ottumwa, Iowa, last week brought up his son's death and put out his cancer promise.
"A lot of you understand what loss is and when loss occurs, you know that people come up to you and tell you 'I understand' if you lose a husband, a wife, a son, a daughter, a family member," Biden said. "That's why I've worked so hard in my career to make sure that—I promise you if I'm elected president, you're going to see the single most important thing that changes America, we're going to cure cancer."