Donald Trump Jr. Says 'Red Pill' Groups Allow Conservatives to 'Express Themselves'
Donald Trump Jr. penned an op-ed for The Hill complaining that "Big Tech" companies are "censoring" conservatives, claiming algorithms penalized the right-wing terms "SJW" and "Red Pill" among others.
The president's son and prolific user of social media lashed out at Facebook, Twitter, YouTube and other Silicon Valley companies, arguing the government should step in and regulate the private companies to ensure they stop "censoring" conservative opinions and figures. Trump's op-ed includes 19 links out to third-party sources to try and prove his anti-conservative bias theory, with 12 of those links sending readers over to Breitbart News. Trump Jr. laments "shadowbans" and Facebook's alleged "deboosting" of conservative thought, but primarily relies on the frequently discredited Project Veritas website to prove this point.
One of those claims is Facebook "deliberately tailored its algorithm to recognize the syntax and style popular among conservative in order to 'deboost' that content." Trump says the terms "mainstream media, Social Justice Warrior (SJW) and "Red Pill" are "all terms that conservatives often use to express themselves."
"Red Pill" and the concept of one being "red pilled" is rooted in the legendary 1999 science fiction film The Matrix, in which the main character can return to blissful ignorance with a blue pill or opt for truth and knowledge via the red pill. But the concept was co-opted by men's rights groups and other far-right wing online cults. Male gender inequality and rape threats from the rabid "red pill" groups caused Reddit to ban wide swaths of the community.
Much of the "Red Pill" community on Reddit has been quarantined with warnings of "highly offensive" misogynistic content. Top posts espouse absurd and bizarre macho advice to readers including, "How to Get Laid Like a Warlord" and "A girl can ONLY get horny for you if you have a stronger frame than her."
One of the banned "Red Pill" subreddits is that of the "incels" or involuntary celibates, who blame women for their inability to engage in sexual behavior or develop meaningful relationships.
Other conservative figures including Turning Point USA Communications Director Candace Owens have embraced the term to simply imply enlightenment despite the hard realities right-wing persons believe they embody. Owens's popular YouTube channel was entitled "Red Black Pill."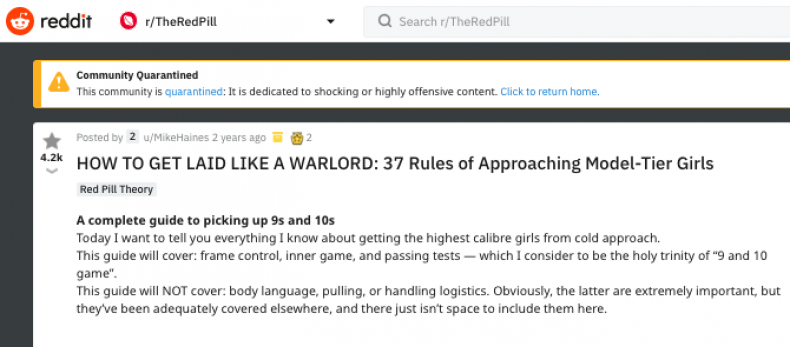 Trump Jr.'s claim that "expressive" conservative terms such as "Red Pill" were flagged and "deboosted" by Facebook were reported by a supposed company "insider" who worked in one of the Facebook's moderation teams, purportedly policing political speech. Trump Jr. goes on to urge Republican lawmakers such as Sen. Josh Hawley of Missouri to attack Silicon Valley's hijacking of "conservatives' innate faith in the free-market system and respect for private property."
Trump Jr. continued, "Hawley demolished the absurd notion that 'conservative principles' preclude taking action to ensure free debate online simply because Big Tech firms—the most powerful corporations in the world—are private companies."