Donald Trump Jr. Blames 'Atmosphere of Hatred' for Attacks on Father's Response to Charlottesville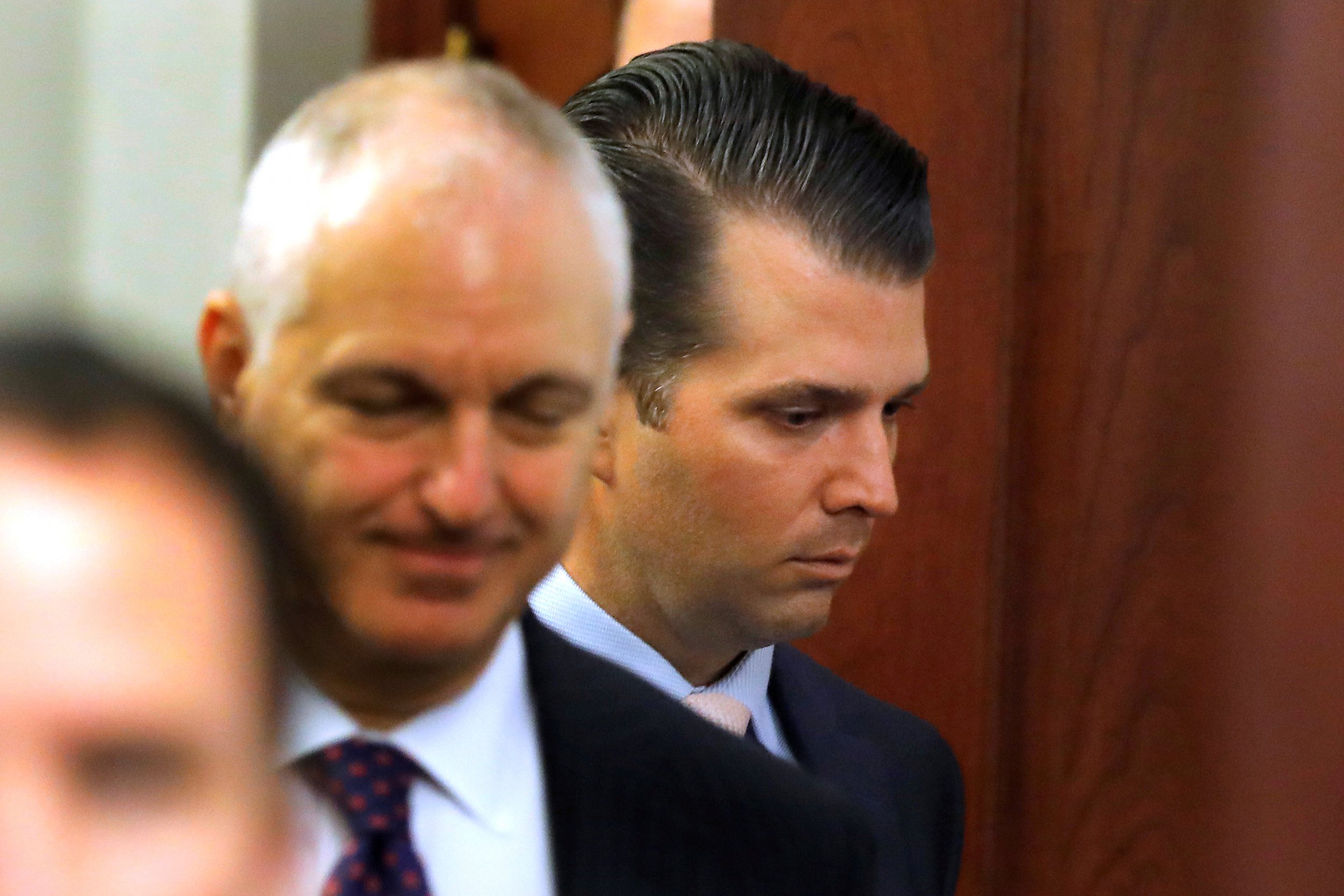 Donald Trump Jr. has sprung to the defense of his father, President Donald Trump, over his reaction to the violence in Charlottesville, Virginia, describing an "atmosphere of hatred."
He said the criticism of Trump's response to Charlottesville—after which the president said that "both sides," white nationalists and left-wing protesters, were to blame—was due to the spread of hatred by students on liberal university campuses and the left-wing media.
Speaking at an annual fundraising event for Faulkner University, a private Christian institution in Alabama, Trump Jr. said, "He condemned...the white nationalists and the left-wingers. That should not have been controversial, but it was."
Trump Jr. was referring to the riots in Charlottesville in reaction to the march of neo-Nazis through the town. Violence left one protester, Heather Heyer, dead, and many more injured.
He then took aim at left-wing protests where conservative figures have been scheduled to speak, and a culture at colleges that he said taught young Americans to "hate their country" and "hate their religion."
"'Hate speech' is that America is a good country... that we need borders... anything that comes out of the mouth of the president... the moral teaching of the Bible," he said.
Trump's eldest son, Donald Trump Jr., spoke about another incident of left-wing violence when suspected Democrat supporter James Hodgkinson shot at Republican lawmakers at a baseball practice in June, severely injuring Rep. Steve Scalise of Louisiana.
"He went out looking for Republicans to kill," Trump Jr. said, "and we're supposed to forget that."
In the 35-minute address—for which he was paid at least $50,000, according to his now-removed All American Speakers page—he attacked "social justice warriors" and "Marxists" in reference to the left-wingers he believed were attacking his father.
"Everyone to the right of them is Hitler," he added.
Trump's son is giving a series of speeches both at home and abroad for which he is earning lucrative sums: as much as $100,000, according to NBC News. The appearances are attracting criticism because of his access to the Oval Office.
After his father's entrance into the White House, Trump Jr. has been paid for at least one speech in the United Arab Emirates, where his father's business, the Trump Organization, has business operations, such as the Trump International Golf Club in Dubai.