First son Donald Trump Jr. on Tuesday morning slammed former Vice President Dick Cheney for comparing the policies of his father, President Donald Trump, to Barack Obama's.
"Isn't it fitting that Cheney is the one mad that Trump is ending his reckless and endless wars?" Trump Jr. tweeted. "I never knew peace would be so unpopular!"
Trump Jr. linked to a Washington Poststory that included a transcript of Cheney privately challenging Vice President Mike Pence on Trump's foreign policy and drawing a comparison with Obama at a retreat in Sea Island, Georgia. Cheney, who served as vice president in the administration of President George W. Bush, contested Trump's decision to withdraw American troops from Syria and his aversion to NATO.
"We're getting into a situation when our friends and allies around the world that we depend upon are going to lack confidence in us," Cheney told Pence, according to the transcript.
"I worry that the bottom line of that kind of an approach is we have an administration that looks a lot more like Barack Obama than Ronald Reagan," the former vice president said.
Trump Jr.'s tweet reflected his father's qualms with the Bush administration's foreign policy after 9/11.
Cheney was a key player in the decision to go forward with the Iraq War and for his willingness to send soldiers into action even when the intelligence committee had no evidence of threats there. At first, Trump agreed with the decision to enter Iraq in 2003, but later turned against the war and eventually used it against his opponents in 2016, including Florida Governor Jeb Bush and Democratic nominee Hillary Clinton.
The former vice president reportedly brought up the fact that Trump "supposedly doesn't spend that much time with the intel people, or doesn't agree with them, frequently."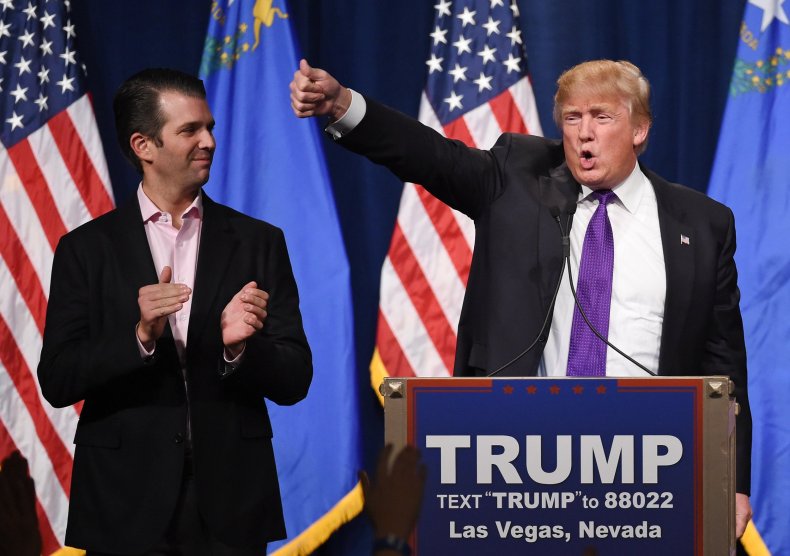 Trump Jr. on Tuesday also retweeted a post by former special assistant to President Trump, Andrew Surabian, criticizing Cheney.
"The Dick Cheney foreign policy not only tore apart the GOP & directly led to Obama being elected, it tore apart & de-stabalized [sic] the entire Middle East. Thousands dead. Billions of dollars wasted," Surabian tweeted. "The less @realDonaldTrump's foreign policy mirrors Cheney's, the better."
Trump has been criticized for an isolationist foreign policy while continuing to pump money into an expanded U.S. military presence abroad.
The White House did not immediately respond to Newsweek's request for comment on Tuesday.