Donald Trump Jr. Posts Fake Love Note From Brett Kavanaugh on Instagram, Mocking Sexual Assault Allegations
President Donald Trump's eldest son, Donald Trump Jr., attacked Democrats and mocked a woman who accused Supreme Court nominee Judge Brett Kavanaugh of sexual assault by posting a fake love note from Kavanaugh on Instagram referencing a letter Senator Dianne Feinstein received detailing the accuser's claim.
Trump Jr.'s post on Sunday was a piece of notebook paper with childish writing in red crayon and a misspelling of Kavanaugh's first name. "Hi Cindy will you be my girlfriend," referencing accuser Christine Blasey Ford, along with boxes for "yes" and "no," and signed "Love Bret."
"Judge Kavanaughs sexual assault letter found by Dems…" Trump Jr. wrote. "Oh boy... the Dems and their usual nonsense games really have him on the ropes now. Finestein had the letter in July and saved it for the eve of his vote... honorable as always. I believe this is a copy for full transparency," he added, misspelling Feinstein's name.
Trump Jr. posted the note, the origins of which are unknown, the same day that Ford, a psychology professor in California who is now 51, disclosed her allegations against Kavanaugh to The Washington Post. Ford accused Kavanaugh of pinning her down, groping her over her clothes and trying to undress her when she was 15 and he was 17.
"I thought he might inadvertently kill me," Ford told the Post. "He was trying to attack me and remove my clothing." Ford's attorney Debra Katz said Monday that her client believes "if it were not for the severe intoxication of Kavanaugh, she would've been raped."
Feinstein, who is the leading Democrat on the committee overseeing Kavanaugh's confirmation hearing, said Ford's allegation is "extremely serious." Trump Jr. and other Kavanaugh supporters mocked Feinstein for her delay in releasing Ford's letter.
Kavanaugh has denied Ford's allegations and the White House plans to discredit Ford's charges because they came so late in Kavanaugh's confirmation process, Bloomberg News reported. Meanwhile, Feinstein and several other senators have called for Kavanaugh's confirmation vote in the Senate Judiciary to be postponed until the committee can speak to Ford.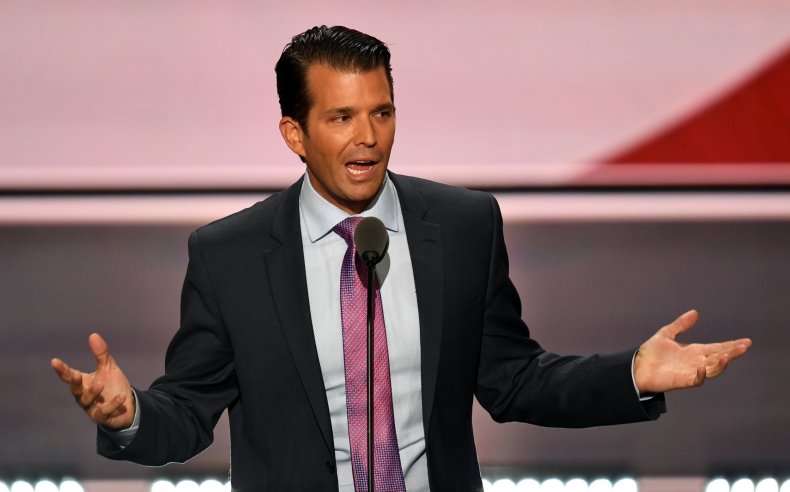 Trump Jr. frequently uses Instagram and social media to advocate for his father, and often posts fake information and misspells names. Last month, an Instagram post Trump Jr. made with a fake approval rating for Trump that was higher than Obama's and had "America" misspelled earned him widespread derision, and he later deleted it. Also on Instagram, Trump Jr. misquoted Democratic Senator Elizabeth Warren's comment on Mollie Tibbetts, who was allegedly killed by an undocumented immigrant.