Donald Trump Jr. Calls Andrew Cuomo 'Groper in Chief,' Urges Liberals to 'Cancel' Him
Donald Trump Jr. has dubbed Democratic New York Governor Andrew Cuomo the "groper in chief" while urging Democrats to "cancel" him amid sexual harassment allegations.
Trump made the remarks during a Monday appearance on Fox News' Hannity. Cuomo has resisted calls to resign over a growing number of sexual harassment allegations, with five women having come forward as of Monday, as well as criticism over his handling of nursing homes amid the COVID-19 pandemic. Trump urged Democrats to "cancel" Cuomo over the allegations.
"Honestly, that is probably the bigger scandal," Trump said about criticism over Cuomo's decisions on nursing homes. "Although it seems like perhaps the Democrats are sweeping them under the rug in lieu now of the accusations against our groper in chief as governor of New York."
"The left is really busy spending a lot of time trying to cancel characters, cartoons like Pepe Le Pew," he added. "When they could be actually trying to cancel people who are actually behaving like Pepe Le Pew times 10, and that happens to be the governor of New York."
Trump went on to say that he "can almost guarantee you" that there are additional women who would come forward with sexual harassment allegations against Cuomo if not of fears of reprisals from "the Cuomo machine" and the Democratic party.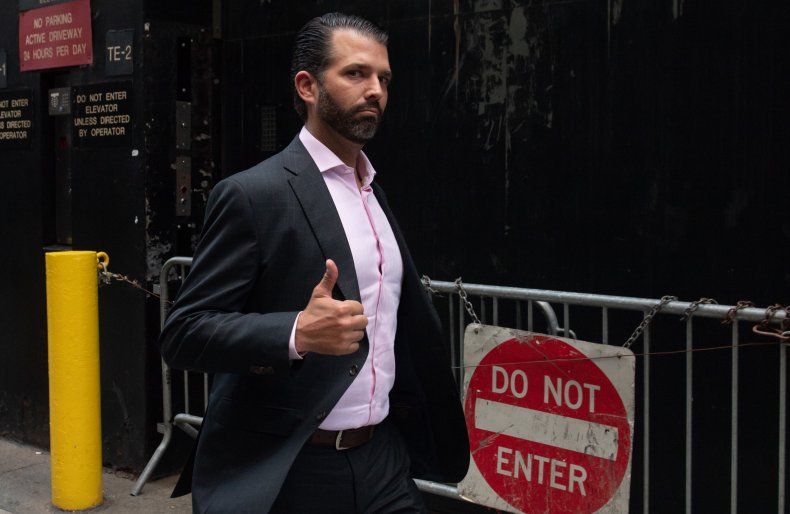 Trump also lamented that Cuomo had been given a "throne" by the media and made a "deity" because he "was willing to talk poorly about" his father, former President Donald Trump, during the early days of the pandemic. Regardless of criticism of Cuomo's "incompetence," Don Jr. said that he has no intention of challenging Cuomo at the ballot box.
"I just have no interest in that job," Trump said. "I think that would be like the tortures of the damned. So, the answer is no from me. But I'd love to see someone who's actually willing to fight. Someone who would actually take that on. If you look at what's going on in the city, it's a disgrace. Greatest city in the world, it's like a zombie apocalypse happened."
"If COVID disappeared tomorrow... it would take probably a decade for New York to get back to the way it was," he added. "And it's because of incompetence, not because of anything else."
Although Trump has not indicated that he intends to run for any public office, speculation about his potential future in politics has continued. His possible transformation into a politician has not received a ringing endorsement from of his father, who said that he hoped his son would not run for mayor of New York City during an October 2020 Fox Business interview, reasoning that Don Jr. "couldn't win as a Republican, he wouldn't have a chance."
Newsweek reached out to Cuomo's office for comment.