Donald Trump. Jr., the eldest son of President Donald Trump, compared Democratic presidential candidate to the Loch Ness Monster during his remarks at Monday night's Republican National Convention.
Donald Trump Jr. criticized Biden for his announced intention to raise taxes. The president's son said Biden intended to take the money Americans were able to retain from the Trump administration's tax cuts and "keep it in the swamp."
"That makes sense, though, because Joe Biden is basically the Loch Ness Monster of the Swamp," Donald Trump Jr. continued. "For the past half-century, he's been lurking around in there. He sticks his head up every now and then to run for president, then he disappears and doesn't do much in between."
Donald Trump Jr. also alleged that under a Biden presidency, Americans would no longer be able to speak freely. "It will no longer be the silent majority, but the silenced majority," he said.
Newsweek reached out to the Biden campaign for comment.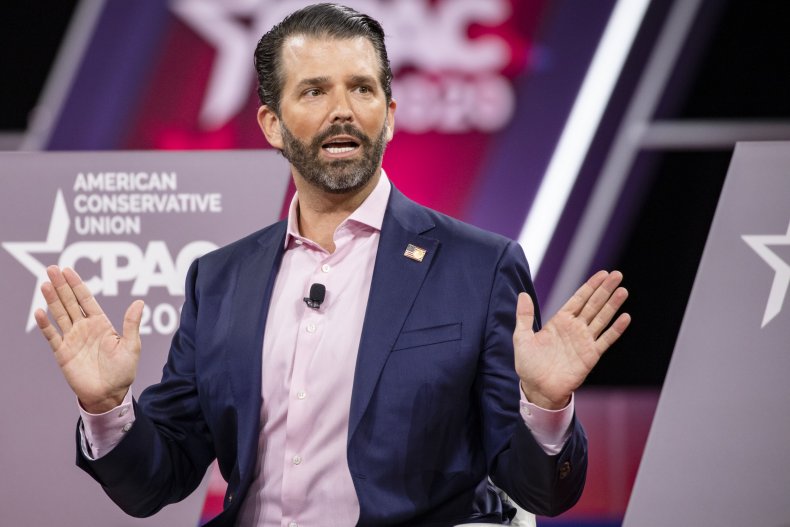 Despite his support for President Trump's campaign, Donald Trump Jr. has not agreed with all of his father's decisions. In August, Donald Trump Jr. tweeted his disapproval of the Pebble Mine, an Alaskan gold and copper mine, because it could interfere with the world's largest salmon run. Profits from the fishing area total $1.5 billion per year. Work at the mine had been stalled for decades and vetoed by the administration of President Barack Obama, but the Trump administration had considered granting a permit for mining to begin.
While the U.S. Army Corps of Engineers claimed that the mine would not have a negative impact on the salmon population, some Republicans including Fox News host Tucker Carlson opposed the Pebble Mine project.
In an August tweet, Donald Trump Jr. lent his support to World Economic Forum strategist Nick Ayers' opinion that the Pebble Mine would negatively impact the environment. Ayers previously served as chief of staff to Vice President Mike Pence.
"As a sportsman who has spent plenty of time in the area I agree 100%," Donald Trump Jr. wrote. "The headwaters of Bristol Bay and the surrounding fishery are too unique and fragile to take any chances with. #PebbleMine"
President Trump said during an August news conference that he would "certainly listen to both sides" of the Pebble Mine argument. "My son has very strong opinions," Donald Trump said, "and he is very much an environmentalist."
In a Monday statement, the U.S. Army Corps of Engineers announced that as written, the proposal to begin operations at the Pebble Mine would "likely result in significant adverse effects on the aquatic system or human environment."
"As currently proposed, the project could have substantial environmental impacts within the unique Bristol Bay watershed and lacks adequate compensatory mitigation," the statement read.
Donald Trump Jr.'s affinity for hunting led to controversy after he traveled to Mongolia to participate in a big game hunt for the argali, a species of sheep that have been labeled "near threatened."
In June 2020, the watchdog group Citizens for Responsibility and Ethics in Washington (CREW) announced that Secret Service protection for Donald Trump Jr. on his Mongolian trip cost over $75,000, which was paid for by U.S. taxpayers.
"As a son of the president, Donald Trump, Jr. is entitled to Secret Service protection and should be protected," CREW wrote in a June release, "but taxpayers deserve to know how much they are paying to facilitate his trophy hunting and interactions with major political donors and foreign leaders."