Donald Trump Jr. Calls For Mitt Romney To Be Expelled From GOP After Senator Votes To Convict President Trump
After Utah Senator Mitt Romney announced Wednesday that he would vote to convict President Donald Trump for abuse of power during Trump's impeachment trial in the Senate, Trump's son, Donald Trump Jr., said on Twitter that Romney had become a "member of the resistance" and should be removed from the Republican Party.
Romney is the only Republican to vote for either of the articles of impeachment. Romney voted to convict on the charge of abuse of power, while voting to acquit on the charge of obstruction of Congress.
"Mitt Romney is forever bitter that he will never be POTUS. He was too weak to beat the Democrats then so he's joining them now." Trump Jr. tweeted. "He's now officially a member of the resistance & should be expelled from the @GOP."
Some Republicans such as California Congressional candidate DeAnna Lorraine agreed with Trump, Jr. tweeting that "Romney will be forever be remembered as a traitor to those who voted him into office. Him losing 2012, retrospectively was a saving grace to this country. He's worse than a Democrat!"
Romney ran for president in 2012 against Democratic incumbent Barack Obama, a race Romney lost with only 47 percent of the national vote.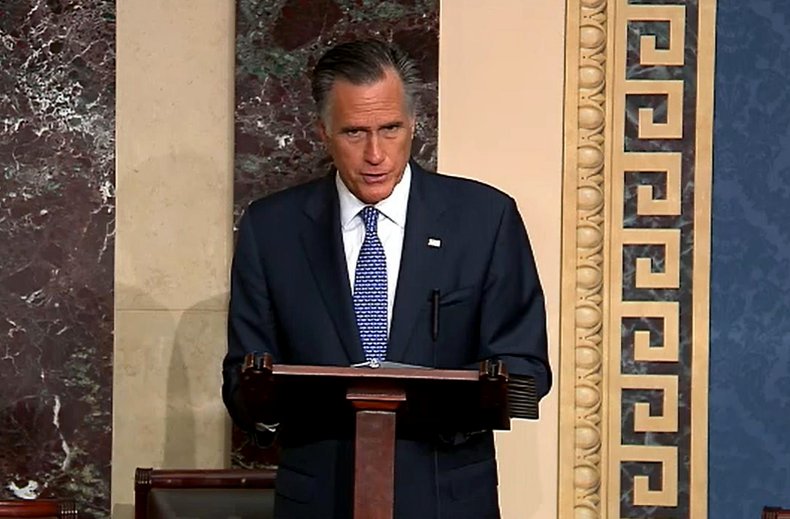 Before the acquittal vote, Romney said in a speech on the Senate floor that he anticipated receiving a negative response to his guilty vote.
"I'm aware that there are people in my party and in my state who will strenuously disapprove of my decision," Romney said, "and in some quarters I will be vehemently denounced. I'm sure to hear abuse from the president and his supporters. Does anyone seriously believe that I would consent to these consequences other than from an inescapable conviction that my oath before God demanded it of me?"
Romney was outspoken in his desire to hear witness testimony during the Senate trial, especially the testimony of former national security adviser John Bolton, telling reporters in January he believed Bolton's testimony could be "relevant."
"I sought to hear testimony from John Bolton not only because I believed he could add context to the charges," Romney continued, "but also because I hoped that what he might say could raise reasonable doubt and thus remove from me the awful obligation to vote for impeachment."
Bolton's testimony was not heard as the Senate voted to reject the motion to admit witness testimony and new documentation into the trial by a final tally of 51-49.
"I acknowledge that my verdict will not remove the president from office. The results of this Senate court will in fact be appealed to a higher court, the judgment of the American people," Romney said. "Voters will make the final decision just as the president's lawyers have implored."
Upon request for comment, Romney's office sent Newsweek the full text of his Wednesday speech.
Trump was acquitted of all charges Wednesday with the abuse of power article defeated by a vote 52-48 not guilty. Charges of obstruction of justice were also voted down in the Senate by a vote of 53-47.