Donald Trump Jr. Casts Doubt on Whether Joe Biden Votes Surpassed Number Cast for Obama
As ballots continue being counted in battleground states for the 2020 presidential election, Donald Trump Jr. cast doubt on whether or not Joe Biden received record-breaking voting numbers.
The president's son asked Friday on Twitter if anyone believed Biden received more popular votes in this election than the previous record set by Barrack Obama in 2008, despite the numbers being reported across the board.
"Does anyone really believe that Joe Biden shattered Obama's historic 2008 numbers? Does anyone really believe that he did that mostly in big cities? C'mon man!!!," Trump Jr. tweeted.
As of Friday, Biden has received more than 73 million votes and counting, exceeding the previously record-setting 69,498,516 votes that Obama received in 2008.
Votes for Biden represent 50.5 percent of the total votes counted, and ballots are still being processed in the battleground states of Arizona, Georgia, Nevada, North Carolina, and Pennsylvania.
President Trump is trailing behind with at least 69,798,381 popular votes, or 47.7 percent of the total votes counted.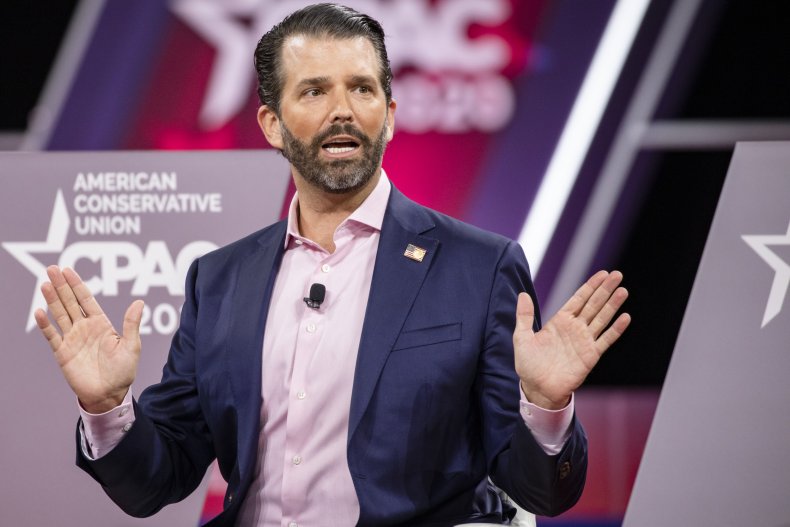 The 2020 election has seen an enormous voter turnout, setting the record for highest voting numbers in 120 years, and the highest numbers for mail-in voting in history.
At least 160 million people—which is nearly two-thirds of all eligible American voters—cast their ballots this year, and experts predict that number will climb even higher as votes continue being counted.
The 2020 voter turnout is expected to sit at roughly 67 percent, the highest it's been since the 1900 election between Republican President William McKinley and Democratic challenger William Jennings Bryan, which saw a 73.7 percent turnout and a McKinley victory.
In a nail-biting race, Biden has become yet another Democratic candidate to lead in the popular vote. With the exception of 2004, Democrats have won the popular vote in every presidential election in the past 20 years.
Biden strengthened his lead in the race after claiming victory in Wisconsin and Michigan, two crucial states that voted for Trump in the 2016 election.
As of Friday morning, the Associated Press has Biden with 264 electoral votes, and he leads by narrow margins in Pennsylvania and Georgia. The former vice president is also projected to win in Nevada and Arizona, with Trump expected to take North Carolina.
If Biden maintains his lead in Pennsylvania as votes continue being counted, he would win the election.
Despite projections showing Biden inching closer and closer to victory, the Trump campaign has maintained that the election is far from over.
"Biden is relying on these states for his phony claim on the White House, but once the election is final, President Trump will be re-elected," said Trump 2020 campaign's general counsel, Matt Morgan on Friday.
Over the last three days, the Trump campaign has responded to the results of the election with unsubstantiated allegations of voter fraud, lawsuits, and false claims of victory.