Trump Would Have Been Impeached Over Same Spy Balloon Failures, Says Junior
Donald Trump would have been impeached for a third time if it was found that a suspected foreign surveillance balloon had entered U.S. airspace for several days while he was in office, according to the former president's eldest son.
Donald Trump Jr. has once again weighed in on the spy saga involving an alleged Chinese balloon. The balloon was shot down by a U.S. fighter jet on Saturday, February 4, off the coast of South Carolina, having first entered U.S. airspace in Alaska on January 28 and later spotted flying over Montana.
The Pentagon said it had to wait until the balloon was over open water until it attempted to take it down over fears about falling debris landing on civilian areas. The delay in shooting down the balloon resulted in criticism of President Joe Biden from Republican figures.
Trump Jr., who was one of those who previously suggested that civilians themselves try shoot down the balloon flying several miles in the air themselves, said that his father would have been scrutinized way more if the Chinese surveillance craft was so openly flying in U.S. airspace for days while he was in office.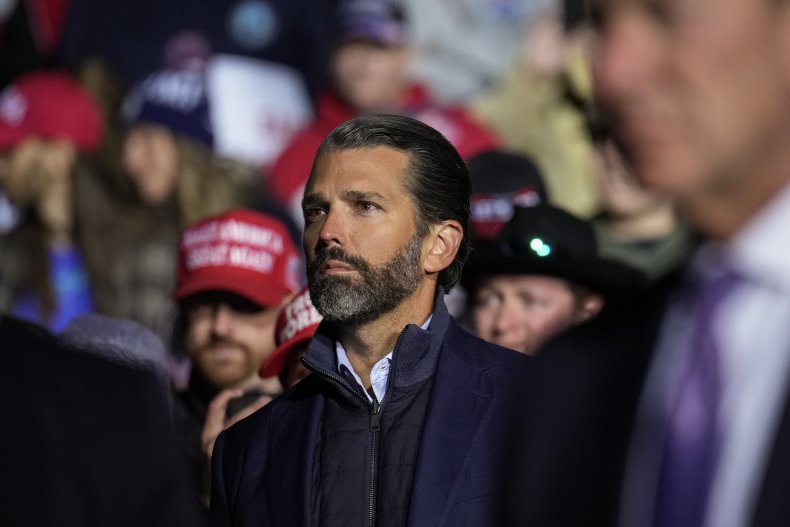 "Trump would have been impeached a third time if foreign spycraft was parked over the U.S. for four days—and 'whistleblowers' in the IC and DOD would have made sure of it. Complete and total BS," Trump Jr. wrote on social media.
The comment from Trump Jr. arrived after military and defense officials said that balloons similar to the one that was shot down over the weekend did fly over the U.S. at least three times while Trump was president, and at least once at the start of the Biden administration.
"PRC [People's Republic of China] government surveillance balloons transited the continental United States briefly at least three times during the prior administration and once that we know of at the beginning of this administration, but never for this duration of time," a senior defense official told reporters.
"We spoke directly with Chinese officials through multiple channels, but rather than address their intrusion into our airspace, the PRC put out an explanation that lacked any credibility."
The official said China claimed the balloon shot down on Saturday was a "weather balloon that was blown off-course," which the U.S. said was "false."
Trump has denied the claim that Chinese spy balloons entered U.S. airspace during his administration.
"China had too much respect for 'TRUMP' for this to have happened, and it NEVER did. JUST FAKE DISINFORMATION!" the former president wrote on Truth Social.
It is reported that the discovery of the Chinese balloons entering U.S. airspace during the Trump administration was only made after Biden entered the White House.
John Bolton who served as Trump's national security adviser between April 2018 and September 2019, told Fox News that he could "say with 100 percent certainty" that no Chinese balloons entered U.S. airspace while he was in office.