Donald Trump Jr. Slammed for Accusing Christine Blasey Ford of Having 'Selective Fear of Flying'
Donald Trump Jr. called Christine Blasey Ford's credibility into question Thursday because of what he called her "selective fear of flying."
Ford, who has alleged that Supreme Court nominee Brett Kavanaugh attempted to rape her during a high school house party in 1982, testified in front of the Senate Judiciary Committee Thursday that although she had a fear of flying, she had traveled extensively by air for work, family visits and vacations. Ahead of the hearing, there were reports that Ford did not want to attend because she was afraid to fly from her home in California to Washington, D.C.
During the hearing, Attorney Rachel Mitchell, who was posing questions on behalf of Republicans, asked Ford about her anxieties related to flying, to which Ford said that she didn't want to board a plane but that she was "able to get up the gumption" to do it. Mitchell then asked specifically about her trips to Costa Rica and French Polynesia. Mitchell's time ran out before she was able to conclude her line of reasoning.
"I'm no psychology professor but it does seem weird to me that someone could have a selective fear of flying," tweeted Trump Jr. "Can't do it to testify but for vacation, well it's not a problem at all." Ford is a professor of psychology.
President Donald Trump's eldest son was immediately slammed on Twitter by Americans who could relate personally to Ford's dilemma.
"Trump Jr. mansplaining her fear of flying to Blasey Ford is...wow," wrote Brendan Nyhan, a public policy professor at the University of Michigan. Others used more profane language to describe their reaction to the tweet.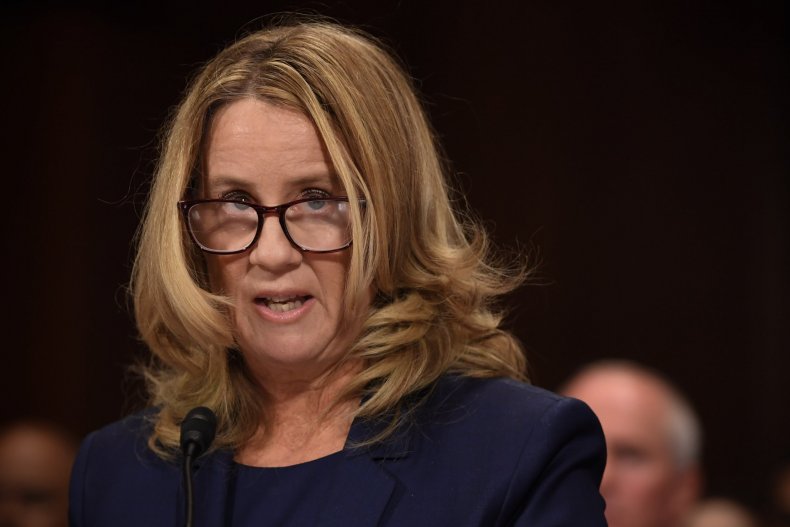 "I watched the testimony of Dr. Ford and everything she said made perfect sense to me, and reminded me of the hundreds of clients I've seen who have a fear of flying," Dr. Martin Seif, a clinical psychologist and founding board member of the Anxiety and Depression Association of America, told Newsweek.
"The rule about fear of flying is that it's inconsistent," he said. In Ford's case, it makes sense that her anxiety would flare up before required travel to an anxiety-inducing event like a televised Senate hearing. "When you are required to do something, that pressure adds to anxiety," said Dr. Seif. "If you're traveling for pleasure and realize it's your own choice to go, it tends to reduce anxiety. When you feel pressure to do something it becomes easier to [be] overwhelmed by anxiety."