Donald Trump Jr. Puts His Dad Atop Christmas Tree In Instagram Meme, Calls Him Both a 'Star' and an 'Angel'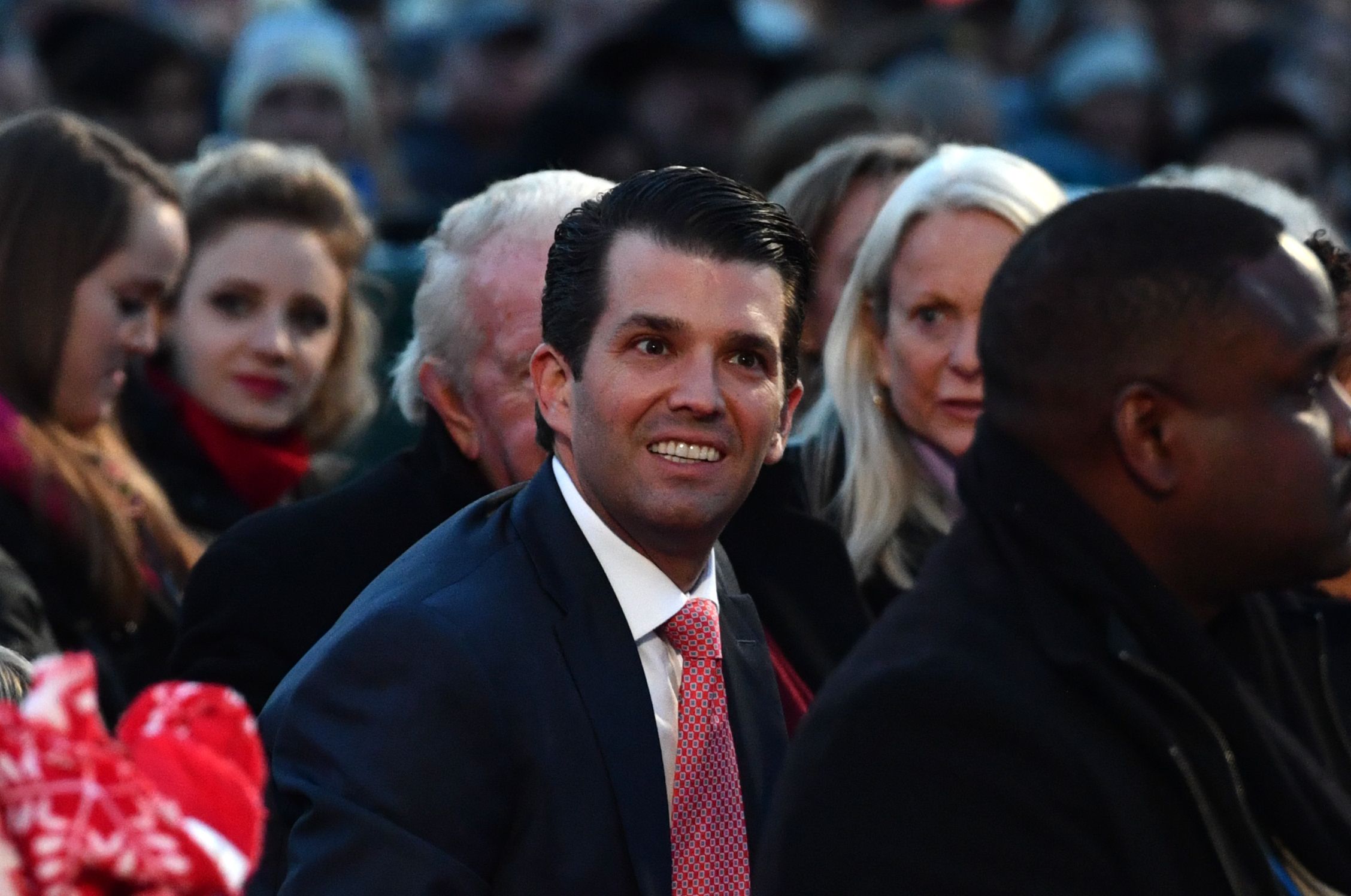 First son Donald Trump Jr. used the Christmas holiday season as an occasion to elevate his father, President Donald Trump, with a meme on his Instagram.
The meme includes the image of a Christmas tree and a figure of the president as the tree topper. "Couldn't decide between an angel or a star," the meme says. "So I picked both."
Trump Jr. captioned his post on Monday with hashtags for "triggered," "Christmas," "christmastree," "star" and "angel," and he included smiley-face emojis and American flags.
The first son's post was popular among Trump supporters, receiving more than 81,500 likes by Tuesday afternoon.
"This is awesome! Yes, your father is both an Angel, a Star and a BOSS!!!" one Instagram user commented. "Love him."
Another Instagram user commented with a reference to the president's campaign slogan, "Make America great again."
"Christmas is great again," the user wrote. "By picking both you really did good."
But many Instagram users mocked Trump Jr.'s post with criticisms of the president. "Angel of death and falling star, yes," one user commented.
Other users went after the Trump Jr. directly.
"Yeah. SOMEBODY wants a pardon for Christmas…" a user wrote, referencing the legal troubles Trump Jr. may face as special counsel Robert Mueller investigates his involvement in a 2016 Trump Tower meeting with a Russian lawyer who promised damaging information on Democratic candidate Hillary Clinton.
"Lol wonder what kind of Christmas trees they have in jail," another user commented.
Trump Jr. has emerged as one of his father's biggest defenders, via controversial and often outrageous posts on social media.
The president's eldest son has been scrutinized for a handful of Instagram posts that perpetuated false information.
In September, Trump Jr. posted a fake love note from his father's Supreme Court nominee Brett Kavanaugh, in the style of a schoolboy's note sent to his crush. Trump Jr.'s post mocked Christine Blasey Ford's sexual assault allegations against the judge, included misspelling the name of Democratic Senator Dianne Feinstein, who received a letter from Ford about the incident.
In August, Trump Jr. on Instagram misquoted Democratic Senator Elizabeth Warren's comment about college student Mollie Tibbetts, who was allegedly killed by an undocumented immigrant. Earlier that month, Trump Jr. posted a fake graphic comparing his father's approval rating to that of President Barack Obama. Trump Jr. deleted that Instagram post after receiving a wave of criticism for the clearly doctored image.