Donald Trump Jr. shares many of his father's views on the mainstream media—an institution pumping out "fake news" written by liberals and "spinmasters" working at The New York Times or "one of those failing three-letter liberal news stations" like CNN or NBC.
In his new book Triggered: How the Left Thrives on Hate and Wants to Silence Us, Trump Jr. spends a lot of time railing against the "fake-news media" along with other staple hate figures of the Trump campaign: Hillary Clinton, socialists and the Bidens. He even dedicates a whole chapter to the "biased liberal media and fake news" titled: "The Enemy of the People?"
"Today, as we gear up for the 2020 election, the fake-news media are bigger and more invasive, and their audiences more brainwashed, than ever," he writes. "Have you ever seen a story—just one story—that broke in favor of Trump instead of the other way around? Of course not."
Trump Jr. also complained that the media had transformed from "Walter Cronkite, 'the most trusted man in America,' to Jim Acosta and Fake News" during his lifetime.
But it turns out he was not above using "fake-news media" articles as sources when he managed to get himself a book deal.
Newsweek analysis found that he referred to 30 separate articles from news outlets that have been dubbed "fake news" or otherwise attacked by himself and his father, President Donald Trump.
A full breakdown of the number of articles sourced from mainstream media outlets in the book can be seen in the graphic below, provided by Statista: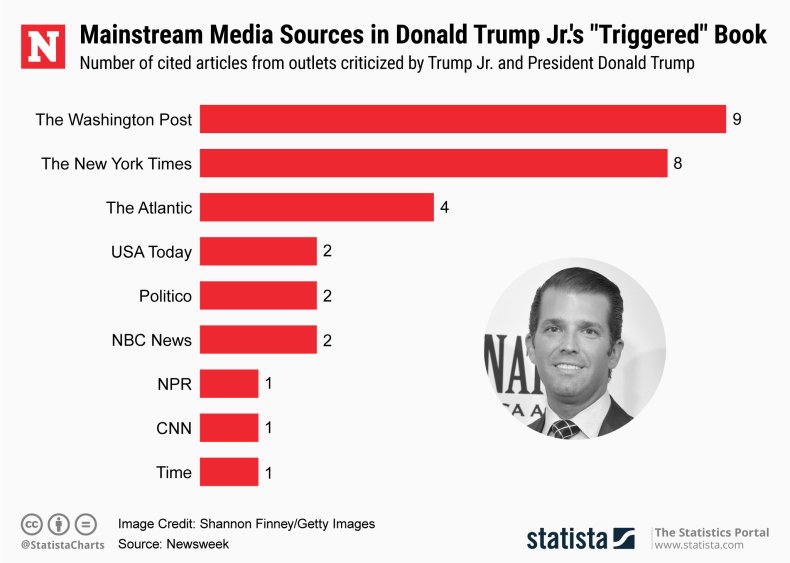 The Washington Post and The New York Times bagged the most referrals among mainstream news outlets included in the endnotes of Triggered, with nine articles from the Post articles and eight Times stories used as sources respectively.
Both titles have been frequent targets of Trump Jr. and his father since he launched his 2016 presidential campaign. They also featured in the "Fake News Awards" list released by the Trump administration in early 2018.
Fellow "fake news" award-winners CNN and Time magazine also had one article apiece featured in the endnotes of Triggered. Two stories from NBC News, Politico and USA Today were further referred to in Trump Jr.'s political memoir, with the executive vice president of the Trump Organisation also including another four articles by The Atlantic in the book's endnotes.
A single legitimate reference to work by NPR was also made in the memoir, Newsweek analysis found.
Trump Jr. referred to NBC News as one of the "failing three-letter liberal news stations" in his new book, and suggested it was part of a media who "continue to lie" about his father and Russia. NPR was called out in the press-bashing chapter titled "Enemy of the People?" with the president's son claiming it had known a story was "wrong" shortly after publishing but "left it up for nine hours while the rest of the news world piled on."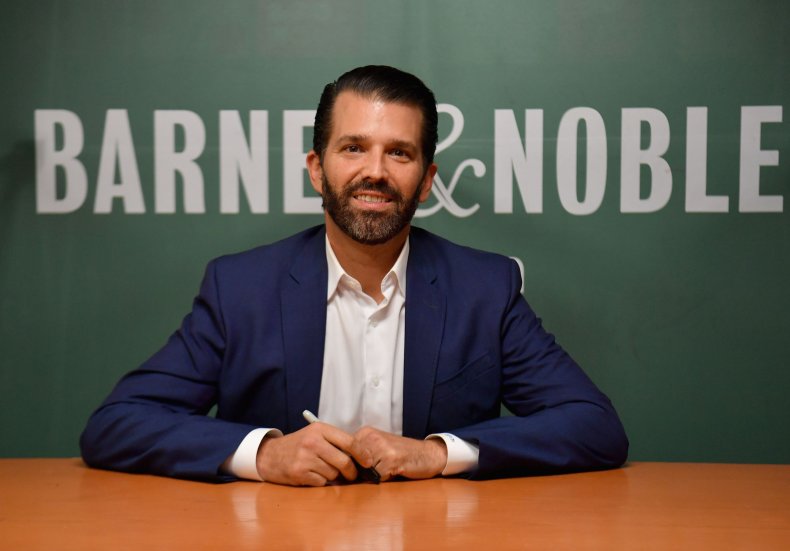 He also used his new book to accuse The Atlantic of publishing a "mostly false" article about infighting between Trump Jr. and his sister, Ivanka. He has previously been critical of the outlet on Twitter.
Politico was not repeatedly singled out in Trump Jr.'s memoir, but the businessman did at one point describe the news outlet as "no fans of me or my father."
USA Today was not named by the president's eldest son in Triggered, however Trump Jr. has previously attacked the outlet on social media. In 2017, he tweeted: "Well done @USATODAY only off by a factor of a thousand. At least you get points for consistency. #fakenews."
Articles from outlets attacked by Trump Jr. and his father accounted for more than a third of all sources referenced in Triggered: How the Left Thrives on Hate and Wants to Silence Us, according to Newsweek analysis.
The New York Times and The Washington Post's stories alone accounted for around 15 percent off all sources included in the book's endnotes.
In the tally of "fake-news media" articles referenced in Trump Jr.'s memoir, Newsweek only counted articles from mainstream media outlets that have been attacked by the author or his father. Stories by mainstream broadcasters and websites aligned with the Trump administration such as Fox News were not included.
Articles that were directly attacked by Trump Jr. for perceived inaccuracies, bias or other issues were also not counted as legitimate references. Newsweek further avoided including multiple references to one article in its data.