Donald Trump Jr.: 'Collusion Truthers' Must Be Held 'Accountable' for Their 'Sick and Twisted Conspiracy Theories'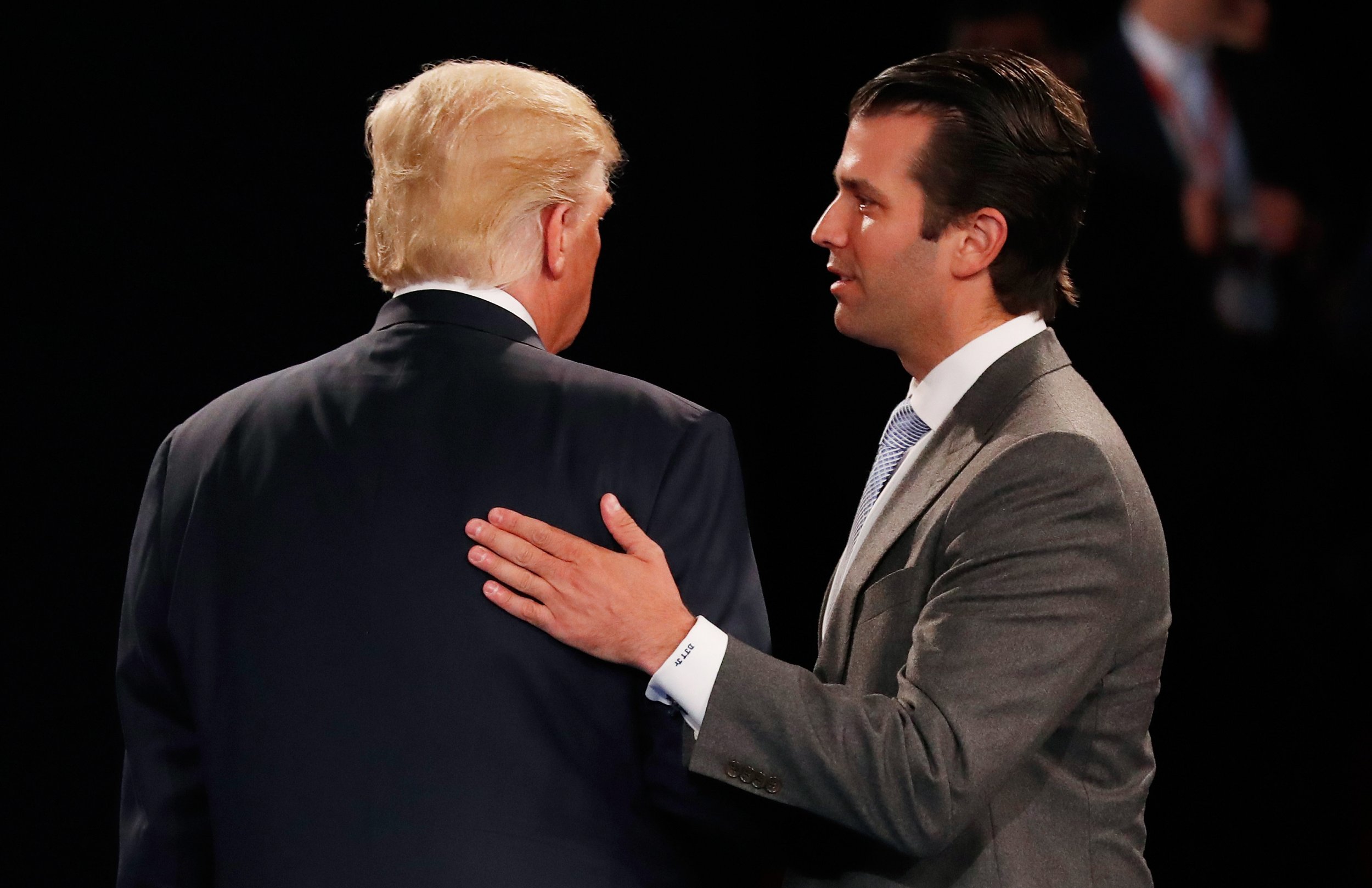 Donald Trump Jr. called for "collusion truthers" to be held "accountable" for their "sick and twisted conspiracy theories" on Sunday after Attorney General William Barr provided Congress his summary of special counsel Robert Mueller's report on Russian interference in the 2016 presidential election.
In his three-page summary, Barr said the special counsel's probe neither exonerates nor indicts Trump with regards to Russia collusion and obstruction of justice. The Attorney General also indicated that he sees no reason to move forward with any criminal proceedings against the president.
Shortly after Barr's summary, Trump Jr. took to Twitter to condemn "Democrats and their media" for peddling non-stop conspiracy theories over the past two years.
"It's my hope that honest journalists within the media have the courage to hold these now fully debunked truthers accountable and treat them with the scorn and ridicule that they so deserve," the president's eldest son wrote in a statement.
"Sadly, instead of apologizing for needlessly destabilizing the country in a transparent attempt to delegitimize the 2016 election, it's clear that the Collusion Truthers in the media and the Democrat Party are only going to double down on their sick and twisted conspiracy theories moving forward," he added.
Trump Jr. also used the term "collusion truthers" to describe those who believed there was collusion between his father's 2016 campaign team and Kremlin officials on Friday, shortly after news broke that Mueller had concluded his report and delivered it to the Department of Justice.
President Donald Trump commented on Barr's summary Sunday afternoon in a post to Twitter, writing: "No Collusion, No Obstruction, Complete and Total EXONERATION. KEEP AMERICA GREAT!"
Trump's words were retweeted by White House Press Secretary Sarah Huckabee Sanders, who also added her own sentiments, saying: "The Special Counsel did not find any collusion and did not find any obstruction. AG Barr and DAG Rosenstein further determined there was no obstruction. The findings of the Department of Justice are a total and complete exoneration of the President of the United States."
Despite the Trump administration's claims that Bar's report completely exonerated the president, Democrats have called for more information from Mueller's report to be released in order to understand why the special counsel did not explicitly exonerate Trump.
"There must be full transparency in what Special Counsel Mueller uncovered to not exonerate the President from wrongdoing," Rep. Jerry Nadler (D-N.Y.) tweeted. "DOJ owes the public more than just a brief synopsis and decision not to go any further in their work."
In another tweet, the House Judiciary Committee chair said Mueller "did not exonerate" Trump and vowed to call on Barr to testify "in the near future."