Donald Trump Jr. Confuses Twitter With Mask Comment About Ukraine War
Donald Trump Jr. is raising eyebrows after a tweet in which he noted that reporters covering the ongoing war in Ukraine were pictured without masks.
Trump Jr., the son of former President Donald Trump, posted the tweet Tuesday to his 7.3 million Twitter followers. The post was in response to a shared video that showed a reporter with the Chinese Communist Party (CCP) interviewing both Russian troops and Ukrainian civilians.
Neither the reporter nor any of the interviewees appeared to be wearing masks.
"I can't help but notice NONE OF THEM ARE WEARING MASKS!!!" Trump Jr. tweeted in a quoted post attached to the video.
The original tweet was posted by Jack Posobiec, a conservative activist who has previously been associated with and retweeted by the former president.
Trump Jr., who is also a high-level executive within his father's company, the Trump Organization, has become known for his sometimes controversial statements on social media.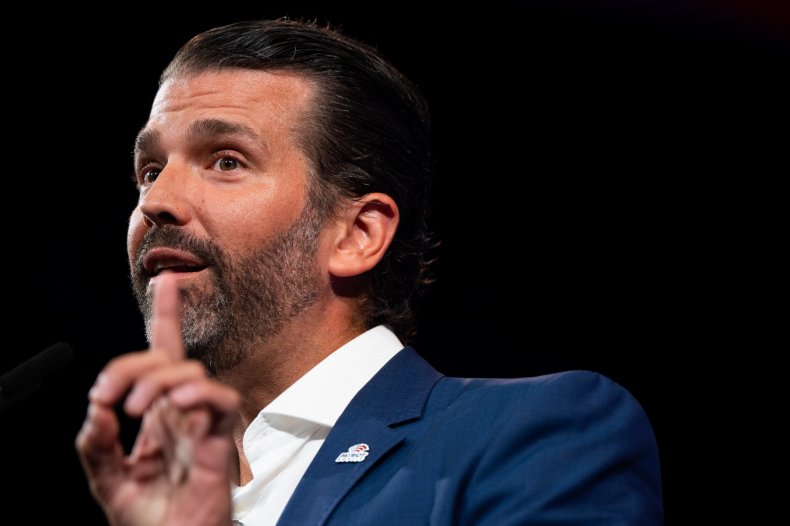 A few of the replies to Trump Jr.'s tweet did appear to be in agreement with the former president's son's stance on masking.
"They must be all boosted," one user replied with what appeared to be sarcasm.
Another user called the people involved not wearing face masks "an irony."
"People believe covid is gone. Now everyone is busy in Russia Ukraine war.. This is outrageous," the user said.
Most of the replies seemed to mock Trump Jr. for apparently focusing on face masks and COVID-19 in the war-torn country, with the fighting having already forced over 1.7 million Ukrainians to flee their home nation.
One user replied to Trump Jr. with a meme of celebrity chef Gordon Ramsay humorously using sliced bread to imply that he was an "idiot sandwich."
"Civilians are also dying—but I guess that's not going to rile up the base," another user tweeted, adding an emoji of a woman shrugging her shoulders.
"Here is @DonaldJTrumpJr fully committed to being an absolute idiot," another user tweeted. "Posting on a platform he's not welcome on, a few weeks after dad launched his own. The world is laughing at the insistent yearning you have for immaturity."
"I can't help but notice that you aren't posting on 'Truth' Social [former President Trump's new social media network]," one tweet said. "Then again, neither is anyone else."
One other notable tweet referenced Trump Jr.'s alleged ties to the far-right, neo-fascist group the Proud Boys. The tweet included a picture of Trump Jr. with Proud Boys leader Enrique Tarrio, who was indicted Tuesday in relation to the January 6, 2021, attack on the U.S. Capitol.
Trump Jr. has repeatedly denied any ties to the group.
Trump Jr.'s tweet is in line with a number of other statements made regarding masking to prevent against COVID-19.
In July 2020, he shared a meme that implied masks were not effective at stopping the virus.
However, Trump Jr. did say in June of that year that: "I don't think it's too complicated to wear a mask or wash your hands, follow basic hygiene protocols" ahead of the 2020 Republican National Convention, encouraging people to mask up before entering the convention center.
A few months later, though, Trump Jr. was seen without a mask during the first presidential debate in September, along with his sister Ivanka Trump, who was also unmasked.
Newsweek has reached out to the Trump Organization for comment.