Donald Trump Jr. Says COVID-19 Deaths 'Almost Nothing' As 5,000 Reported in One Week
Donald Trump Jr. said COVID-19 deaths had fallen to "almost nothing" after more than 5,600 coronavirus fatalities were reported over the past week, adding to more than 220,000 existing COVID-19 deaths.
The president's eldest son told Fox News on Thursday night that the U.S. had "gotten control" of the virus and claimed that officials have come to "understand how it works."
The Quote
"I went through the CDC because I kept hearing about new infections. I was like well why aren't they talking about deaths? Oh, because the number is almost nothing. Because we've gotten control of this thing, we understand how it works.
"They have the therapeutics to be able to deal with this. If you look at that, look at my Instagram, it's gone to almost nothing. We're outperforming Europe in a positive way. So well, because we've gotten a hold of this.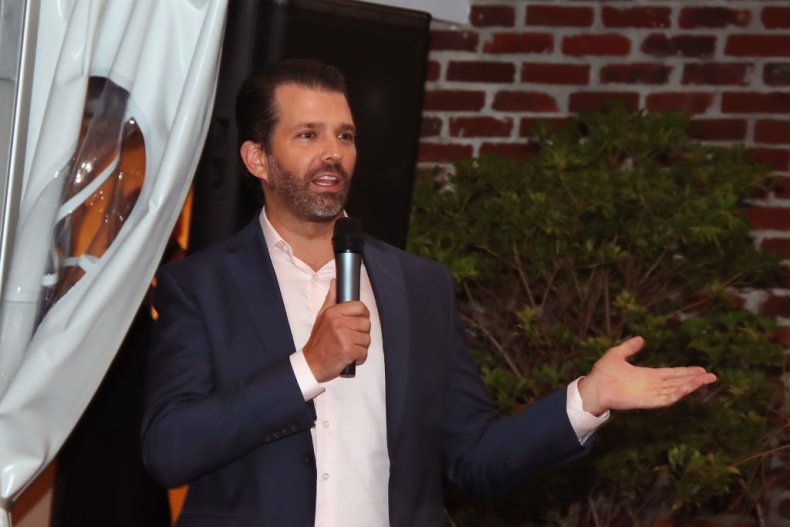 Why it Matters
The Centers for Disease Control and Prevention have recorded a little more than 5,600 COVID-19 deaths over the last seven days, along with over 521,000 new infections—taking the total U.S. case load to more than 8.8 million.
America's total coronavirus death count also rose to a little above 227,000 on Thursday afternoon, after new deaths rose by 1,060 in the space of one day alone.
Three states also recorded rises in new cases yesterday, with Minnesota's Department of Health reporting more than 2,800 fresh cases as Illinois and Indiana were hit by over 6,300 and 3,600 new infections respectively.
Average daily deaths in Missouri and Wisconsin have also been rising on a steeper incline since mid-September, and reported week-to-week increases in new COVID-19 deaths per capita over the last two weeks.
Counterpoint
Speaking to CNBC earlier this week, the National Institute of Allergy and Infectious Diseases Director Dr. Anthony Fauci warned that the U.S. would be in for "a whole lot of pain" if its current approach to the pandemic continued.
"If things do not change—if they continue on the course we're on—there's going to be a whole lot of pain in this country with regard to additional cases and hospitalizations and deaths," the infectious disease expert told the network.
"We are on a very difficult trajectory. We are going in the wrong direction. We're averaging 70,000 cases per week."
He added that there were "a large number of states" going in the "wrong direction," and warned that the U.S. could be in a bad position in a month's time as a result of the increase in infections.