Donald Trump Jr. Defends Fox News Host Tucker Carlson Comparing Women to Dogs, Says 'Left' Is Trying to Take Him Down
As Fox News host Tucker Carlson gets shamed for comparing women to dogs and calling them "primitive" in radio recordings resurfaced from about a decade ago, first son Donald Trump Jr. has come to his rescue.
Trump Jr. defended Carlson on Twitter on Sunday night, hours after the watchdog group Media Matters for America published calls Carlson made to the popular radio show Bubba the Love Sponge, which aired from 2006 to 2011.
"For comments made on the 'Bubba The Love Sponge' show. Obviously a serious policy show where no satire would be made. The left is not going after @TuckerCarlson for any reason other then [sic] he's effective at destroying their agenda," Trump Jr. tweeted, making a common grammar mistake by using "then" instead of "than." "That's what they do."
Trump Jr. also tweeted a post by alt-right conspiracy theorist Jack Posobiec, who often makes pro-Trump remarks on social media.
"Democrats got Governor Klansman right now today in charge of a state but want to bring up Tucker Carlson said something on the radio 10 years ago?" Posobiec tweeted, seemingly referring to Virginia Governor Ralph Northman, who has refused to resign amid criticism over a blackface photo from his medical school yearbook.
"These people make no sense," Posobiec tweeted.
In the 2007 recordings, Carlson said of women: "They're extremely primitive, they're basic, they're not that hard to understand. And one of the things they hate more than anything is weakness in a man."
In 2006, Carlson called Huffington Post founder Arianna Huffington "a pig" and said television host Alexis Stewart was "extremely c**ty."
In 2010, Carlson said that Elena Kagan, who is now a Supreme Court justice, is "never going to be an attractive woman," adding that he did not like her and wouldn't vote to confirm her if he was a senator.
"But I do feel sorry for her in that way. I feel sorry for unattractive women," Carlson said.
Before Trump Jr. defended him, Carlson tweeted a statement on Sunday night, in which he did not apologize for his comments.
"Media Matters caught me saying something naughty on a radio show more than a decade ago," Carlson stated. "Rather than express the usual ritual contrition, how about this: I'm on television every weeknight live for an hour. If you want to know what I think, you can watch. Anyone who disagrees with my views is welcome to come on and explain why."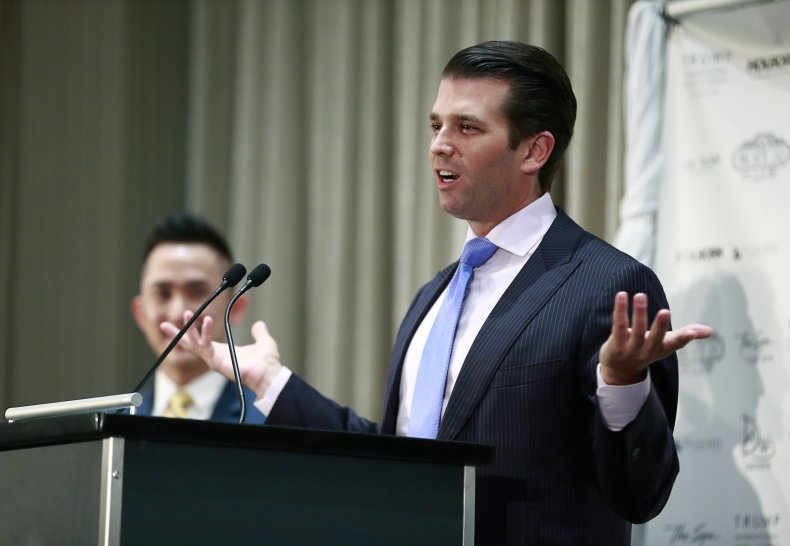 Trump Jr. himself has criticized women. He recently questioned the patriotism of House Speaker Nancy Pelosi, who wore white to the State of the Union address to support women's suffrage, by tweeting a meme stating, "Not one American flag pin among them."