Donald Trump Jr. Defends Jon Gruden, Calls To See Emails From All NFL Owners and Execs
In the aftermath of Las Vegas Raiders head coach Jon Gruden resigning from his position amid scandal, Donald Trump Jr. has weighed in on Twitter, calling for the National Football League (NFL) to release emails and texts from all team owners and executives.
"Let's see the emails & texts of [NFL Commissioner Roger] Goodell & every NFL owner/exec," Trump Jr. tweeted. "We must find out if they've ever said anything wrong, shared a controversial thought, or held an opinion that wasn't PC."
Trump Jr. also said that NFL owners shouldn't be allowed to hide behind their "white privilege."
Trump Jr. is one of a number of right-wing personalities speaking up on Gruden's behalf after his resignation, including Newsmax television host John Cardillos and Outkick.com's Clay Travis, who tweeted that "every rapper the NFL has performing at the Super Bowl has more offensive lyrics than Jon Gruden had in his emails."
His defense of Gruden is not the first time that Trump Jr. has directed his ire towards the NFL, having previously mocked former San Fransisco 49ers quarterback Colin Kaepernick for his activism, and said in 2017 that the NFL and Goodell were "disrespecting America."
Gruden, 58, resigned from his tenure with the Raiders early Tuesday after it was revealed he had used language in emails that ESPN called "racist, misogynistic and anti-gay."
Gruden coached the Raiders since 2018 and had previously run the team from 1998 to 2001. ESPN has said that he had used this type of language in emails going back as far as a decade.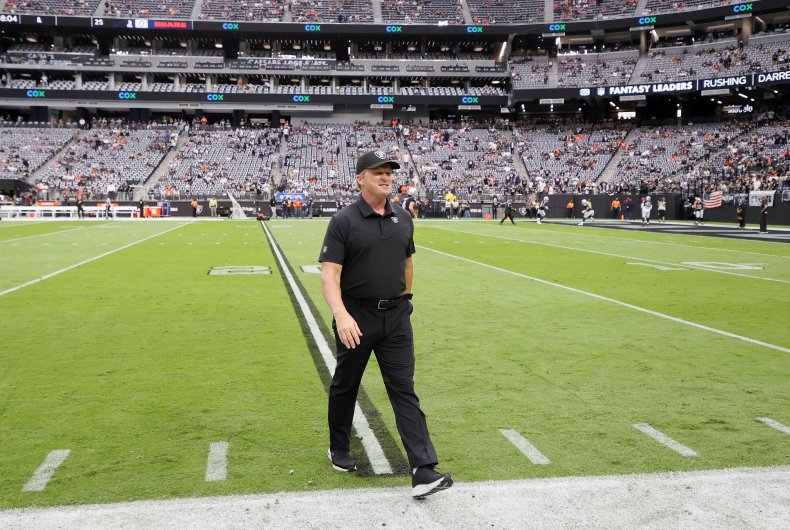 The New York Times said that the details of the emails included numerous slurs used against Goodell as well as Michael Sam, the league's first publicly gay player. Beyond this, Gruden had criticized also the NFL for trying to reduce concussions and chastised a player who had knelt in protest during the national anthem.
Additional ire from Gruden was directed towards a number of Democratic politicians, including President Joe Biden and former President Barack Obama.
After his resignation, Gruden released a statement to the Raiders fanbase apologizing for the email.
"I have resigned as Head Coach of the Las Vegas Raiders. I love the Raiders and do not want to be a distraction. Thank you to all the players, coaches, staff, and fans of Raider Nation. I'm sorry, I never meant to hurt anyone," the statement read.
Gruden's resignation gives a look into what the Times referred to as the "clubby culture" of a certain group of NFL executives. This reportedly included the use of large amounts of homophobic and sexist banter, as well as the regular sharing of pornography.
Newsweek reached out to the Trump Organization for comment.