Donald Trump Jr. Dismisses Booing at President's UFC 244 Appearance as 'Bulls***,' Insists Crowd Was 'Overwhelmingly Positive'
Donald Trump Jr. has dismissed reports of booing at his father's appearance at an Ultimate Fighting Championship (UFC) event as "bulls***," insisting the reaction to his father had been "overwhelmingly positive."
Numerous videos shared on social media showed the crowd loudly booing when President Donald Trump arrived for UFC 244 bout at Madison Square Garden in New York City on Saturday night.
Trump hugged Panamanian boxer Roberto Duran and posed for a picture before sitting with his sons, Donald Jr. and Eric, and House Minority Leader Kevin McCarthy to watch the showdown between Jorge Masvidal and Nate Diaz.
But as videos of the booing circulated on Twitter, Trump Jr. hit back telling his followers that UFC President Dana White, who is a friend of Trump's, had described Trump's entrance as the "most electrifying" he'd seen in 25 years.
"Despite the bulls*** from blue checkmark Twitter, when we walked into the arena it was overwhelmingly positive," he wrote on Twitter. "@danawhite said it was the most electrifying entrance he [sic] seen in 25 wars of doing this."
Alongside his tweet, Trump Jr. shared an article by the New York Post with a headline claiming "more cheers than boos" had greeted the president's arrival.
According to the Post report, the crowd had "mostly cheered" when Trump stood up in his seat in the VIP section, but it noted there were also "plenty of 'boos' and the occasional raised middle finger as well."
Trump Jr. also shared a BBC article that mentioned booing, writing on Twitter: "Fake News gonna fake. Why don't you play the video you leftist hacks? I was there in the heart of NYC and it was overwhelmingly positive. An awesome response."
Trump received a "mixed reaction" at the event, according to the Associated Press, who reported it was not as bad as the boos and "Lock him up!' chants that greeted the president at the World Series in Washington, D.C. last week.
Numerous protesters had also gathered outside the venue on Saturday night, with some chanting "Danger, danger, there's a fascist in the White House," the Associated Press reported.
They wielded signs that read "Trump/Pence OUT NOW!" and "Trump is the Lynch-Mob Leader-in-chief!" as they waited for the president's arrival - but he entered the venue through an underground garage, according to the Post.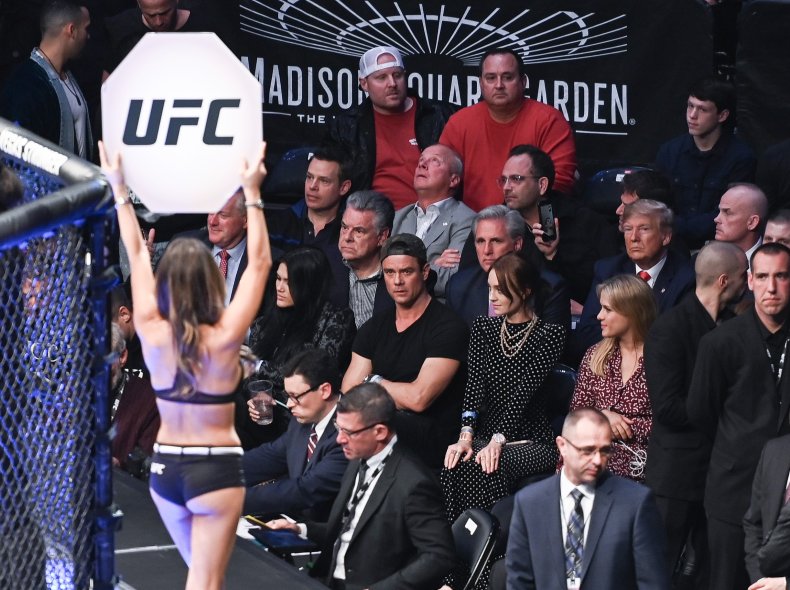 Trump's outing came amid an impeachment inquiry he is facing about allegations he pressured Ukraine's President Voldymyr Zelenskiy to investigate former Vice President Joe Biden.
Nevertheless, Trump stayed for the entire four-hour show, which saw Dwayne "The Rock" Johnson wrap the BMF title belt around Masvidal's waist after he defeated Diaz.
Masvidal had dominated the first three rounds but the fight was stopped before the fourth round after a doctor deemed the cuts above Diaz's eye too severe for him to continue.
Later in the show, Trump stood up with the rest of the crowd when Kevin Lee knocked out Gregor Gillespie. He also received a shout out from inside the cage from American Derrick Lewis. "I know everything a'int going so good in the White House. You gotta turn that... around in 2020," Lewis, who won his heavyweight fight, said, according to the Associated Press.