Donald Trump Jr. Slammed by Widow After Using Photo With her Dead Husband to Push Hurricane Conspiracy Theory
President Donald Trump's eldest son Donald Trump Jr., who has offended many people with his social media posts, was called "disrespectful" by the widow of a CNN sound technician who appears in a photo the first son tweeted claiming news anchor Anderson Cooper faked coverage of Hurricane Florence.
Trump Jr. on Sunday tweeted the image of Cooper waist deep in water with crew member Douglas Thomas, who died last September after working for CNN for 26 years, about knee deep in water filming the shot.
"It's a shame that CNN's ratings are down 41%. What's worse is there's a simple solution that they refuse to accept. Stop Lying to try to make @realDonaldTrump look bad," Trump Jr. tweeted, along with a Breitbart News story on the drop.
Thomas's widow, whose Twitter handle is @CeeLeeCee3, on Tuesday took issue with Trump Jr. using the photo with her husband to push a conspiracy theory.
"Dear @DonaldJTrumpJr Please STOP tweeting things like this. The gentleman in the photo with Anderson is MY HUSBAND who passed away almost one year ago from cancer," she tweeted at the first son and president. "This picture was taken in 2008 and using it to attack CNN is disrespectful to me, my son and our family...."
"Think about your 5 children and the things they will see. No one has to lie to make you or @realDonaldTrump look bad. You easily do that on your own," she tweeted at them in a separate post. "Don't use images of this man who was loved by many and is missed by even more."
Thomas's widow then quoted Trump Jr.'s post and tweeted: "This really hurts... my husband, pictured in this photo with Anderson Cooper, passed away September 27, 2017, almost 1 year ago. 26 years at CNN. @DonaldJTrumpJr & @realDonaldTrump HE'S MY HUSBAND."
Trump Jr. had not taken down his post as of Thursday afternoon, or publicly responded to Thomas's widow.
Cooper responded on air that the photo was not of Hurricane Florence over the weekend in the Carolinas, but taken when he was covering Hurricane Ike a decade ago in Texas.
"For those who think I was kneeling or faking the water level or making it look worse than it was or standing in some sort of a hole, this is an area where people had been trapped on the roofs of their homes by water," Cooper said. "I don't expect the president's son to ever admit he was wrong … But I at least thought that they and you should know the truth."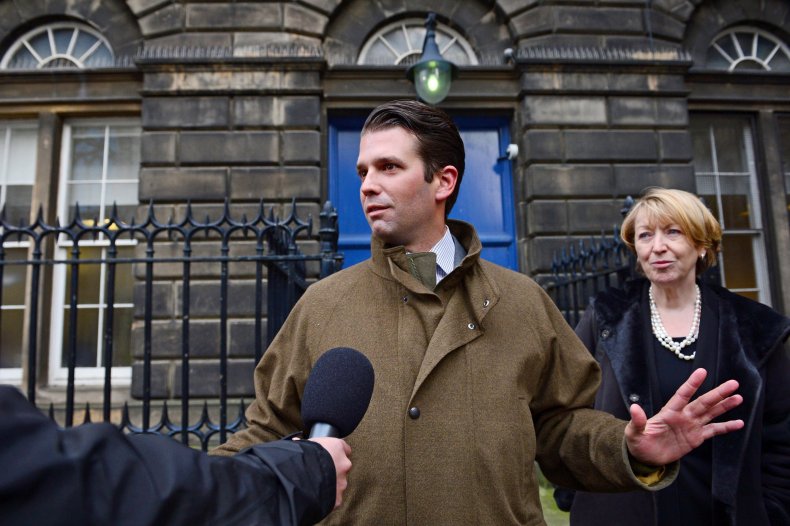 Trump Jr. frequently bashes his father's opponents on Twitter and Instagram. He often posts dishonest information and misspells names in the process. He has deleted at least one such post.