Donald Trump Jr. Says Election Is 'Americans Versus Algorithms,' Big Tech Firms 'Push the Scales One Way'
Donald Trump Jr. pitched the presidential election as the battle of "Americans versus algorithms" on Tuesday morning, and complained that big tech firms had tried to "push the scales one way" ahead of polling day.
President Donald Trump's eldest son told Fox & Friends that social media firms had used "their multi-trillion dollar power" to sway the election and obscure his father's accomplishments during his first term in the White House.
He also repeated old attack lines against the mainstream media, accusing publications of being "hellbent" against the president in the run up to election day and over the course of his first four years in office.
After touting his father's record on handling the economy and other areas of policy, Trump Jr. said: "When you have a mainstream media that's hellbent against Donald Trump, when you have social media and big tech doing literally whatever they can in their multi-trillion dollar power to push the scales one way, the average person may not even know about those accomplishments."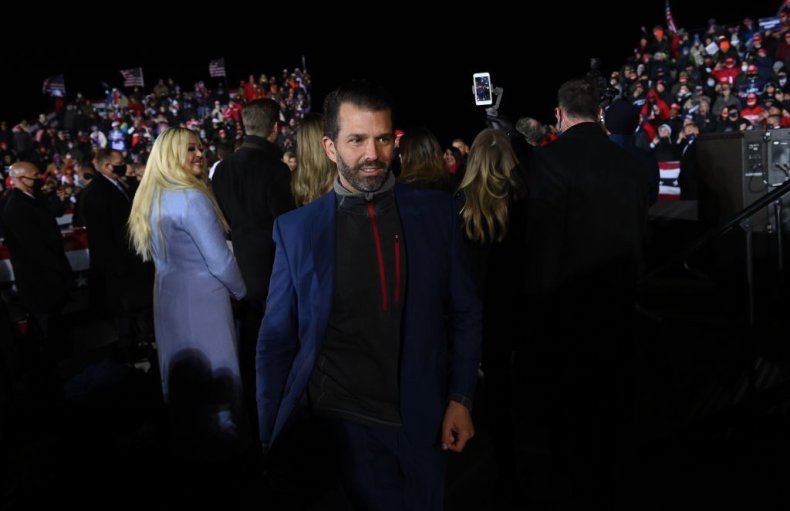 He added that the Trump campaign had decided to spend "so much time" on its ground game—stump speeches and other campaign events—because of the president's perceived treatment from legacy and social media outlets.
"This election is about Americans versus algorithms from big tech in California, Kamala Harris' friends," he later said. "It's about freedom versus tyranny. It's about the never-ending lockdowns that the Democrats want to do."
Trump Jr. hit out at big tech firms trying to "push the scales one way" a few weeks after he complained about his "algorithms" getting "crushed" by Instagram in the run up to election day.
"Hey guys, hope you're doing well, just watching my algorithms get crushed," the president's eldest son said in an Instagram video. "I guess I did something to p*** off the Instagram gods, so hopefully you're seeing this stuff anyway. We'll do what we can."
A caption of the post read: "In IG jail. Watching my post get about 20% of what they were getting last week so if you want turn on post notifications that way maybe you'll at least see my stuff."
Trump Jr.'s brother Eric Trump made similar complaints on Fox News at the end of last week, arguing that tech firms had their "fingers on the dial" as he claimed that censorship had become a "number one issue" in U.S. politics.
He also said he believed his social media posts were somehow being censored based on a decline in "engagements and likes" with his posts as polling day drew closer.
"You better believe they also have their fingers on the dial. If I put something out that they disagree with, the numbers are down," he told The Ingraham Angle. "I can just see it based on engagements and likes... they are censoring us, they don't do it to the other side and it's gross."