President Donald Trump's four adult children were invited to attend a U.K. state dinner at Buckingham Palace Monday night, and U.S. ethics experts took issue particularly with Donald Trump Jr. and Eric Trump going, given they run the Trump Organization family business.
Reports broke out late last week that Trump Jr., 41, Ivanka Trump, 37, Eric Trump, 35, and Tiffany Trump, 25, were expected at the state dinner, and a New York Times reporter on Monday tweeted that the state banquet attendee list included the president's four oldest children.
The watchdog group Citizens for Responsibility and Ethics in Washington (CREW) flagged Trump Jr. and Eric Trump's attendance as problematic due to their "vested interest" in the U.K.
"Trump is president, his sons Eric and Don Jr. are running the Trump Organization, which the president still profits from," CREW spokesman Jordan Libowitz told Newsweek.
Libowitz pointed out that a major focus of the Trump Organization is its golf courses in Scotland, which Eric Trump recently took American Trump Golf Club members to visit.
"The Scottish property does business with the U.K. government and is impacted by the government's decisions," Libowitz said. "The Trump brothers have a vested interest in making money for their father in the U.K."
CREW earlier tweeted "a friendly reminder that Don Jr. and Eric are not part of the government" but rather in charge of making money for their father.
Richard Painter, a former chief ethics lawyer under President George W. Bush, voiced appearance problems to Newsweek on Monday afternoon.
"Of course the British they can invite anybody they wish and there's certainly not a prohibition on their dinner," Painter said. "My concern is that Donald Trump Jr. and Eric are the two sons running the business, so their day job is to try and enrich the Trump Organization."
Painter said that the Trump sons accompanying their father on his trips abroad "gives the impression that the Trump family has their hands out looking for profitable business opportunities as he's conducting diplomacy for the United States" and that the way to curry favor with the Trump White House is to make deals with the family business.
"So the appearances are awful," Painter concluded.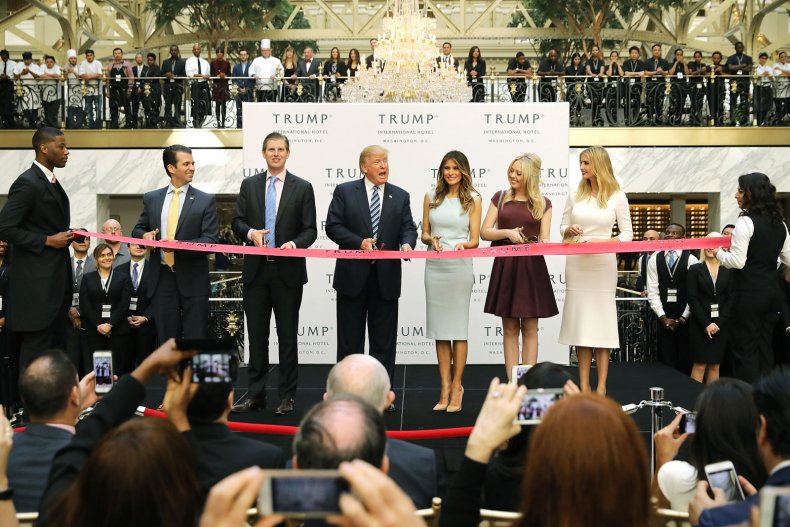 The White House did not immediately respond to a request for comment from Newsweek on Monday.
The president's four adult children will also reportedly attend a dinner at the U.S. ambassador to the United Kingdom's residence on Tuesday night.