Donald Trump Jr. Falsely Tweets Brett Kavanaugh Accusations Now Amount to Nominee Throwing an Ice Cube
First son Donald Trump Jr. took his attacks against the left to a whole new level. He falsely claimed the accusations against Supreme Court nominee Brett Kavanaugh came down to the judge throwing an ice cube at someone in a bar.
Trump Jr. on Tuesday morning tweeted, with emoji arrows, that the accusations against Kavanaugh moved from rapist to serial gang rapist. Then from serial gang rapist, Kavanaugh was downgraded to alcoholic. Next, the allegations went from violent alcoholic to "well he threw a beer" and finally to "um he threw an ice cube!!!"
"When each narrative the left comes up with to destroy a good man with 0 proof fails they try another," Trump Jr. tweeted. "This is how the left plays!"
Trump Jr. started by referring to Julie Swetnik's accusation, which allegedly tied Kavanaugh to a drug and gang rape ring when he was in high school and she was in college. Media outlets, including The New York Times and The Wall Street Journal, published her interview. They did not verify her claims, some of which were inconsistent with her previous statement.
The first son then addressed accusations that Kavanaugh drank more excessively than his colleagues in his younger years, and Christine Blasey Ford's claim that a drunken teenage Kavanaugh had pinned her to a bed, groped her, tried to unclothe her and covered her mouth with his hand when she attempted to scream.
Trump Jr. went on to a 1985 police report stating that a 21-year-old man accused Kavanaugh, then an undergraduate student at Yale University, of throwing ice at him "for some unknown reason" at a bar after a concert. A classmate of Kavanaugh's, Chad Ludington, on Sunday said that Kavanaugh cursed and "threw beer" at a guy they had been staring at because they thought he resembled the singer of the British reggae group UB40.
In his tweet, Trump Jr. misleadingly implied that the allegations against Kavanaugh were only about an ice cube.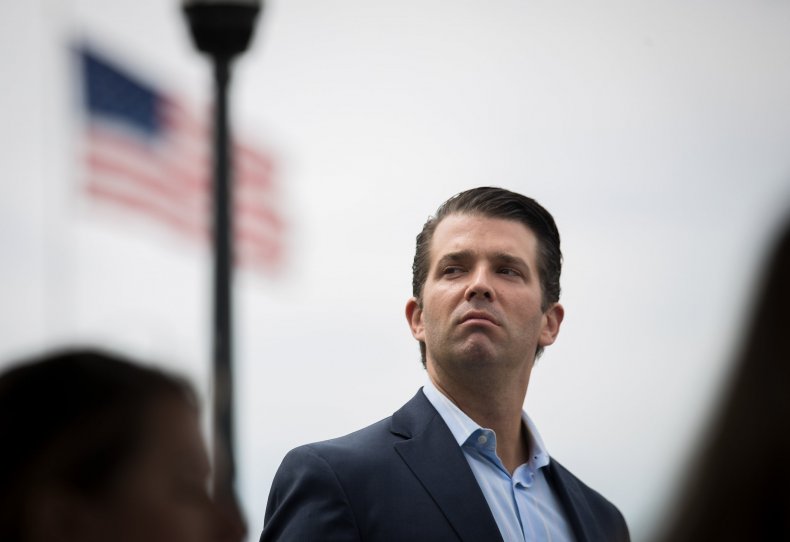 It is not the first time Trump Jr. has twisted the accusations against Kavanaugh.
Last month, the first son posted on Instagram a fake love note in childish writing from Kavanaugh that referred to a letter that Ford had sent to Senator Dianne Feinstein detailing her allegations against Kavanaugh. "Judge Kavanaugh's sexual assault letter found by Dems…" Trump Jr. captioned the image of the red crayon note.
The Senate Judiciary Committee voted on Friday to advance Kavanaugh's nomination to the Senate floor. But the full Senate vote will be delayed for one week while the FBI investigates allegations against Kavanaugh.