Donald Trump Jr. offered a series of snippy remarks during a Tuesday CBS This Morning interview, including the facetious response Republican Senator Mitt Romney is his "favorite Democrat."
Trump Jr. appeared on the CBS morning show to plug his new book, Triggered: How the Left Thrives on Hate and Wants to Silence Us, responding from the outset about the clearly divisive nature of the title. The president's eldest son claimed he initially wanted to write a book about "forgiveness and healing" similar to the popular Chicken Soup for the Soul self-help series, but "after what I've been through for the last few years" Trump Jr. said he used the book to fight back against critics of his family. Trump Jr. reiterated "there are very few people" his father can "fully trust."
"I'm probably entitled to hit back a little bit," Trump remarked after host Gayle King quipped, "that is quite the title."
The CBS hosts repeatedly pressed Trump on how he can claim he wants to see more civility and "normalcy" in the country when he is quite literally trolling liberals and Democrats by sending them free copies of his book. Even when asked by King to name one Democrat he doesn't loathe, Trump paused for several seconds before replying sarcastically.
"Mitt Romney. Mitt Romney's my favorite Democrat, Gayle. How about that?'" Trump said as the interview ended. The official YouTube version of the segment posted by CBS This Morning appears to have edited out the facetious reply.
"The reality is this: my father has shown Republicans it's okay to fight back," Trump continued. "We've turned the other cheek as conservatives for 50 years and all it has done is allow us to cede ground. We have to fight back the same way the Democrats fight. And I think my father does that and I think it creates controversy because people aren't used to it."
"I'd love to see it get back to a place of normalcy but I don't think that exists today," Trump continued.
Speaking during a separate interview with Fox & Friends Tuesday morning, Trump said that on a few occasions his father told him his divisive and frequently angry social media posts were "getting a little hot."
Trump claimed his presentation of himself as an all-American, man-of-the-people type of persona is genuine. He said he never attended black-tie New York City events and instead goes "fishing, shooting, hunting every weekend."
The president's son claimed the Trump family is "all pretty live-and-let-live and so is my father" in response to several questions about how they handle criticism internally. "We're not just going to roll over and die because the other side wants us to," Trump said.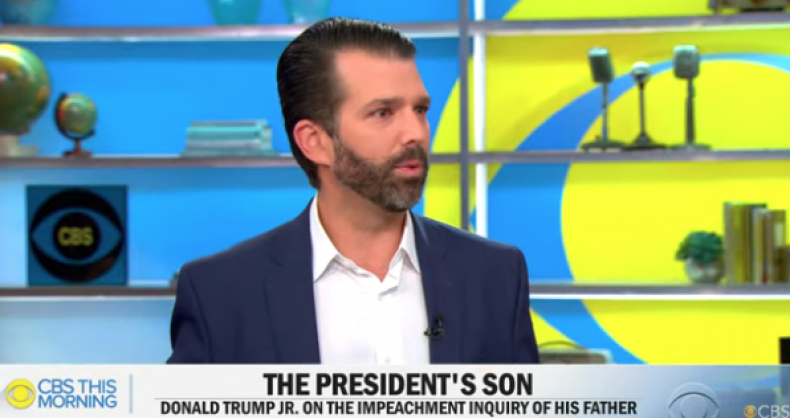 Donald Trump has repeatedly lashed out against Utah GOP Senator Romney, who ran and lost the 2012 presidential election against Barack Obama. The president continues to mock and ridicule Romney and any other dissenting Republican Party members who disagree with his policies or actions.
"Mitt Romney never knew how to win. He is a pompous 'ass' who has been fighting me from the beginning, except when he begged me for my endorsement for his Senate run (I gave it to him), and when he begged me to be Secretary of State (I didn't give it to him). He is so bad for R's!" Donald Trump remarked last month.