Donald Trump Jr., Fox News Host Celebrate Michael Avenatti Arrest: 'It's Lent but It Feels Like Christmas'
First son Donald Trump Jr., a Fox News host and other allies of President Donald Trump rejoiced Monday afternoon following the arrest of lawyer Michael Avenatti, who rose to national attention representing adult film star Stormy Daniels in her lawsuit against Trump.
Avenatti was charged with wire and bank fraud in the Southern District of New York, according to CNBC, and accused of trying to extort Nike.
"Hey @MichaelAvenatti - It looks like you'll be the one spending time behind bars after all," Trump Jr. tweeted, along with Avenatti's signature hashtag, #basta, which is Italian for "that's enough."
That tweet by Trump Jr. was a hit back at Avenatti for repeatedly saying the first son would be put behind bars in relation to special counsel Robert Mueller's investigation. Mueller's probe concluded and a summary of the report released Sunday found there was no collusion between the Trump campaign and Russians in the 2016 presidential election.
"Good news for my friend @MichaelAvenatti, if you plead fast enough, you might just get to share a cell with Michael Cohen! #basta," Trump Jr. also tweeted.
Cohen was sentenced to three years in prison for crimes, including arranging hush-money payments during the presidential election to women who claimed to have affairs with Trump, among them Daniels, whose real name is Stephanie Clifford.
Trump Jr. also came up with a new meaning for Trump's campaign slogan Make America Great Again.
"#MAGA - Michael Avenatti Getting Arrested!!!" the first son tweeted.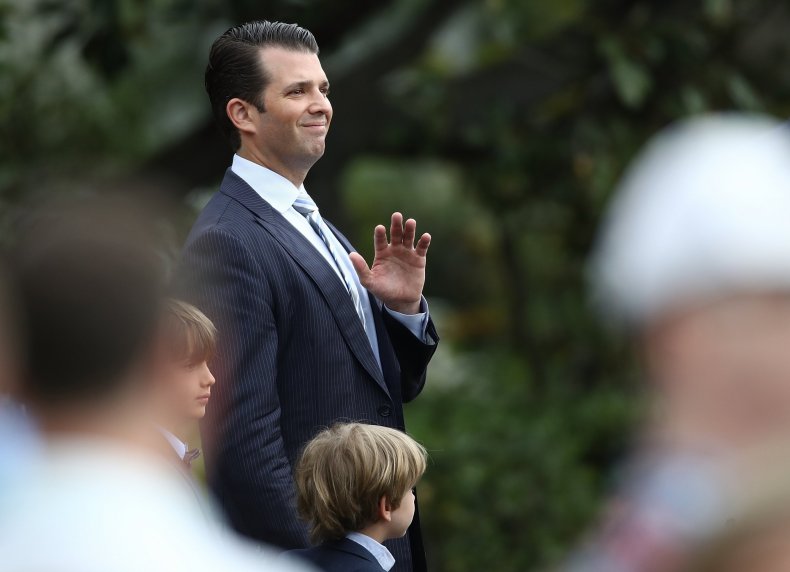 Avenatti in December tweeted a report on Fox News legal analyst Andrew Napolitano, saying that Trump Jr. told his friends he expected to be indicted by Mueller.
"@DonaldJTrumpJr - this is what I predicted a long time ago as you know. I asked you to deny it but you never did," Aventti tweeted at the time. "Is it true (asking for about 100 million friends)?"
Fox News host Laura Ingraham also tweeted a scathing comment Monday, in light of the Mueller report summary that left Trump and his supporters feeling vindicated.
"It's Lent but it feels like Christmas," Ingraham tweeted. "Avenatti charged. Trump cleared."
Avenatti did not immediately tweet about his arrest. But an hour prior, he seemed to be moving on his attack on Nike.
"Tmrw at 11 am ET, we will be holding a press conference to disclose a major high school/college basketball scandal perpetrated by @Nike that we have uncovered," Avenatti tweeted. "This criminal conduct reaches the highest levels of Nike and involves some of the biggest names in college basketball."
Law enforcement officials were set to detail charges against Avenatti at a press conference in Los Angeles later on Monday.