Donald Trump Jr. has played down the Republican Party's gubernatorial loss in Kentucky, insisting it had nothing to do with his father.
Democratic candidate Andy Beshear is claiming victory in Tuesday's election over incumbent Kentucky Governor Matt Bevin, an ally of President Donald Trump.
Bevin is unpopular in Kentucky and has had some bruising political fights, including one with the state's public school teachers over education cuts.
Beshear, who served as the state's attorney general, is the son of former Kentucky Governor Steve Beshear. Per PBS, Beshear beat Bevin by around 5,000 votes in a close-run race.
President Trump held a rally in Kentucky on Monday and welcomed Bevin onto the stage. Bevin urged Kentucky to vote Republican to show that the state supports Trump.
Trump said that losing the election would send "a really bad message to the rest of the country" and "you can't let that happen to me."
However, Republicans did triumph in all the other state official elections in Kentucky, including the attorney general, agriculture commissioner, auditor, secretary of state, and treasurer.
Speaking to Fox News host Laura Ingraham, Trump Jr., the president's eldest son, lambasted those pinning the blame for Bevin's loss on his father.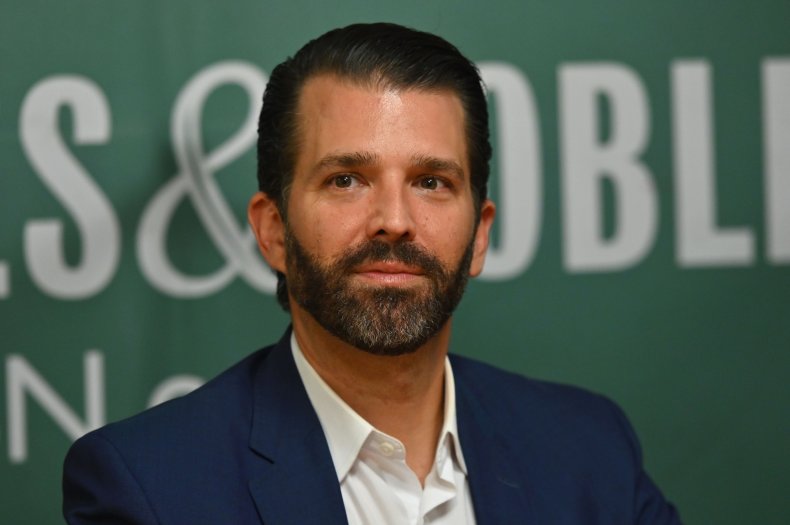 "Any opportunity to try to take a swipe," Trump Jr. told Ingraham. "They don't talk about the rest of the Republican ticket sweeping. They don't talk about the first African-American attorney general—who happens to be a Republican—elected.
"They don't mention that Trump helped propel those guys to those places. And yeah, I like Matt Bevin, he's been a friend of mine, he's a good guy, but he's picked a lot of battles, he teed off on a lot of people in Kentucky, that's not always popular, we understand how that works."
Trump Jr. added: "Like I said, I think he's done a good job but Matt Bevin has picked some fights. So, this has nothing to do with Trump. Again, they swept the rest of the ticket...Keep knocking Trump, guys, see how it worked last time."
Brad Parscale, campaign manager of Trump 2020, also sought to minimize the Democratic win in Kentucky, having earlier claimed the president "just about dragged" Bevin to victory.
"The Democrats nominated a moderate, who's [sic] dad was a moderate, who didn't talk about impeachment or Trump, and who acts like a Republican," Parscale tweeted. "Talk about Kentucky when an actual Democrat runs."
According to USA Today, Bevin refused to concede, opening the door to a recount. "This is a close, close race," Bevin reportedly said and claimed there were "irregularities" in the election. "We are not conceding this race by any stretch."
The graphic below, provided by Statista, shows Democractic gains in state governorships in 2019.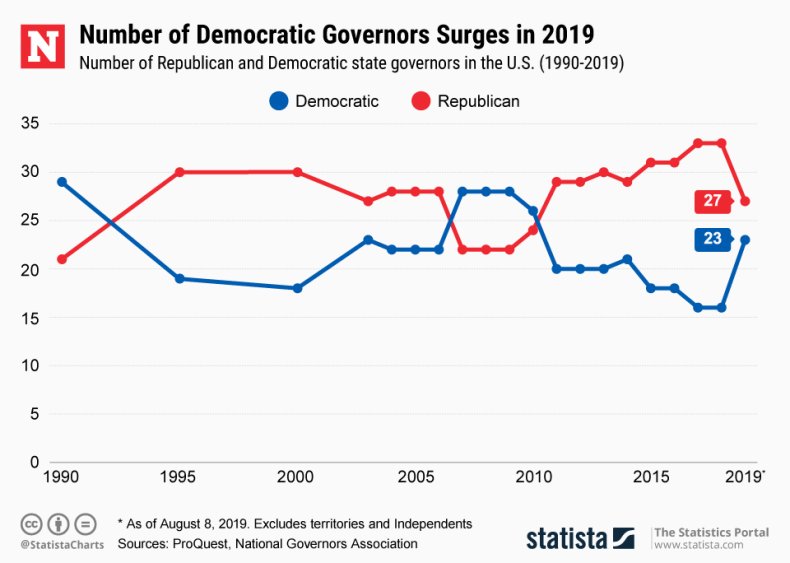 This article was updated to include an infographic.