Donald Trump Jr. Retweets Cartoon of His Father Body-Slamming French President Emmanuel Macron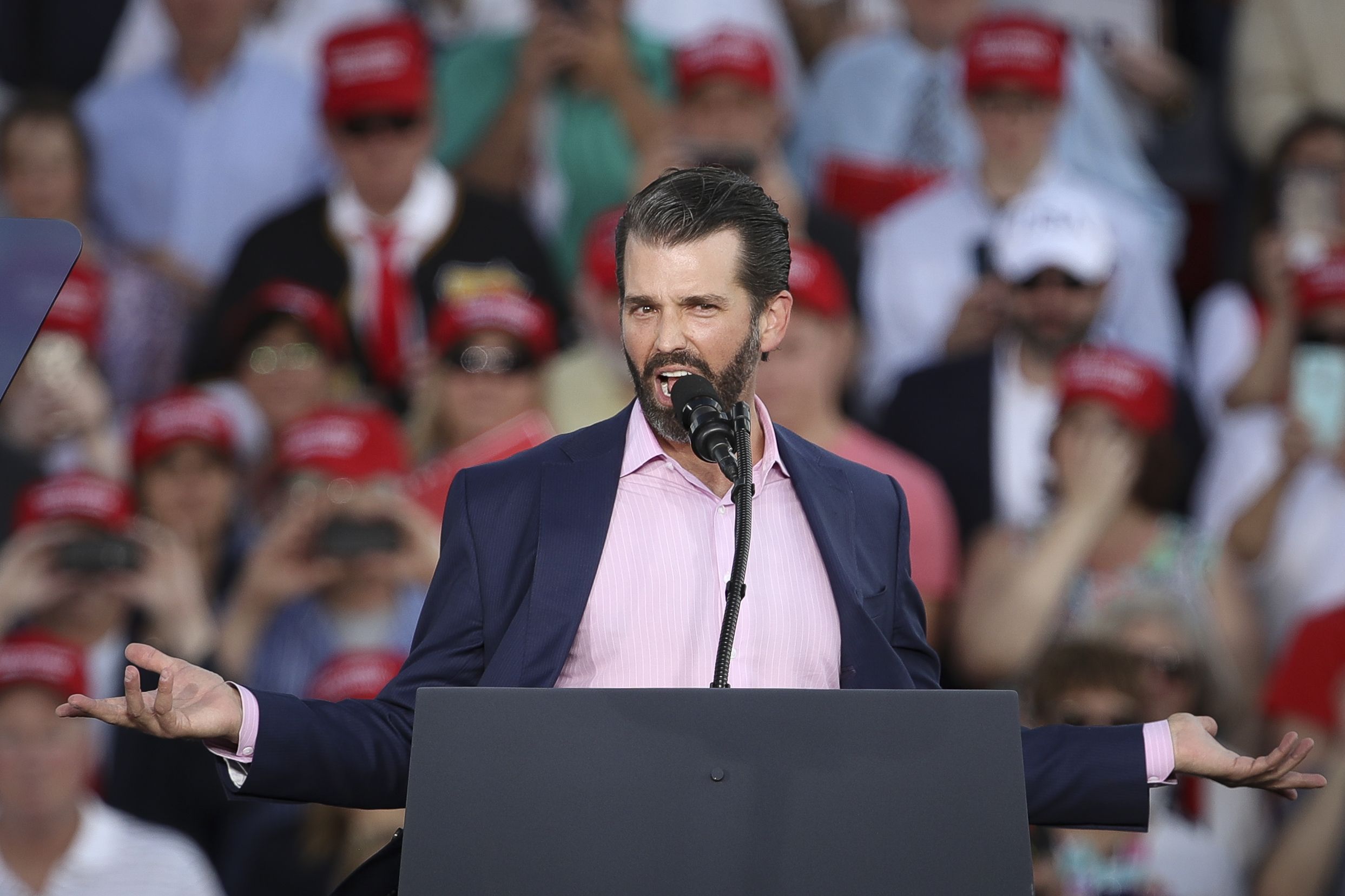 Donald Trump Jr., President Donald Trump's eldest son, retweeted a cartoon of the president body-slamming and injuring French President Emmanuel Macron on Wednesday.
The image, created by conservative cartoonist Ben Garrison, shows President Trump standing triumphantly over a donkey representing the Democratic National Committee lying on the ground with its eye punched out next to a man with a smashed TV head representing the "mainstream media" and Macron, who is depicted with a broken hand and injured head. Above the image are the words "body slammed."
Politico reported Thursday that Trump Jr. had signed a book deal with Center Street Books, an imprint of the Hachette Book Group. The book, which is set to be published later this year, is still untitled, but Trump Jr. has been retweeting possible book titles since the announcement. The text that came alongside the cartoon suggested he name his book How I Kick Liberal Ass Without Breaking a Sweat in Under 60 Seconds and You can Too!
Trump Jr.'s book will be the first published by a Trump child while in the White House. In a statement, Trump Jr. said he looked forward to "expressing my observations and opinions about this significant time in American history, the great achievements of my father's administration, the great people across this country who support him, and those who oppose him."
European Parliament elections will take place in France this weekend, and ultraconservative politician Marine Le Pen's party, the National Rally, is said to be neck-in-neck with Macron's La République En Marche campaign.
Some suggest that former Trump adviser Steve Bannon has been instrumental to Le Pen's campaign.
Bannon praised Le Pen to French newspaper Le Figaro this week for "her resilience, given that she has managed to come back from her failure in 2017, and the way in which she has given a new identity to the Front National, everything that she has done in terms of leading her party, I find it quite remarkable," Bannon said.
But Le Pen insisted that he was not helping her campaign. "I did not even know he was in Paris for business. It has nothing to do with the campaign. It is you, the media, that are dragging him into the campaign," Le Pen told FranceInfo.
Le Pen supports a French exit, or Frexit, from the European Union. Her party once accepted Nazi collaborators to its ranks and elevated them to high positions, but Le Pen has attempted to distance the rebranded party from that past.