Donald Trump Jr. Says GameStop Stock Mania 'Amazing To Watch' As Short Sellers Squeezed
Donald Trump Jr. said it was "amazing" to see retail investors push up the stock price of the video game retailer GameStop as they looked to squeeze short-seller hedge funds who bet on the brand's stock market value falling.
Former President Donald Trump's eldest son said the investors organized on the WallStreetBets subreddit were moving markets "just like the big guys" as GameStop's stock price continued to rise, hitting $447 per share in premarket movement.
Trump Jr. said he was amazed by the market action as he responded to a post from Twitter user WSB Chairman that called for "every single" Wall Street hedge fund to be shuttered over "gangster tactics" if regulators chose to shut down the r/WallStreetBets.
Reacting to the tweet, Trump Jr. said: "He's not wrong... they just aggregated enough small retail investors in an open forum to move markets just like the big guys. It's actually amazing to watch!!!"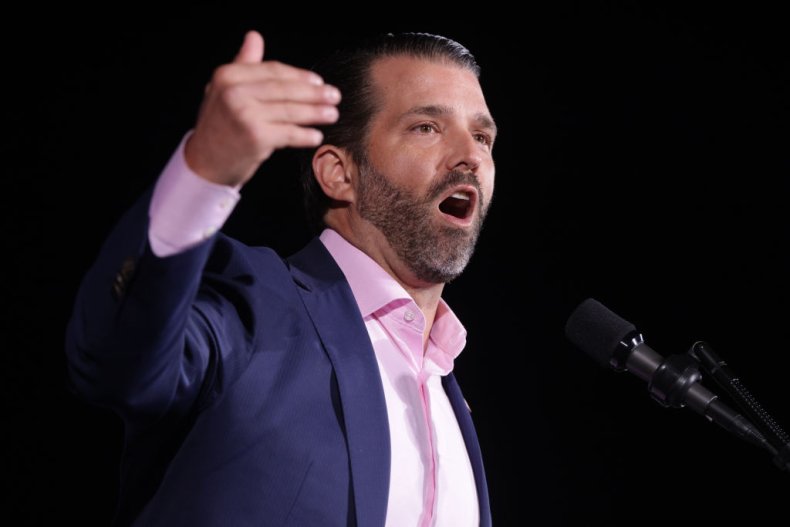 The former president's son is not the only political figure who has weighed in on the GameStop stock market moves over the past few days.
Rep. Alexandria Ocasio-Cortez (D-NY) also said it was "really something" to see people on Wall Street complain about "a message board of posters also treating the market as a casino" after they had spent years doing so themselves.
Robert Reich, a former labor secretary, tweeted: "If Redditors rallying GameStop is unacceptable market manipulation, what would you call it when greedy Wall Street bankers gambled away our entire economy in 2008 and faced no consequences?"
White House Press Secretary Jen Psaki said Treasury Secretary Janet Yellen and other administration officials were monitoring the situation.
"It's a good reminder, though, that the stock market isn't the only measure of the health of our economy, it doesn't reflect how working and middle class families are doing," she told reporters. "We're in the midst of a K-shaped recovery. America's workers are struggling to make ends meet."
Releasing a statement on the volatility, the U.S. Securities and Exchange Commission said it was "monitoring the on-going market volatility in the options and equities markets" and was working with other regulators to "assess the situation" in line with its mission to protect investors.