Donald Trump Jr. Rips George Conway for 'Making it Really Tough' for 'Rock Star' Kellyanne Conway to Do Her Job
President Donald Trump's eldest son Donald Trump Jr. went after lawyer George Conway on Thursday, claiming he's "making it really tough" for his "rock star" wife Kellyanne Conway to do her job as counselor to the President.
Trump Jr. sided with Kellyanne Conway after initially saying on SiriusXM's Jim Norton & Sam Roberts show that he was not going to comment on the relationship that has left many onlookers baffled. Kellyanne Conway is one of the president's longest-serving top aides and frequently appears on television defending him, while George Conway attacks the president via Twitter on a daily basis.
Co-host Jim Norton at SiriusXM's headquarters in New York City asked Trump Jr. to explain the couple.
"I don't understand how they f*ck. I respect the fact that your father's kept her on, but her husband, I find hateable just because this is your wife and you're just, you're, you're just...does she on some level agree with him?" Norton said. "How do they stay married? I don't understand it."
Trump Jr. replied, "I don't think so, but listen I'm not going to opine on people's individual relationships," but then told Norton to imagine if the husband of a high-ranking liberal official were doing that and went into George Conway's specific situation.
"He's bitter, he didn't get a job in the administration that he wanted, she did," Trump Jr. said, referring to the fact that George Conway was not offered a job in the Trump administration. "She's now the rock star that's out there doing a good job and he's pissed."
Trump Jr. opined that feminists are not bashing George Conway and "he gets a total pass on the fact that he's making it really tough for her to be able to do her actual job that she signed on for." The president's son said George Conway is viewed as "the hero because he's part of the resistance."
"Give me a break," Trump Jr. added.
Norton said he could not believe what he sees and compared the Conways to Democratic political commentator James Carville and his wife, Republican political consultant Mary Matalin.
Co-host Sam Roberts added that Conway is "so publicly against the man that her job is to publicly support" and "it's the craziest thing I've ever seen."
"Yeah, no, I'm with you on that one," said Trump Jr., who visited to promote his forthcoming book Triggered: How the Left Thrives on Hate and Wants to Silence Us.
Trump Jr.'s remark that George Conway is bitter was strikingly similar to what the president said on Twitter in March 2019.
"George Conway, often referred to as Mr. Kellyanne Conway by those who know him, is VERY jealous of his wife's success & angry that I, with her help, didn't give him the job he so desperately wanted," the president tweeted. "I barely know him but just take a look, a stone cold LOSER & husband from hell!"
As of late afternoon Thursday, George Conway had not tweeted about Trump Jr.'s comments. The Conways, who married in 2001 and have four children together, have not commented publicly on their politically clashes. George Conway was considered by Donald Trump for U.S. Solicitor General and for assistant attorney general for the Department of Justice's civil division.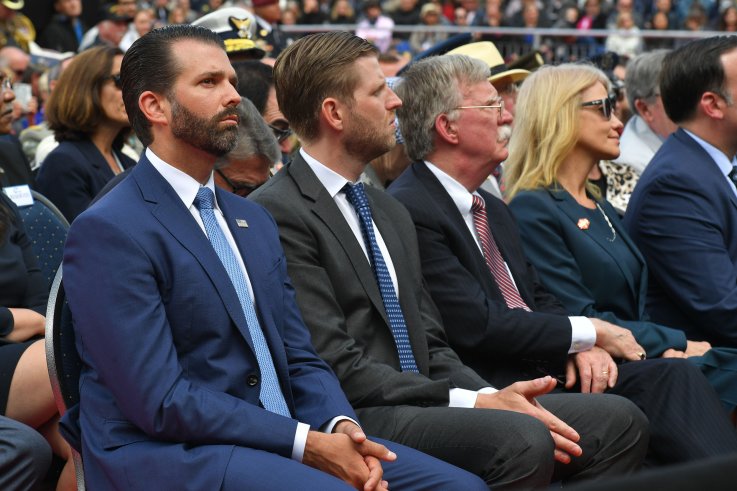 Donald Trump Jr. Rips George Conway for 'Making it Really Tough' for 'Rock Star' Kellyanne Conway to Do Her Job | Politics