Donald Trump Jr. Goes on Tweetstorm During Comey Hearing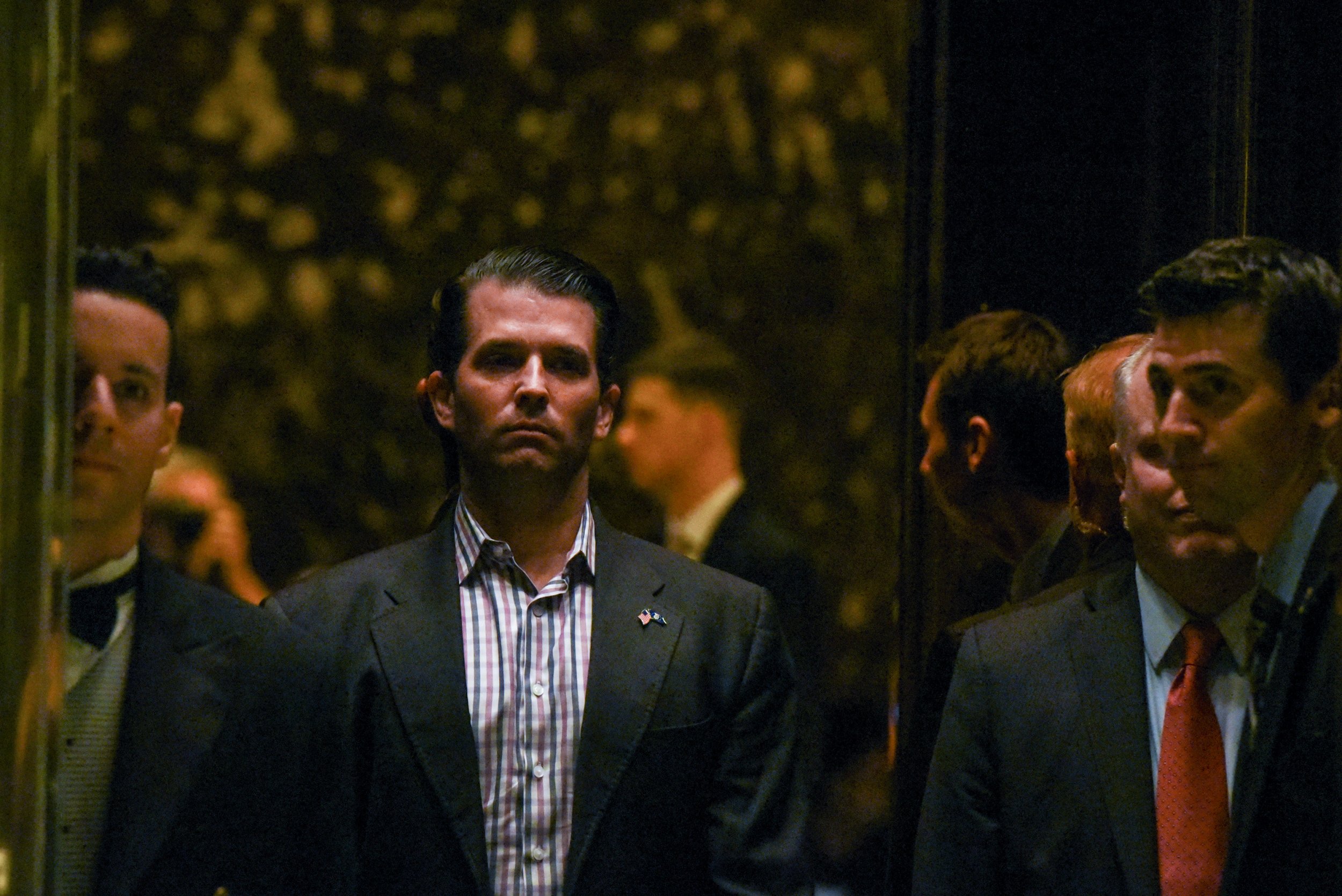 Earlier this week, it was Eric Trump who thundered against Democrats to Sean Hannity, complaining that they "are not even people." On Thursday, it was Donald Trump Jr., who defended his father's increasingly embattled presidency.
He did so in a series of tweets during the Senate Intelligence Committee hearing, where fired FBI director James Comey testified about President Donald Trump's repeated attempts to have him "lift the cloud" of the Trump-Russia investigation. That multi-pronged probe pertains to allegations that the Trump campaign colluded with Moscow during the 2016 presidential election, among other things. It involves not only four congressional committees, but also special counsel Robert S. Mueller III, who once headed the FBI.
Donald Jr.'s tweets, like his father's, were by turns combative and defensive and rife with anger at the media and Democrats. He both attacked Comey and praised him, depending on whether it was politically expedient to do so, and he showed little of the grace and temperance most Americans expect from a member of the first family.
The possibility that Russian hackers may be at work eroding the American electoral process did not appear to concern Donald Jr., judging by his Twitter feed. The issue doesn't seem to bother President Trump, either.
Donald Jr's defense of his father came despite previous assurances there would be a clear separation between the Trump Organization and the Trump presidency. Donald Jr's. profile on Twitter identifies him as an executive vice president of "development & acquisitions" for the small branding firm founded by his father. Yet on Twitter, he appeared to be serving as an eager surrogate for the White House.
In dozens of tweets and retweets, Donald Jr. promulgated the narrative that Comey's testimony absolved the president, in part because the former FBI director averred that Trump himself was never under investigation.
At the same time, he attacked Comey for leaking his memoranda of encounters with Trump through a friend who taught at Columbia Law School. Since Comey was a private citizen by then, there was nothing improper or unethical about him doing so.
Donald Jr. also went after Obama-era Attorney General Loretta Lynch, mirroring congressional Republicans' attempt to turn the Comey testimony into a referendum on whether Obama's Department of Justice showed sufficient zeal in investigating former Secretary of State Hillary Clinton's use of a private email server.
Eric Trump also defended his father on Twitter on Thursday, but with a single missive, one whose tone differed somewhat from his brother's many tweets.
Ivanka Trump sent no tweets about the Comey hearing.