Did Donald Trump Jr. Forget His Dad's Sexual Harassment Scandals While Condemning Harvey Weinstein?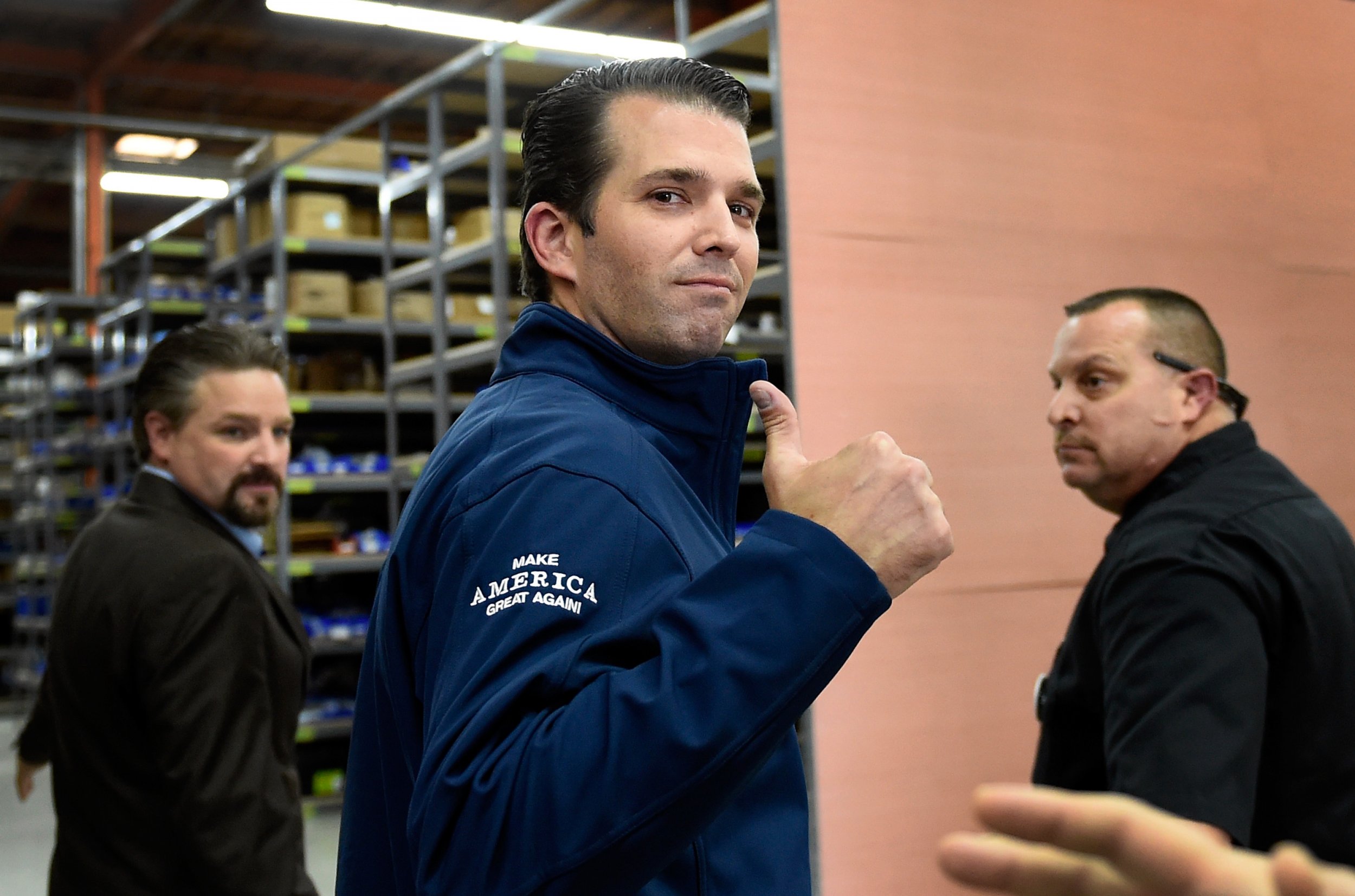 One long, long year has passed since a 2005 tape of Donald Trump bragging that he could grab women "by the pussy" leaked to The Washington Post. But for Donald Trump Jr., it's almost like the president's indiscretion never happened at all.
The first son has been on a Twitter rant since Thursday, when The New York Times published a bombshell story alleging that Hollywood producer Harvey Weinstein has been sexually harassing women for decades. After Weinstein issued a statement saying he planned to spend his time now opposing the National Rifle Association and throwing the president a retirement party, Trump Jr. tweeted that it was an "amazing deflection."
"After 3 decades of rampant sexual hatrassment [sic] I'm going to go after the NRA and Trump so it's ok...#hollywood," he added.
The 39-year-old also liked posts about how the film industry had covered up Weinstein's advances toward women, how close Weinstein was with several high-profile Democrats and how Weinstein planned to sue the Times for not giving him enough time to respond to the allegations.
Trump Jr. then seized upon another part of Weinstein's statement, where the executive wrote that he "came of age in the '60s and '70s, when all the rules about behavior and workplaces were different." CNN journalist Jake Tapper wrote that "it's weird how many dad[s] grew up in the same exact era and never sexually harassed anyone," and Trump Jr. liked it.
Wait, what?
President Trump has been accused of harassment by several women—and, depending on how you interpret the 2005 tape, may have even admitted to it. In that conversation, recorded as the tycoon spoke with Access Hollywood host Billy Bush, Trump bragged about a lady and said he'd "moved on her like a bitch." He added that he was attracted to beautiful women, and when he wants to seduce them, he "just starts kissing."
In an October 2016 statement, Trump dismissed the remarks as "locker-room banter." But they opened the floodgates for more accusations.
Within days of the Access Hollywood leak, a woman named Jessica Leeds told the Times Trump groped her on a plane 30 years ago. A former Trump receptionist, Rachel Crooks, claimed Trump kissed her on the mouth outside an elevator in 2005. Former Miss Universe contestant Ninni Laaksonen alleged Trump squeezed her butt in 2006. Summer Zervos, an ex-competitor on The Apprentice, said Trump kissed her and "began thrusting his genitals" at her in 2007.
Donald Trump has repeatedly denied wrongdoing, and his family has repeatedly supported him. That includes Trump Jr.; when the Times report about Leeds and Crooks came out, he told Charlotte morning news on WBT radio that "I've never heard anything dumber in my life."