Donald Trump Jr. Has 'More Faith in Dog the Bounty Hunter' Than FBI Finding Brian Laundrie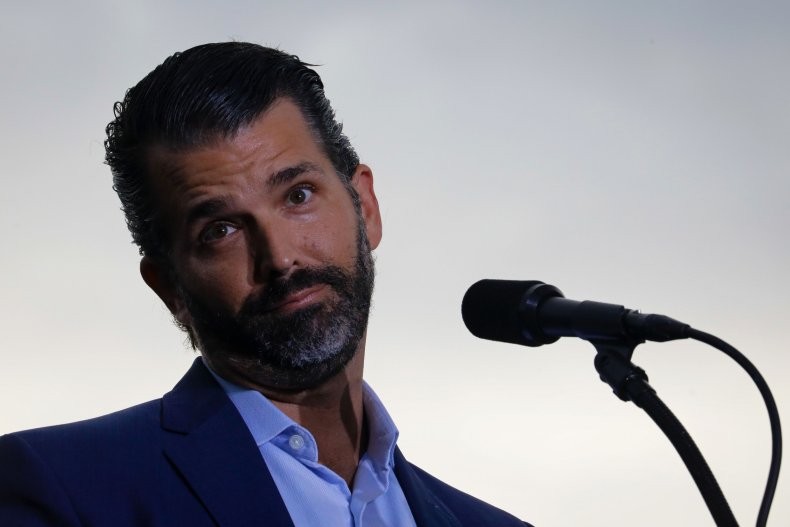 Donald Trump Jr. has praised reality TV star Duane "Dog the Bounty Hunter" Chapman's search for Brian Laundrie while blasting the FBI.
Trump tweeted that he has "much more faith in Dog The Bounty Hunter finding this scumbag than the FBI" on Wednesday night. The FBI is conducting a national manhunt for Laundrie, who is a person of interest in the disappearance and death of his fiance, Gabby Petito. Chapman recently launched a search of his own, with his arrival at the Florida home of Laundrie's parents prompting a call to 911.
Trump's expression of a lack of "faith" in the FBI may be related to the agency having investigated his father, former President Donald Trump, for much of his presidency. Just before the 2020 presidential election, Trump Jr. also tweeted disapproval of the FBI for slowly investigating a laptop that allegedly belonged to Hunter Biden, the son of President Joe Biden.
The former president's son was not the only conservative figure to recently praise Chapman and his independent search for Laundrie. Alt-right favorite and Trump loyalist Jack Posobiec on Tuesday suggested that success by Chapman would be evidence that federal law enforcement agencies are "a joke."
"When Dog the Bounty Hunter finds Brian Laundrie before the FBI does will people see how much of a joke the national security agencies are?" Posobiec tweeted. "Go Dog!"
Chapman has said he received an outpouring of tips since beginning his search on Saturday. He hired a K-9 search and rescue team on Wednesday to help him look for Laundrie on the obscure island Egmont Key off of St. Petersburg, Florida, according to Fox News. The reality star's search had reportedly come up short as of Wednesday evening.
"We're out here at the island," Chapman said in a Twitter video update on the search earlier in the day. "This would be and could be a perfect spot for him to hide. Not too many people out here, but there's a lot of environmental things that we're gonna fight. So, here we go. The search now is really on. The search has just begun."
The video update included a caption that explained the "active and specific" island search was "based on the intelligence we are receiving and researching." Chapman has also searched at a campground in Pinellas county that Laundrie visited with his parents in early September. Chapman claims that Laundrie's parents aided in his escape.
While the celebrity bounty hunter has established his own investigation and tip line, the FBI is continuing to search for Laundrie. Petito's parents have expressed confidence that the federal law enforcement agency will be successful, while others have questioned whether Chapman's search could interfere with or hinder the official investigation.
Newsweek reached out to the FBI for comment.