Donald Trump Jr. took to Fox & Friends Monday morning to falsely dismiss the majority of hate crime victims as liars.
"There were many more hoax hate crimes than there were actual," he said on the morning program, failing to cite any sources. Trump Jr. eventually clarified that "the problem is, those hate crimes do still exist, racism is still a real problem in this country," before returning to his original line of thought. "But it's not the problem for everything, every grievance that you have," he said. "And so what happens is these things really do a disservice from people who are truly afflicted by this ... Every grievance, everything that you can't combat with facts, it's 'oh, racist!' It's the easy button for the left, and it's not fair and it's not right."
The confused statement, made by the heir to the Trump Organization and Trump 2020 campaign fixture, came after actor Jussie Smollett was accused by the Chicago Police Department of staging a hate crime against himself for publicity and possible career advancement.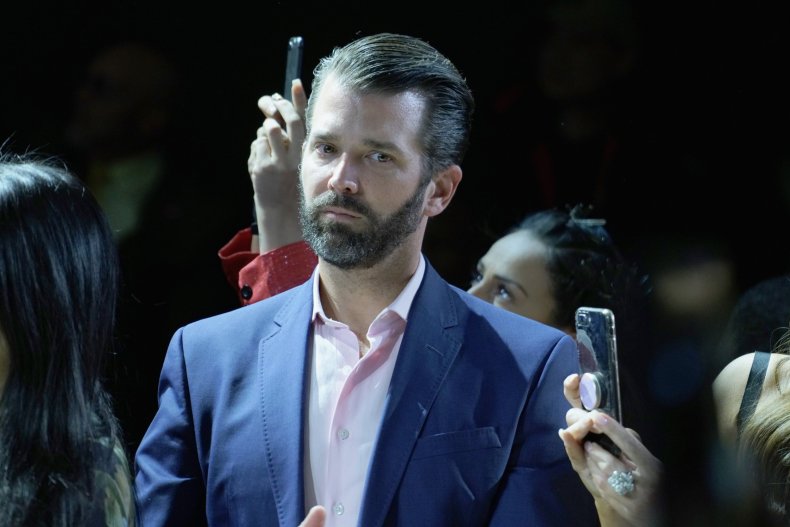 While Smollett's situation was unfortunate and certainly worked to discredit the tens of thousands of real victims of hate crimes, hoaxes like his are exceedingly rare. The Center for the Study of Hate and Extremism at California State University, San Bernardino, estimated that of the approximately 21,000 reported hate crimes between 2016 and 2018, just under 50 of those, or 0.2 percent, were found to be false. According to The New York Times, the center estimated that just 1 percent of all reported hate crimes were falsified.
That's a far cry from the "many more hoax hate crimes than there were actual" that Trump Jr. claimed on Monday.
The number of hate crimes has risen significantly—by 30 percent—over the past four years, according to the Southern Poverty Law Center (SPLC). The increase "dovetails with [Donald] Trump's campaign and then his presidency, a period that has seen a 30 percent increase in the number of these [hate] groups," wrote Heidi Beirich, director of the SPLC's Intelligence Project. "In the three years prior to that, during the waning years of [Barack Obama's] presidency, hate groups were actually on the decline."
On Monday morning, President Trump defended his administration's history on race on Twitter. The president was especially miffed that director Spike Lee had spoken out against him during his Sunday night Oscar speech. "Be nice if Spike Lee could read his notes, or better yet not have to use notes at all, when doing his racist hit on your President, who has done more for African Americans (Criminal Justice Reform, Lowest Unemployment numbers in History, Tax Cuts,etc.) than almost any other Pres!" he wrote.