Donald Trump Jr. Pleads With Hillary Clinton to Run in 2020, Even Though She Won the Popular Vote in 2016
Donald Trump Jr. has pleaded with Hillary Clinton to run for president one more time in 2020. President Donald Trump defeated the former Secretary of State in a bitter 2016 election, despite losing the popular vote by almost three million votes.
"Is Hillary Clinton secretly planning to run in 2020?" Trump Jr. wrote on Twitter on Sunday, citing a Drudge Report link to a New York Post story speculating on a dramatic and unlikely third run for president.
"PLEASE PLEASE PLEASE MAKE THIS HAPPEN___ #maga" the president's eldest son added.
Despite the election happening nearly two years ago, both Trump Jr, his father and the president's supporters have continued to talk regularly about Clinton. Indeed, Trump sent 260 tweets about the election in the 12 months following his upset victory. Those mentions have continued since, with discussion of his defeated opponent almost always referring to her as "Crooked Hillary."
Many of those mentions have centered on the ongoing investigation into the Trump campaign's ties to Russia amid the country's interference in the 2016 election. Trump has called the investigation a "witch hunt" cooked up by Democrats as an excuse for their defeat. He has also accused Democrats of collusion.
Trump has also struggled to accept being handily beaten in the popular vote, claiming without any evidence that her win was based on three to five million people voting illegally.
Clinton, too, has continued to attack Trump and keep herself in the spotlight. As well as releasing a book on the 2016 campaign, What Happened, she has derided many of the president's policies and his rhetoric. In an interview with The Guardian last month, she said that Trump's presidency was "bottomless" and chastised him over his administration's "zero tolerance" immigration policy which led to the separation of thousands of migrant children from their parents.
"I mean, you just … who thinks like that? Who does these things? How can anybody look in the mirror? How can they actually live with themselves?" Clinton said.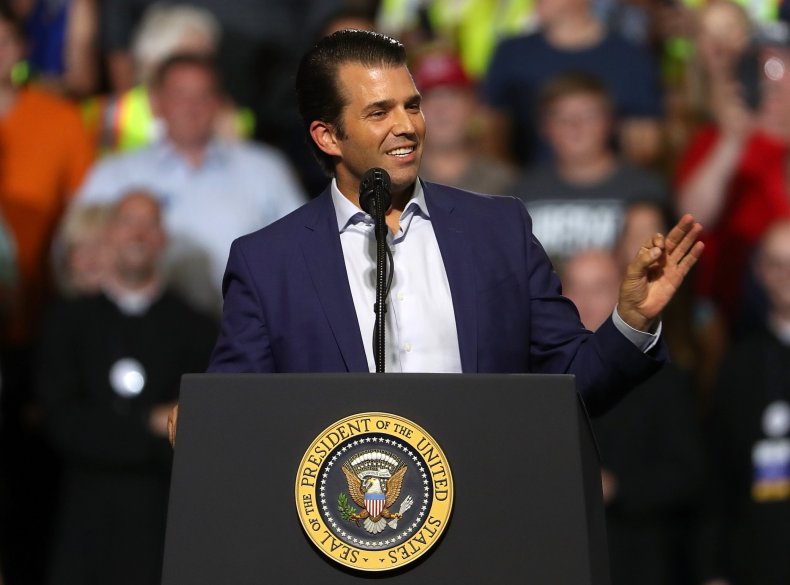 There promises to be a crowded field vying for the Democratic nomination in 2020. Experienced figures like former Vice President Joe Biden, Senator Elizabeth Warren and the man Clinton defeated in the 2016 primary, Bernie Sanders, are expected to face off against young progressive such as Senators Kamala Harris and Cory Booker.
There has been little indication from Clinton herself that she is considering running again. And one of her former campaign strategists dismissed the idea on Monday.
"It's silly. It's a pipedream," Adrienne Elrod told The Hill. "I mean, look, she's made it very clear that after this last run she's done. It's time for new faces to come in.
"To be honest with you, I don't know that a run this time around would yield a first or second place finish. I think there's a lot of new people in the party who are stepping forward. I think we've got a very deep bench of strong candidates and she knows this."