Donald Trump Jr. and His Girlfriend Will Be Paid $50,000 Out of Student Fees for Speech at University of Florida
The speaking tour continues for Donald Trump Jr., and his girlfriend, Kimberly Guilfoyle, a former Fox News host and senior advisor to the president's 2020 reelection campaign. The couple will deliver a speech followed by a question and answer session at the University of Florida in Gainesville on October 10.
Trump Jr. and Guilfoyle will receive $50,000, which will be paid for out of student activity fees, according to The Alligator, the student newspaper at UF.
The event will be the first Fall event for the ACCENT Speakers Bureau at the university, according to its Facebook announcement Tuesday afternoon.
"ACCENT Speakers Bureau is excited to announce our first show of the fall semester featuring Donald Trump Jr. and Kimberly Guilfoyle next Thursday, October 10th in the University Auditorium!" the Facebook post stated. "FREE tickets will become available Tuesday, October 8th at 10 a.m. in the University Auditorium box office."
The Gainesville Sun reported that $19.06 of every tuition credit students pay for goes toward the student activity fee. ACCENT has continuously used those fees to pay speakers on campus, and the events are free for those with current student identification cards.
The announcement of Trump Jr.'s speech comes almost six months after reports of a speech of his at a rally in Kentucky had such a low attendance that organizers reportedly asked most of the attendees in the sparsely-filled venue to move closer to the front.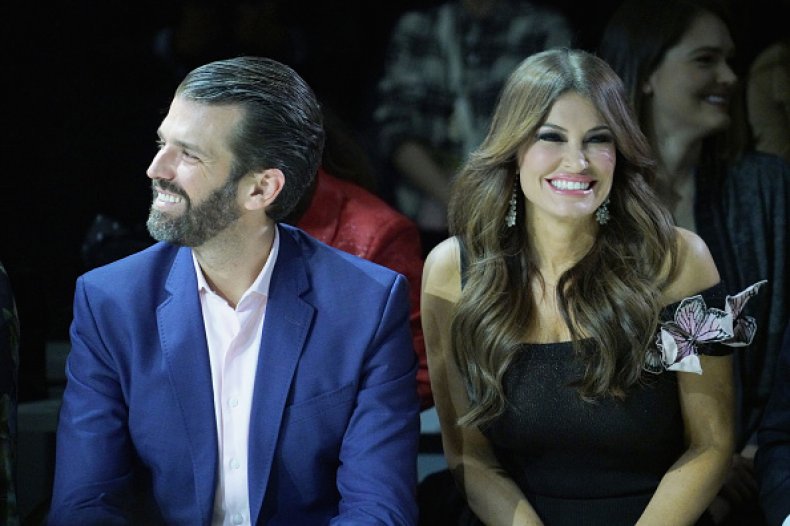 It also comes after Trump Jr. last month said it was "ridiculous" his family would profit off his father being the president. His comments came after Vice President Mike Pence lodged at President Trump's Doonbeg golf resort in Ireland while attending a conference in Dublin, which is on the opposite side of the island.
"It's ridiculous. First of all, he's not involved at all with such things. They also neglect to talk about the fact that we voluntarily stopped doing any international deals," Trump Jr. said last month.
"I mean, just think of the opportunity cost. The amount of deals that I've done over the last ten years, extrapolate that over the eight years of what will be his presidency. That's a lot of deals.
"They talk about, 'Someone bought a cheeseburger at the Trump hotel!' It's asinine."
Trump Jr. and Guilfoyle spoke at Penn State University this April, joining Turning Point USA founder Charlie Kirk. The Daily Collegian, the student newspaper at PSU, reported that more than 2,000 attended the event at the largest lecture hall on campus.