Donald Trump Jr. Instagram Post Says His 'Motherf***er' Father Helped 'Anti-American' Rashida Tlaib's Home State
First son Donald Trump Jr. got back at Representative Rashida Tlaib for calling his father President Donald Trump a "mother***er" by using the same expletive at her in an Instagram post Wednesday morning.
"Hey Rashida, guess who just got Ford to ditch their plans for Mexico and send 700 jobs to your home state instead?" the image on Trump Jr.'s post read, along with a photo of his father giving two thumbs up. "THAT'S RIGHT, THIS MOTHER F'____!!!"
In his caption, Trump Jr wrote: "Wish some of these Anti-American liberal activist reps would do a little more fighting for the people of THIS country and THEIR constituents for a change. I know that's what @realdonaldtrump is Actually doing. He is fighting for America and Americans for their jobs, for their families, and for their wellbeing."
The first son also included the link to a Fortune story on Ford canceling plans to build a $1.6 billion plant in Mexico and instead adding 600 jobs in Michigan, the state Tlaib represents.
It was a play on Tlaib's comment at a Move On event last Thursday. The Democrat said her win showed that bullies are not victorious.
"And I said, 'Baby, they don't, because we're gonna go in there and impeach the motherf***er,'" Tlaib said.
Tlaib's comment went viral and she received backlash from conservatives and liberals alike. She later apologized, but not for the nature of the comment itself.
Tlaib defended the sentiment behind her words at a Michigan Veterans Foundation event Tuesday, apologizing only for the way in which her comments distracted from important issues.
"I am a person that is authentically me. I'm very passionate about fighting for all of us, and the use of that language was a teachable moment for me," she said.
Tlaib concluded: "I understand that I am a member of Congress, and I don't want anything that I do or say to distract us. And that's the only thing that I apologize for—that it was a distraction."
President Trump, meanwhile, called her words "highly disrespectful" and "disgraceful."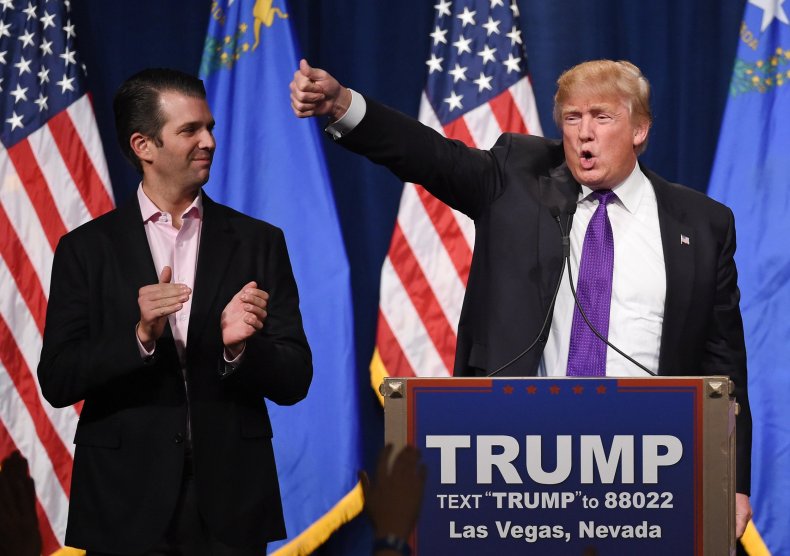 Though he is not a member of the Trump administration, Trump Jr. has emerged as one of his father's biggest advocates, slamming opponents on Instagram and other social media platforms. His outlandish posts have often included false information.
Trump Jr. deleted a heavily scrutinized Instagram post in August that included a doctored image falsely boosting his father's approval rating over that of ex-President Barack Obama.