'I Hope Don, Ivanka and Eric All Run Eventually': Trump Supporters Hold Out for The Future
President Donald Trump's supporters, rocked by the success of President-elect Joe Biden, are looking to the future despite the president's refusal to concede and last-ditch bids to cling to the White House. There's hope yet, supporters believe, with the president's next of kin.
"I hope Don, Ivanka and Eric all run eventually," Nick Rocco, a 26-year-old Trump supporter, told The New York Times.

Commenting on the outcome of the election, after expressing hope Trump does not concede, he spoke of his belief Trump supporters would not care if the family set up an unelected dynasty in the White House.
"I guarantee you, if you got 69 million Trump supporters, and you said, 'Would you be good with Donald Trump and Donald Trump Jr. and Eric Trump and Ivanka Trump as president?' a lot of people would be 100 percent behind that," he said.
"In Trump we trust, and as far as everything else, it's all going to fall into place."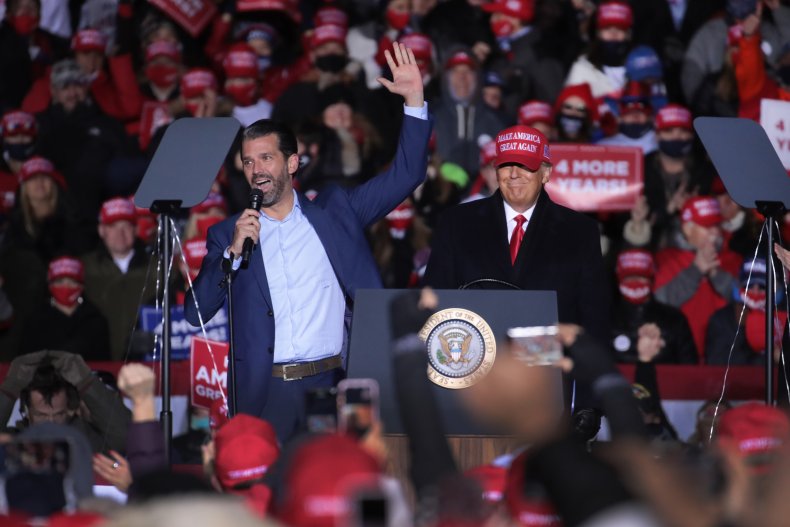 Both Donald Trump Jr. and Ivanka Trump have been tipped as future presidential candidates, with supporters and critics alike discussing this on social media, amid speculation Trump himself could even seek another opportunity to run for a second term in 2024—with polling suggesting he could garner support for doing so.
"The Trumps will be a dynasty that will last for decades," former Trump campaign manager Brad Parscale, who was replaced in that role but continued as a campaign adviser, said in September.
Trump Jr. last month posed next to a "Don Jr. 2024" banner and shared a photo of this on his Instagram, to the delight of his online following.
Whether eyeing up his own 2024 run or not, he has already begun to make comments on how those intending to do so should act—criticizing "2024 GOP hopefuls" for not standing alongside his father, amid his claims, made without evidence, of a Democratic plot to steal the election.
Seth Weathers, a Republican strategist who previously worked as the Georgia state director for Trump's 2016 campaign, shared Trump Jr.'s comments and wrote: "Don Jr 2024!"
Previous polling has put Trump Jr. as one of the top choices among Republicans for the party's 2024 nomination, while Ivanka's name has also been among top picks—with both mentioned alongside current Vice President Mike Pence.
In a SurveyMonkey poll for Axios at the end of last year, Pence as the top choice of 1,854 Republican leaners asked who they would consider backing in 2024. He was followed by Trump Jr. in second, while Ivanka was in fourth behind Nikki Haley, former governor of North Carolina who also served as the U.S. ambassador to the United Nations.
The New York Post included both Trump Jr. and Ivanka in an article discussing potential 2024 candidates, suggesting either could "pick up the mantle."
Political pundit Ann Coulter, who backed Trump early on in his 2016 bid for the White House but since turned critical of his actions in office, has discussed the party moving on with "Trumpism without Trump" as a potential formula for future successes.
"The Trump agenda without Trump would be a lot easier," The Oklahoma Daily reported Coulter as saying at a recent Turning Point USA event.
"Our new motto should be 'Going on with Trumpism without Trump.' That's a winning strategy."
Newsweek has contacted the Trump campaign to ask about the potential of future runs for office by Trump family members.