Donald Trump Jr., Jared Kushner Can Be Indicted 'A Lot Easier' After Mueller Report: Ex-Watergate Lawyer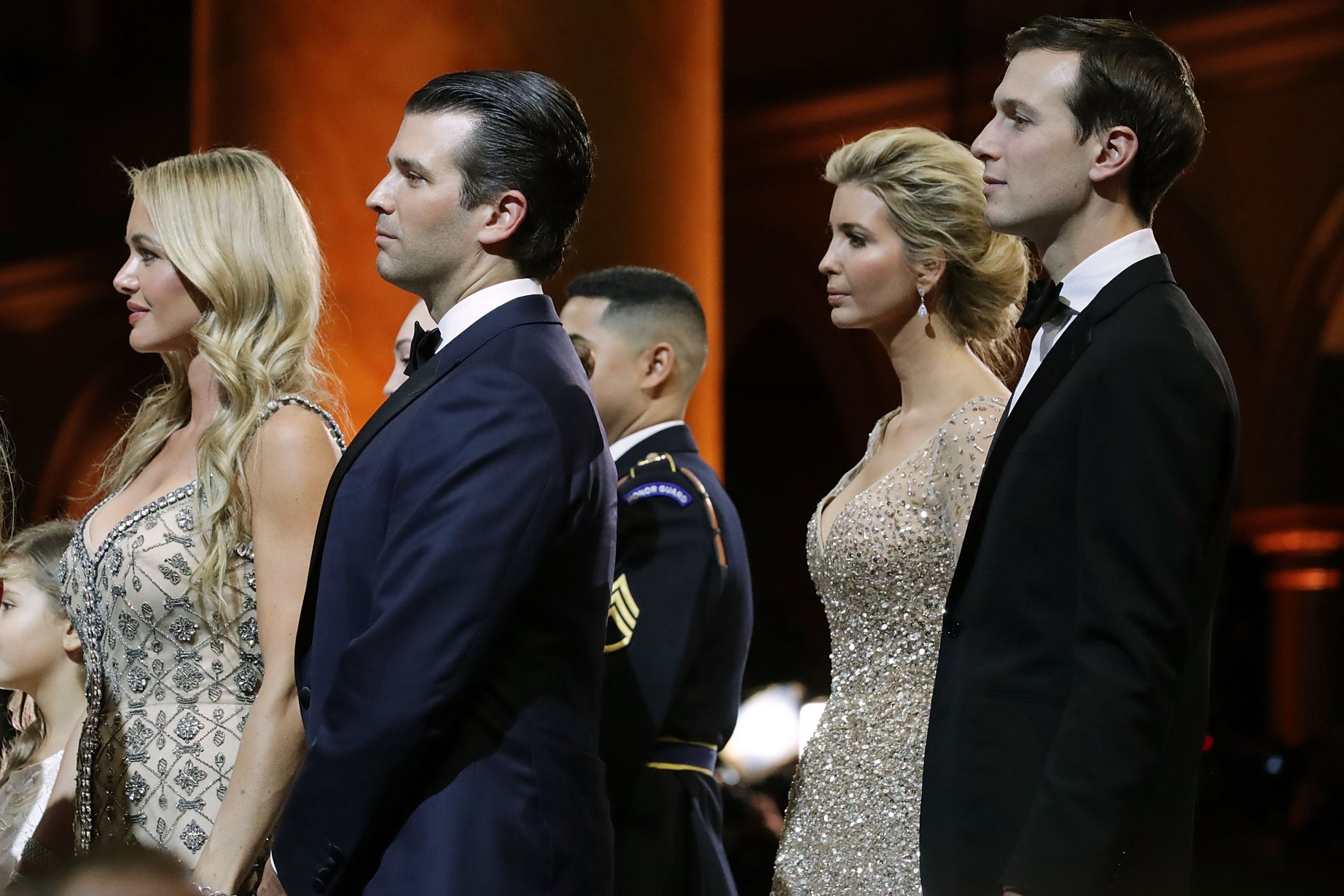 Special counsel Robert Mueller's report may clear President Donald Trump of an indictment threat, but the findings have made it "a lot easier" for prosecutors to indict his son Donald Trump Jr. and son-in-law Jared Kushner, according to a former Watergate lawyer.
The Mueller report could lead directly to the indictments of Trump Jr. and Kushner—who attended a June 2016 Trump Tower meeting with Russians who promised damaging information on Hillary Clinton—for obstruction, perjury and other crimes linked to Russia and other matters, argued David Dorsen, a Watergate assistant chief counsel in 1973 and 1974.
"What the Mueller report has done is in effect itemized the evidence against Donald Trump for obstruction of justice which included presumably new material, and much of that information would be applicable to Kushner and Donald Jr.," David Dorsen told Newsweek on Monday.
The Mueller report summary letter by Attorney General William Barr, released Sunday, stated that Mueller's probe "did not find that the Trump campaign or anyone associated with it conspired or coordinated with Russia in its efforts to influence the 2016 U.S. presidential election." Additionally, the letter stated that the investigation "did not draw a conclusion" on whether Trump obstructed justice but "does not exonerate him."
But Dorsen said that federal prosecutors in the Southern District of New York and the District of Columbia will likely get a "bonanza" of evidence that Mueller's 22-month probe produced.
"While Mueller says he's not going to recommend the indictment of Donald Trump senior for a variety of reasons, his work has made it a lot easier for prosecutors of other members of his family to put together indictments," said Dorsen, a Democrat who served in the Southern District of New York from 1964 to 1969.
Mueller thoroughly investigated the Trump Tower and other meetings that could lead to campaign violations if Russians gave information or anything of value to Trump's family members, Dorsen said. Mueller also probed senior White House adviser Kushner's filings and conflicts of interest, and his failure to disclose Russian contacts "could lead to a perjury indictment," Dorsen said.
Other associates of Trump, including his former attorney Michael Cohen were charged with perjury as part of the Mueller probe. However, Dorsen opined that Mueller's report did not seem to have come to a conclusion regarding Trump Jr. and Kushner presumably because they were not charged with crimes and it would not be fair to disclose evidence incriminating them without giving them a rebuttal platform.
While the attorney general is not required to release the full Mueller report, Dorsen said that not turning over the findings to the appropriate U.S. attorneys would be "a dereliction of duty."
"The Constitution does not protect a president's children," Dorsen stated.
Trump Jr. reportedly told his friends in recent months that he expected to be indicted by Mueller. But on Monday, he tweeted that the Mueller report was "a great vindication" for his father and "our family," suggesting he is not longer concerned.