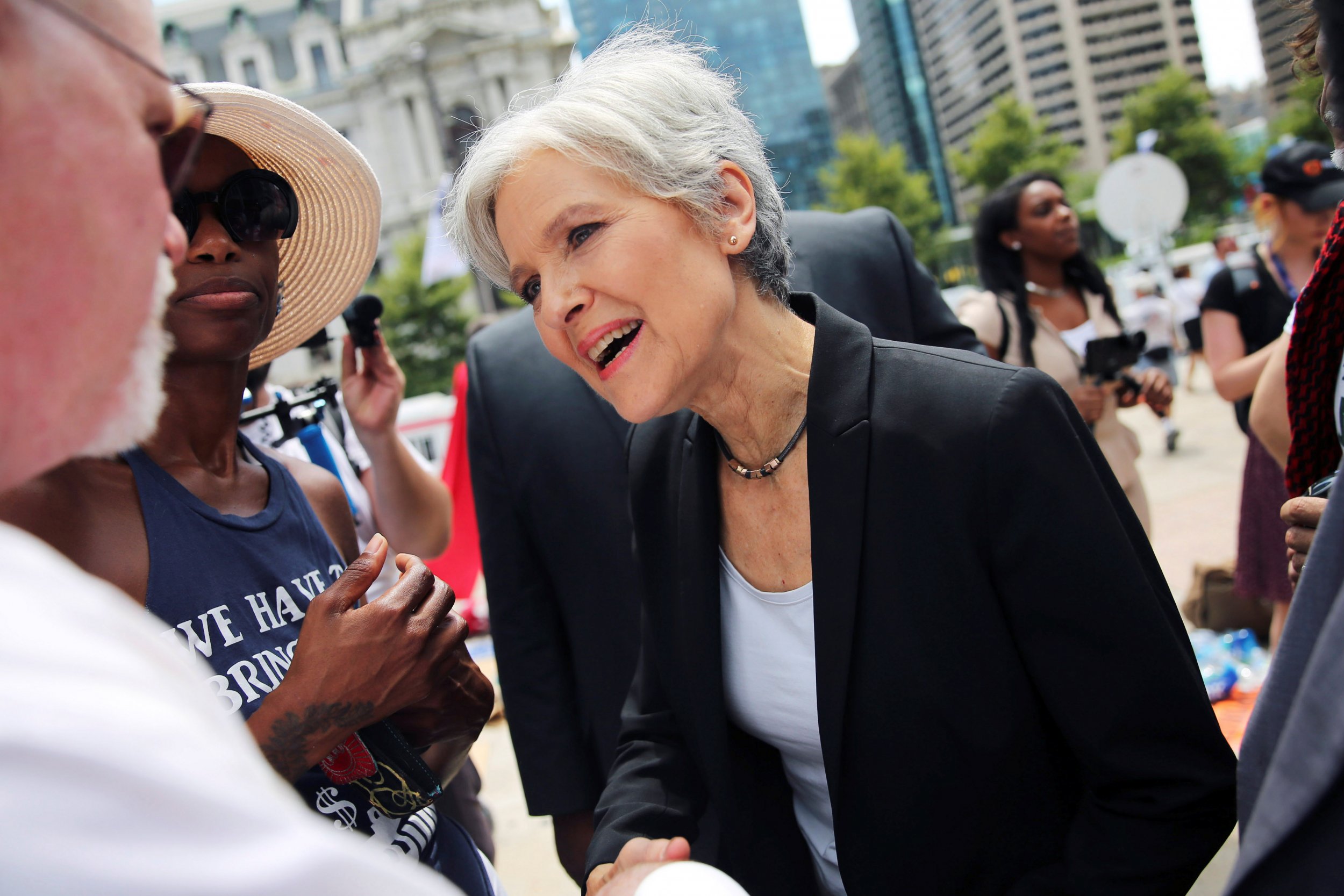 She's back, and nobody knows why.
There are 41 names included in the document requests sent to Donald Trump Jr.'s lawyer, Alan Futerfas, and Paul Manafort's lawyer, Reginald Brown, by the Senate Judiciary Committee. The requests include communications involving many individuals known to be ensnared in the Russia investigation, from President Donald Trump's former campaign manager, Corey Lewandowski, to Russian President Vladimir Putin.
But while this roster of characters would have made for a fine John Le Carré novel, one name included therein immediately attracted online speculation: that of former Green Party presidential candidate Dr. Jill Stein.
What, exactly, Stein has to do with Trump Jr.'s meeting last summer with Russian lawyer Natalia Veselnitskaya is unclear, as the Senate Judiciary Committee provided no context for its demands, which are to be honored by August 2. A request for an explanation to Stein's former campaign manager remains unanswered at this time. And though she is active on Twitter, Stein has made no acknowledgement on that social media network of her name's appearance in the Trump Jr. inquest.
None of this, of course, prevented some on Twitter from rejoicing at the prospect, however unfounded, that Stein was herself the subject of investigation. The glee is premature but understandable. Stein's self-righteousness exasperated many supporters of Hillary Clinton, as did her portrayal of Clinton as effectively no better a choice for true liberals than Donald Trump. Some have blamed Stein for "spoiling" the election, doing for Clinton what her fellow progressive Ralph Nader had done 17 years before for Al Gore. Her demand for a recount—a demand for which she reaped $7 million in donations—struck some as a pointless publicity ploy.
That's all to say that, as the curiosity about her involvement with the Russia investigation plainly demonstrates, there remains remarkable ill will toward Stein and her role in the 2016 presidential campaign.
The questions about Stein's ties to Russia are not new. They stem from a single photograph of Stein's trip to Moscow in 2015. The image shows her dining at a table with Putin and Michael Flynn, the disgraced Trump adviser at the heart of the Russia probe.
Politico later described the scene:
Stein didn't just attend the gala—dressed in a shimmering silver shawl, she sat at the same table as Russian President Vladimir Putin, who has barely disguised his glee at the political chaos that what he calls "patriotic" Russian hackers have unleashed in the United States. And she recorded a video from Moscow's famous Red Square, in which she talked about "the need to rein in American exceptionalism" and replace "a U.S. policy based on domination"—words that sounded like they were ripped from Putin's talking points.
Stein had never made any attempts to hide her trip to Russia or its purported intentions. "After this meeting I am more sure than ever that the ideas I'm bringing into the presidential race will allow the US and Russia to work together to address problems that would otherwise be intractable," Stein said of the meeting on her campaign website.
More recently, she has defended herself against accusations that she was somehow involved in a joint effort with the Trump campaign and its Russian comrades to smear Clinton. When, last month, CNN's Michael Smerconish asked Stein why she'd attended the dinner with Putin, she responded by deflecting blame.
"That picture didn't start to circulate until long after the election," Stein said, adding a little later: "It's funny, Michael, you have to ask why is that picture kicking up a storm right now? I think it's very related to the fact that the Democrats are looking for someone to blame."
It's unclear if members of the Senate Judiciary Committee know something of a previously undisclosed Stein "backchannel" to the Trump campaign or are simply reaching out to anyone who had contact with Russian officials during the presidential race. Whatever the case, her surprising cameo in the Trump Jr. letter gave some on Twitter occasion to rejoice.