Donald Trump Jr. Retweets Doctored Video of CNN Being Run Over by Golf Cart, Says It's Jim Acosta Getting Hit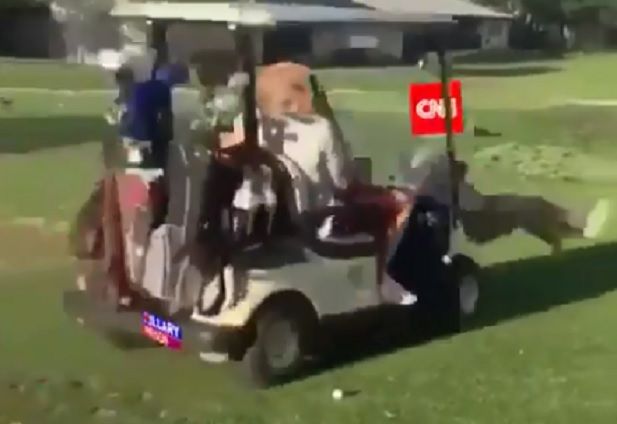 Donald Trump Jr.'s current Twitter war with Jim Acosta took an unusual turn today after he retweeted a doctored video alluding to the CNN host getting run over by a golf cart.
The original tweet, sent by Arthur Schwartz, an associate of former white house director of communications Antony Scaramucci, shows a golfer with the CNN logo superimposed on his head being plowed into by golf cart apparently driven by President Donald Trump.
Read more: President Trump joins wall supporters mocking CNN reporter over border video
Schwartz posted the video, originally created by Twitter user @Carpedonktum, along with the caption: "Spotted: Jim Acosta playing golf earlier today."
The president's eldest son retweeted the clip to his 3.24 million followers as part of the ongoing clash he and Acosta are engaged in over the proposed border wall along the U.S.-Mexico border.
Trump Jr. was one of a number of Republicans, including the president, who mocked the CNN host after he posted a video of him alongside a security fence in Texas, suggesting that it is not needed because the area is "tranquil" and not experiencing the crisis Trump suggested.
"We're not seeing any kind of imminent danger," Acosta said in the clip. "There are no migrants trying to rush toward this fence here in the McAllen, Texas, area.
"No sign of the national emergency that the president has been talking about. As a matter of fact, it's pretty tranquil down here."
Acosta was mocked by the GOP for appearing to prove the point that walls and fences do deter people from attempting to cross over into the U.S.
"I know this might be hard for you to comprehend Jimbo, but the reason why all of Twitter has been mocking you today is because you were at a part of the border WITH A WALL," Trump Jr. wrote on the social media site. "So yes, of course it was working. Replicate that across the border & we'll all be safer."
Trump Jr. also described Acosta's video clip "as one of the best self-own videos ever!!!"
Elsewhere, President Trump scorned the CNN host by quote retweeting his post with "dear diary." White House press secretary Sarah Sanders also thanked Acosta for providing an example which helps bolster support for Trump's plans.
"When I went with President @realDonaldTrump to the border today I never imagined @Acosta would be there doing our job for us and so clearly explaining why WALLS WORK. Thank Jim," Sanders tweeted.
In response to the criticisms from Trump Jr., Acosta tweeted: "It's a little strange Don. You guys seem to be saying the current measures in place are working. Does that mean your dad should reopen the government and get federal employees back to work?"
Acosta ended the tweet with a "bye bye" hashtag in an apparent reference to the words President Trump was reported to have said as he stormed out of a meeting with Democratic leaders Nancy Pelosi and Chuck Schumer earlier this week.