Donald Trump Jr. Joins Alexandria Ocasio-Cortez in Bashing Media: 'Imagine What It's Like When They Actually Hate You'
First son Donald Trump Jr. on Wednesday welcomed Democratic Congresswoman-elect Alexandria Ocasio-Cortez "to our world" when she attacked the media for a report on her she suggested was fake.
"Welcome to our world..." Trump Jr. tweeted at Ocasio-Cortez. "You think that's bad? Imagine what it's like when they actually hate you."
Trump Jr. quote tweeted Ocasio-Cortez's post from Tuesday afternoon, in which she linked and bashed a Politico story with two anonymous sources stating she is working to unseat Democratic Representative Hakeem Jeffries in the 2020 primary and has already recruited a challenger.
"One disappointment about DC is the gossip that masquerades as 'reporting,'" Ocasio-Cortez tweeted. "This story has:
"- Not a SINGLE named or verifiable source
"- Only ONE on-the-record comment, which is a denial."
Ocasio-Cortez concluded: "My dad had a name for junk articles like this: 'Birdcage lining.'"
She continued to bash the media outlet in another tweet.
"For the record, this is the second @politico article about me in a short period of time with *0* named sources to back claims containing false information. Their articles are printed + distributed to **Congressional offices** - w/ no named sources," she tweeted. "It's really unfortunate."
Ocasio-Cortez, a Democrat from New York, has drawn parallels to President Donald Trump for her outspoken nature on social media and frequently criticizing the media.
Trump Jr. may have agreed with Ocasio-Cortez on Wednesday, but the two have recently sparred.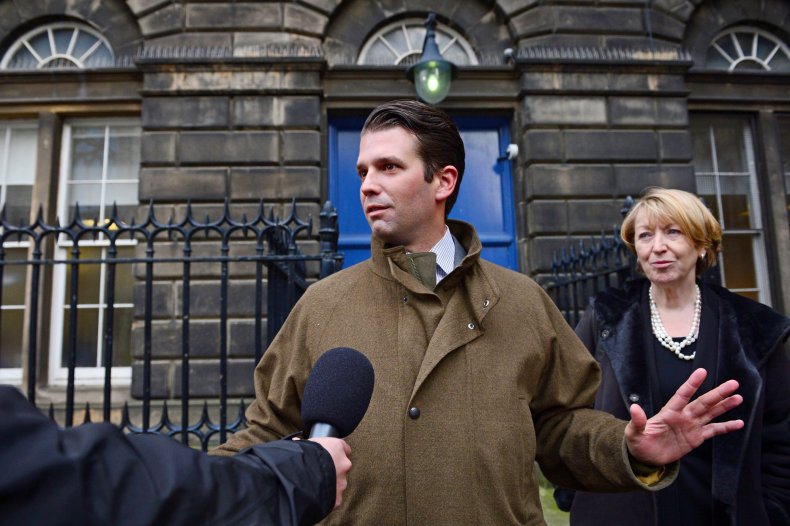 Early this month, the president's eldest son posted a meme with an image of Ocasio-Cortez and the lettering, "Why are you so afraid of a socialist economy?" across the top, and below, an image of Donald Trump and, "Because Americans want to walk their dogs, not eat them."
"It's funny cuz it's true!!!" Trump Jr. wrote as the caption.
Ocasio-Cortez quickly shot back at Trump Jr. by raising the point that she and Democrats have won the majority in the House and to fear special counsel Robert Mueller's Russia investigation going after him.
"I have noticed that Junior here has a habit of posting nonsense about me whenever the Mueller investigation heats up," Ocasio-Cortez tweeted. "Please, keep it coming Jr - it's definitely a 'very, very large brain' idea to troll a member of a body that will have subpoena power in a month. Have fun!"
Ocasio-Cortez made history in the November midterm election by becoming the youngest woman to be elected to Congress at the age of 29. She has slammed the Trump administration as "criminal from the start."