Donald Trump Jr. Mocked for 'Garbage' Concern About Sons and 'Plight of White Men' on CNN
Donald Trump Jr.'s comment that he fears more for his sons than his daughters because of the #MeToo movement was mocked as "such garbage" by a CNN analyst on Tuesday.
CNN's New Day played a clip of President Donald Trump's eldest son, who has three sons and two daughters, on Daily Mail TV last week.
"I've got boys and I've got girls, and when I see what's going on right now, it's scary," Trump Jr. said, referring to Christine Blasey Ford's sexual assault accusation against his father's Supreme Court nominee, Brett Kavanaugh.
Asked if he feared more for his sons or daughters amid the #MeToo movement backing Ford and two other Kavanaugh accusers, Trump Jr. said, "Right now, I would say my sons."
He continued, "When the other side weaponizes against men and says 40 years later we can bring it up and you did something in high school that no one remembers and it should disqualify you from ever doing anything ever again, it diminishes the real claims."
CNN analyst and lawyer Jeffrey Toobin then mocked Trump Jr.
"You know what? Every night I cry myself to sleep over the fate of white men in America. White men have no power, white men—I mean, it's such garbage," Toobin said. "It's so ridiculous.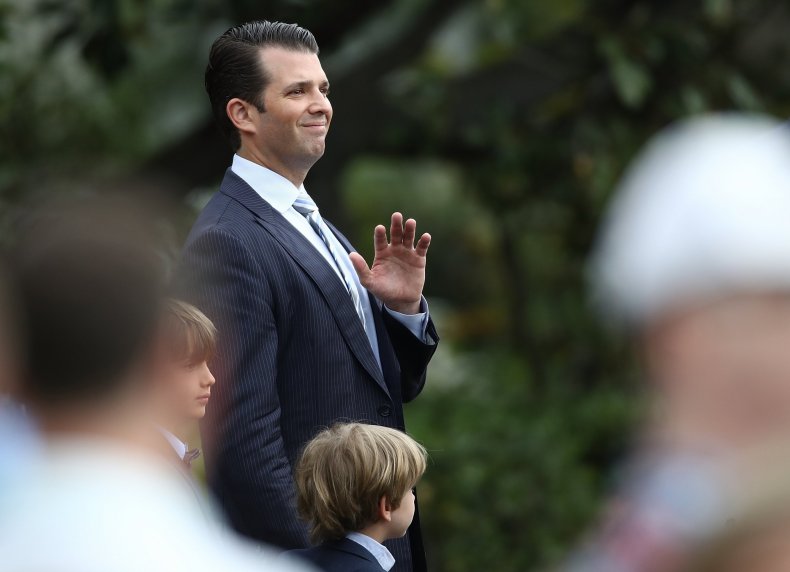 "If you sexually assault someone in high school, your life should be ruined. Your life should be pursued," Toobin continued, referring to Ford's accusation that Kavanaugh pinned her to a bed at a party when they were teens, groped her, tried to remove her clothing and covered her mouth with his hand when she tried to scream.
"How about the lives of the women who were sexually assaulted in high school? How about 15-year-old Ms. Blasey—she wasn't Ms. Blasey Ford in those days," Toobin said. "All this whining about the poor plight of white men is ridiculous."
Last Friday, the Senate Judiciary Committee on Friday voted to move Kavanaugh's nomination forward to the Senate floor but delayed a vote there for a week as the FBI investigates allegations against the nominee.
Trump Jr. has been very vocal on social media in his support for Kavanaugh and criticism of Ford—even more so than the president, who is notoriously outspoken on Twitter.
Trump Jr. went so far as to post a fake, childish love note from Kavanaugh on Instagram ("Hi Cindy will you be my girlfreind, Love Bret."). The caption referenced a letter from Ford detailing her accusations, which Senator Dianne Feinstein received in July but did not disclose immediately because, she said, she wanted to respect Ford's desire at the time to stay anonymous.