Donald Trump Jr. and Kimberly Guilfoyle Are a 'Witch Hunt' For Halloween, and Other Political Figures Also Celebrated
Halloween was a colorful time for Washington's politicians, who indulged in a bit of dress-up just like every other ordinary Joe.
Donald Trump Jr., dressed in hunter's camouflage and with an elaborate bow and arrow, teamed with his girlfriend, Kimberly Guilfoyle, who sported a witch's outfit. They're a witch hunt, naturally.
Elizabeth Warren, meanwhile, shared a video of her dog Bailey dressed up like a penny.
Andrew Yang posted a throwback look from a previous Halloween that was reminiscent of certain punk aesthetic. Though he didn't share any pictures of his costume for this year, he did ask his followers, "Can you guess what we will be this year?"
Governor Steve Bullock and his family were the gang from Toy Story. "Happy Halloween from the BOO-lock family to yours!" he said.
Julian Castro's family, meanwhile, had no central theme: "A beautiful witch, a zombie ballerina, Johnny from Cobra Kai and enough candy to keep Spider-man climbing the walls.
Happy Halloween from our family to yours!" he said.
Sen. Kirsten Gillibrand and her friends said "Good morning, angels," dressing up like Charlie's bunch (the 70's version, not either reboot).
"Skye is ready for trick-or-treaters—especially all the treats. Have a happy and safe Halloween!" said John Hickenlooper of his dog, who was dressed up like Yoda from Star Wars.
"This little piglet went trick-or-treating in Salem!" said Seth Moulton of his young daughter, Elizabeth, who was dressed like a piglet.
Representative Katie Porter, meanwhile, showed up to a Congressional session in a full Batwoman costume.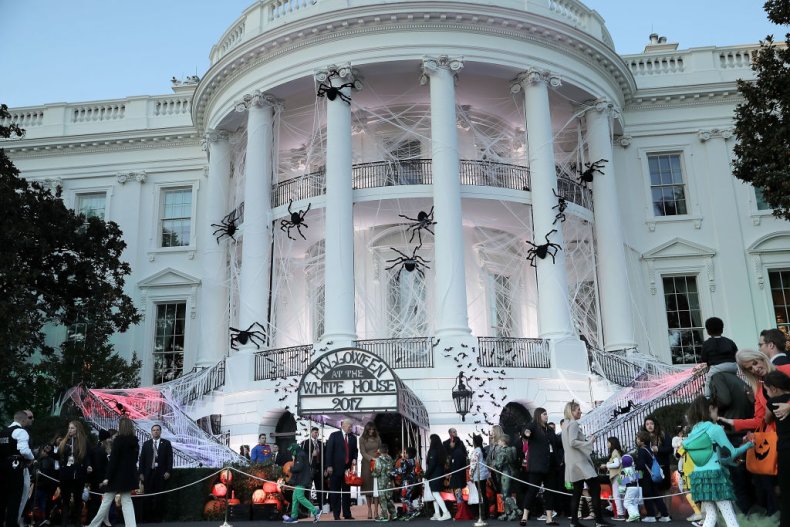 "One of my favorite things about being a Senator is getting to meet constituents, and this morning was no exception! Today I sat down with Kuiper (a.k.a. @SpaceWhippet), a Hillsboro pup who educates his fans about science and space history, and he was paw-ticularly interested in learning about civic engagement and how government works. There's no bones about it, I love to see constituents (four-legged and otherwise) getting doggedly engaged in government. Just a reminder that if you're an Oregonian and you ever come to visit our nation's capital, I hold a constituent coffee every Thursday the Senate is in session, and you are always welcome. Thanks for coming in Kuiper (and Kuiper's human, Beth) – I can't wait to see what you share with your audiences next! #sciencedog #getinvolved" said Jeff Merkley, who posed with Self-named Space Whippet Kuiper.
But one politician avoided the spotlight. Canadian Prime Minister Justin Trudeau, according to CTV News, decided to forego normal press options and simply trick or treat with his kids.
Trudeau is still dealing with the aftermath of a blackface scandal, chose to tell the press he would "be trick or treating with the kids, but not going to Rideau Hall or doing a photo op." But the press captured Trudeau dressed up as Han Solo anyway, roaming his neighborhood with his kids.