Donald Trump Jr., Kimberly Guilfoyle Host Preview to Trump's Dallas Rally
Donald Trump Jr. and his girlfriend Kimberly Guilfoyle will host a preview Tuesday in San Antonio of President Donald Trump's upcoming Dallas rally.
The couple will speak at a "Keep America Great" panel discussion at The Club at Sonterra at 4:30 p.m. CDT.
Trump Jr. and Guilfoyle, a Trump campaign senior adviser, will be joined by Trump campaign manager Brad Parscale.
Parscale touted Trump's economic record in a release, saying that Trump has created nearly 782,000 jobs in Texas, including more than 69,000 in the manufacturing industry, while claiming that 55,000 manufacturing jobs were lost under former President Barack Obama.
"The Texas economy is red hot under President Trump's policies and as a former San Antonio resident I can tell you that all my old friends are feeling the positive effects," Parscale said.
Guilfoyle last week retweeted a release about the event that was shared by Trump campaign national press secretary Kayleigh McEnany.
"Don't miss it," she wrote.
While Trump supporters have embraced the president's son, Trump Jr. and his girlfriend faced backlash while speaking at the University of Florida last Thursday when their speeches were interrupted by protesters.
Trump Jr. touted record-low unemployment among minorities under his father, and warned of the threat of socialism from Venezuela, but stopped to confront protesters.
"What is interesting about ideas is that your ideas can't be all that good if you're not willing to let other people speak theirs," he said.
Protesters also accused Guilfoyle, a former Fox News host, of being a white supremacist and said she "should be ashamed." When Guilfoyle said "I have a dream," protesters chanted "bull****" and "USA! USA! USA!" so that the rest of her sentence could not be heard.
"Oh, your parents must be so proud," Guilfoyle shot back.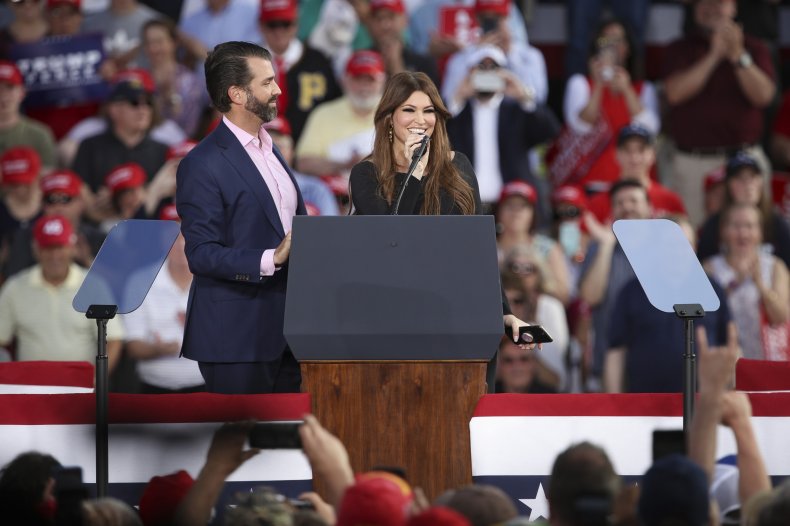 Trump's Dallas rally on Thursday will be the first by his re-election campaign in the city and is expected to highlight how he has helped the economy in Texas.
Texas is a critical state for Trump. In the 2016 election, Trump won Texas by only 9 percent over Hillary Clinton, which was the narrowest margin for a Republican nominee in decades.
Those interested in attending Tuesday's "Keep America Great" panel discussion can register for up to two tickets on donaldjtrump.com.