Donald Trump Jr., Kimberly Guilfoyle Visit Sparks Divide in University of Florida Students
President Donald Trump's son, Donald Trump Jr., and his girlfriend, Kimberly Guilfoyle—a senior advisor on the presidential campaign—are headed to the University of Florida. While some students can't wait to see them speak, others are preparing to protest.
On Tuesday, ACCENT Speakers Bureau, an agency of UF's student government, announced that Trump Jr. and Guilfoyle would be the first speakers of the semester. The appearance came with a $50,000 price tag on it, which, for UF College Democrat President Matt Barocas, was the least surprising element of the announcement.
Barocas told Newsweek that it seemed on par with the average speaker fee, so, while it may have shocked other people, he didn't consider it a high number. However, he was surprised that any money was being spent on someone "this controversial" when there are problems funding student organizations.
"I was skeptical why they'd bring someone who doesn't hold elected office and isn't in an appointed position, but just kind of works on a campaign," he said. "It seems like [that money] would be better spent on student organizations right now."
Speakers have caused turmoil on campuses nationwide, including at UF. In August, the school settled a lawsuit with Young America's Foundation, a conservative youth organization, which accused it of discriminating against conservative student organizations when allocating funds for speakers.
Trump Jr. and Guilfoyle's appearance will be restricted to students only and valid student identification will be required to obtain a ticket. Daniel Weldon, chairman of the Florida Federation of College Republicans and a student at UF, expects a large gathering of students to attend, which he credited, in part, to the excitement around the Trump family.
"Every event that I've ever been to with [Trump Jr.], he's done a really great job of firing students up and actually caring about young people and their future," Weldon told Newsweek. "I think Donald Trump Jr. just gets how young people think."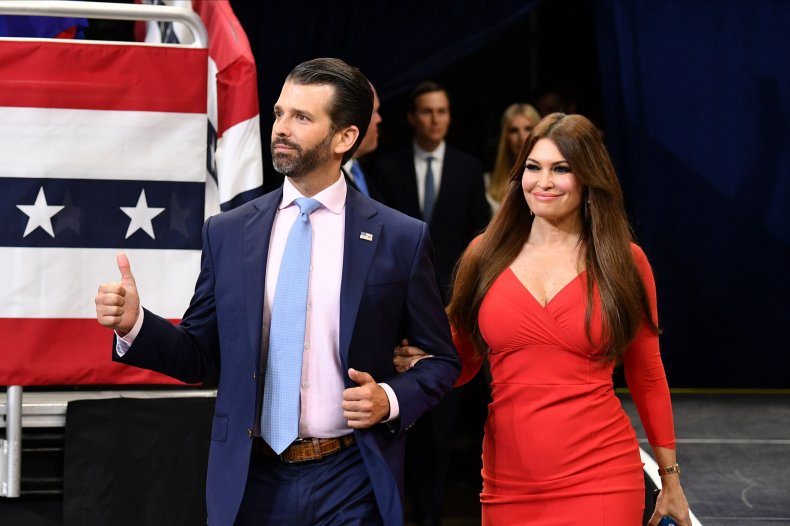 Not everyone on campus is so excited about the upcoming visit, though, and within hours of the announcement, students organized a protest. Just as Weldon thought there'd be a great turnout for the speech, Barocas said he expected support for the protest, as well.
The organizers of the upcoming event also coordinated a recent protest, targeting a separate issue, and Barocas said a lot of people showed up for that one. If they use the same skills to mobilize students this time around, he speculated there would be as many people at the Trump Jr. protest.
Student anger, he said, was directed predominantly at the student government and the lack of transparency in how they select their speakers, not the administration. As far as he knows, there was no plan to circulate a petition or reach out to university officials.
For the students who do attend the speech, Barocas wasn't worried about Trump Jr. swaying them to vote for his father in 2020. He told Newsweek that, in his mind, most of the students who chose to attend would have already made up their minds.
Weldon, however, considered it an opportunity for Trump Jr. to speak to issues students care about outside of the cost of higher education.
"We're all adults at the end of the day and we vote for the same reasons that a lot of other people do," Weldon said. "Knowing how great the economy is doing and knowing that we are going to have job opportunities when we leave college is something that, I think, people on the fence will look at and will consider heavily when it comes to voting for president in 2020."
The Trump administration and his supporters frequently point to low unemployment rates as the president's success with regard to the economy. However, critics argue that economic growth is slowing and Trump's tax cut, which was intended to boost job growth, hasn't had the impact he championed it would have. A recent analysis by Forbes, which compared Trump's first 31 months in office with former President Barack Obama's last 31 months in office, found Trump created 48,000 fewer jobs per month.
There was one talking point of Trump Jr.'s that Barocas claimed would be hard to address at the campus event. The president's son, as well as the president, has spoken out about colleges no longer being places for free thought and debate but instead being places where speech is restricted.
"I don't see how after getting paid $50,000, he or conservatives could claim that at least our school stifles their speech," Barocas said.
Although conservative students on UF's campus haven't always felt they were treated fairly, Weldon credited ACCENT for bringing Trump Jr. and Guilfoyle to campus despite likely knowing there would be pushback.
"I think it definitely turned heads," Weldon said. "I do have to applaud them for this because I think it's a great show of our diversity of thought on campus."