No Nazis at UF, a self-described radical organizing group, is demanding that the University of Florida cancel Thursday's speech by Donald Trump Jr. and his girlfriend, Kimberly Guilfoyle, and is calling for the school's president to resign.
"No Nazis at UF sees [University President Kent] Fuchs' inaction as deplorably condemnable when students continue to emphatically voice safety concerns about these right-wing agitators on campus," said Ashley Nguyen, a senior at the school and member of No Nazis at UF.
The group also listed several other demands related to Trump's appearance, including that his $50,000-speaker's fee is donated to underfunded cultural organizations on campus, that Student Body President Michael Murphy step down from his position, and that ACCENT, the student government speakers bureau that coordinated the event, be defunded.
Despite the criticism, ACCENT and the university said it would welcome Trump Jr. and Guilfoyle, a senior advisor on President Donald Trump's reelection campaign, as they have with all other speakers in the past.
Henry Fair, chairman of the ACCENT speakers bureau, told Newsweek that both Trump Jr. and Guilfoyle provide "varying viewpoints" and give students an opportunity to engage in "thought-provoking dialogue and discourse."
Fuchs and Murphy did not respond for comment in time for publication.
Nguyen criticized Fuchs for not barring some speakers, including white nationalist leader Richard Spencer. In 2017, the National Policy Institute, a white supremacist think tank, rented space on the University of Florida campus for Spencer's speech. Students at the time urged the administration to refuse to allow Spencer to use the space, but officials at the state university claimed their hands were tied because of free speech laws.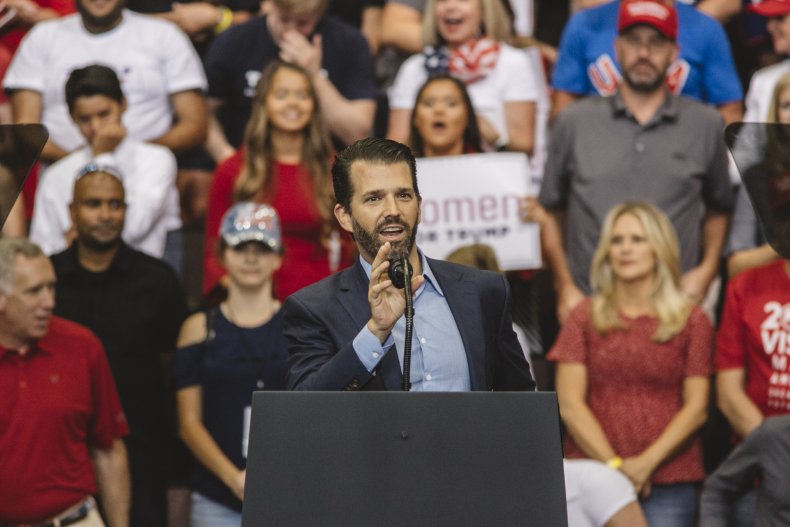 Nguyen provided several reasons for defunding ACCENT. First, she said, bringing Trump Jr. to campus showed that the school condoned the "proliferation of right-wing speech that [incentivizes] and empowers hatred." She also criticized ACCENT for not serving the student body well and for using student funds for what essentially would be a campaign stop.
"Despite what UF administration says about this not being a campaign stop for Trump's 2020 campaign, the ideas that Donald Trump Jr. will talk about will benefit Trump by bringing in more voters in 2020," Nguyen said. "Bottom Line: Student funds should not be used for compelled political speech."
Nguyen claimed it was time to disband and defund ACCENT because there wasn't a "democratic foundation" in place. By dismantling ACCENT, Nguyen said a new organization that permitted democratic student input could be built with the same goal in mind.
No Nazis at UF wasn't the only group to raise concerns about how ACCENT chooses its speakers. Matt Barocas, president of the UF College Democrats, told Newsweek that after ACCENT announced Trump Jr. was coming to campus, students began discussing how they could be more involved in selecting speakers.
Fair told Newsweek that ACCENT coordinated with members of the student government and used the same process it has used in the past. He declined to elaborate on what that process entailed.
"Part of our mission is to engage the UF campus community in discussions on important issues by bringing prominent, influential, and, oftentimes, controversial speakers to campus," Fair countered. "This mission is something that we have followed for the entirety of ACCENT's 52-year history on campus, and continue to follow today."
The event is open to students only. ACCENT said the event was sold out.
No Nazis for UF is planning to protest Thursday outside the auditorium where Trump Jr. and Guilfoyle are scheduled to appear.