Donald Trump Jr. Is Boosting Kris Kobach, an Immigration Hardliner Who Condemned U.S. 'Hispanization'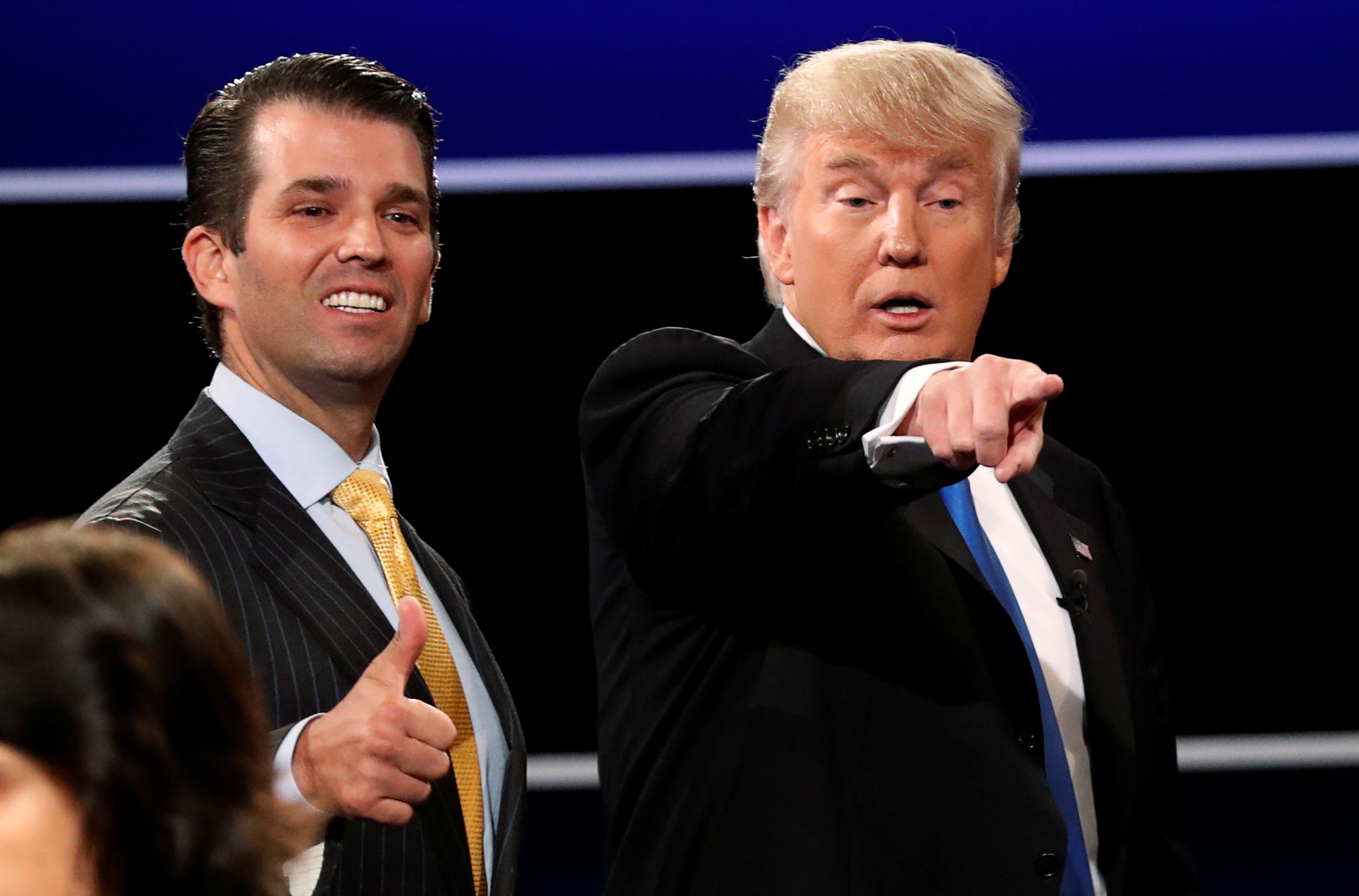 Donald Trump Jr. is headed to the heartland to raise funds for a co-author of one of the nation's strictest anti-immigration efforts.
Trump will be on the stump for Kansas Secretary of State Kris Kobach, a Republican running for governor next year. The two will appear together Tuesday in the Kansas City suburb of Overland Park.
Tickets for the dinner, which features a VIP reception, run from $200 to $2,000.
Kobach has most recently been in the news for his stewardship of the President Donald Trump's controversial voter fraud panel, which is rooted in the president's unproven allegation that millions of improper ballots were cast last year. The panel has been dogged by lawsuits from civil rights and privacy groups, and plagued by infighting among its members.
The campaign website for Kobach, a Bush administration veteran with degrees from Harvard, Oxford and Yale, also touts "his role as co-author of Arizona's SB 1070 illegal immigration law, the model for legislation addressing this important issue."
Officially known as the "Support Our Law Enforcement and Safe Neighborhoods Act," SB 1070 was once labeled "the nation's most fearsome immigration law" by the Los Angeles Times. It required local law enforcement officers to help the feds by running immigration-status checks on anyone under "reasonable suspicion" of being in the country illegally. Under the law, failure to carry proof of legal status became a misdemeanor.
Then-President Barack Obama called the 2010 Arizona law "misguided," putting him in the ranks of critics who said SB 1070 encouraged racial profiling and discrimination. Proponents of the law said it merely codified a duty to enforce existing immigration law.
Arizona, where Maricopa County Sheriff Joe Arpaio was convicted of disobeying a court order to stop detaining drivers based on ethnicity before being pardoned by Trump, stopped requiring cops to demand immigration papers in 2016 after a protracted court challenge and national outcry.
A spokeswoman for Kobach has not responded to Newsweek requests for comment about his campaign, which has been condemned by former Kansas Governor Kathleen Sebelius and other Democrats. The Trump Organization, which the president's elder sons are overseeing while their father is in the Oval Office, didn't immediately respond either.
Kobach's website plays up his ties to the White House, noting: "In 2016 Kris served as an advisor to the campaign of now President Trump. He continues to work with the President on matters of election fraud, immigration, and national security." Trump, it says, "knows there is no greater leader on these issues, which is why he named Kris to serve as the Vice Chair of the Presidential Commission on Election Integrity."
A White House spokeswoman didn't immediately confirm or deny that the president supports Kobach, who hopes to succeed Governor Sam Brownback, Trump's nominee for ambassador-at-large for religious freedom. Another notable Kobach supporter is Corey Lewandowski, who for a time served as Trump's campaign manager in 2016.
In addition to carrying out his duties as secretary of state, Kobach has written about a dozen columns this year for the conservative website Breitbart, which is run by Trump's former top counselor, Steve Bannon. Headlines on his pieces include: "Correcting the Record on Illegal Aliens and Crime," "It's Time to Stop Sanctuary Cities and Counties" and "Why Taking a Knee During the National Anthem Is Not Only Unpatriotic, It's Ignorant."
The father of five has also written extensively on voter fraud; his website says he's "led the charge to require Voter ID at polling places [and] require proof of citizenship for all newly registered voters."
Kobach denounced the "Hispanization" of the U.S. in his 2004 book, Who Are We? The Challenges to America's National Identity, and has over the years been linked organizations such as the Federation for American Immigration Reform, which the Southern Poverty Law Center classified as a hate group in 2007 for its "ties to white supremacist groups and eugenicists."
In 2015, "Kobach was a featured speaker at a 'writer's workshop' organized by The Social Contract Press, a white nationalist publisher known for resurrecting the obscure racist novel Camp of the Saints," the SPLC said in a June statement pegged to the Kansan's campaign kickoff.
While a student at Harvard, Kobach wrote: "American corporations shouldn't pull out of then racially segregated South Africa because it would hurt the country's black residents," the Wichita Eagle reported last month.
Questioned about his views on apartheid, Kobach, who served as an adviser to Mitt Romney's 2012 campaign for president, "called the allegation ridiculous and has repeatedly said he is not racist," the Eagle reported.