Donald Trump Jr and Kimberly Guilfoyle Booed at Book Launch, Walk Out as Crowd Chants 'America First'
Donald Trump Jr. stormed out of an event promoting his new book yesterday after he was heckled by a protester and supporters angered by his refusal to take questions.
The president's eldest son walked out on Trump backers at the University of California campus in Westwood, Los Angeles yesterday after they shouted "USA!" and "Q&A!" at the author for not letting the audience participate, The Guardian reported.
Anti-Trump protesters also interrupted Trump Jr.'s book launch organized by Turning Point USA, with one inside the event chanting "Immigrants are welcome here" while protesters outside chanted "Trump, Pence Out Now!"
In a clip broadcast by Fox 2 KTVU, the protester who worked her way inside the launch of "Triggered: How the Left Thrives on Hate and Wants to Silence Us" can be heard shouting "immigrants are welcome here" to booing from Trump Jr.'s audience.
"My mom is an immigrant," the president's son responded. "But she did it legally."
Another video from ABC 7 Eyewitness shows Trump Jr.'s girlfriend Kimberly Guilfoyle, who is also an adviser to President Trump, hitting back at other hecklers in the crowd for drowning out her partner.
She said: "You're not making your parents proud by being rude and disruptive and discourteous. We're happy to answer a question.
"Respect the people around you so they can hear. You don't play by the same rules."
The Guardian reported that the packed book launch was barely 20 minutes into a scheduled 2-hour slot before Trump Jr. found himself being shouted down by an audience who were told "time constraints" meant they were not permitted to ask questions.
After failing to convince angered attendees to settle down and listen, Trump Jr. and Guilfoyle decided to leave the book launch.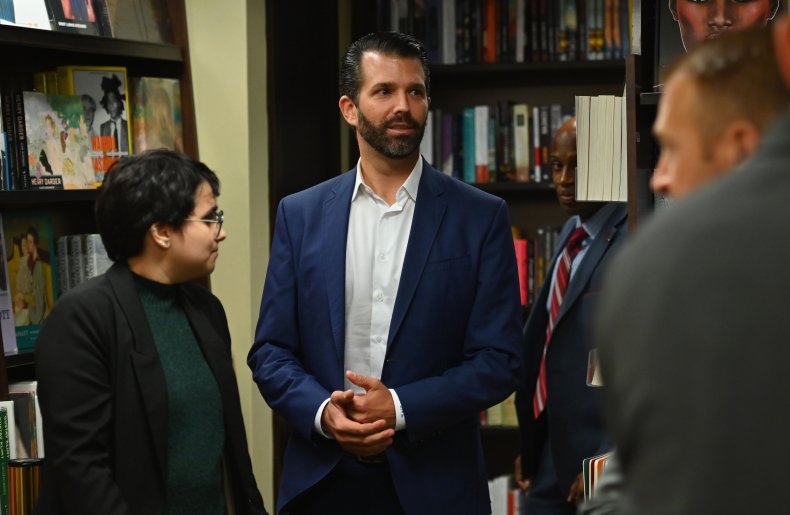 A video shared on Twitter by a fan of Nick Fuentes, the alt-right commentator who attacks the campus conservative group Turning Point USA from the right, shows the couple being booed as they leave the building by a large group chanting "American First."
Fuentes later tweeted that the abrupt end to the event was a "HUGE victory" for the conservative protesters.
Following the frosty reception he received at the Los Angeles campus, Trump Jr. attended a far tamer lecture and book signing at the Reagan Library in California.
He has further promotional events scheduled today in Scottsdale, Arizona and the Trump International Hotel in Las Vegas as America honors military personnel on Veterans Day.
The small number of anti-Trump protesters who appeared outside the "Triggered" launch event at UCLA yesterday were organised by activist group Refuse Fascism.