Donald Trump Jr. Likes Tweet Suggesting Children Separated From Parents at Border Are Crisis Actors
President Donald Trump's eldest son, Donald Trump Jr., liked a tweet suggesting that children who had been separated from their parents at the U.S. southern border had been "coached" by liberals, comparing them to crisis actors.
Trump Jr. liked the tweet from right-wing website Breitbart, which quoted conservative pundit Ann Coulter's warning not to fall for "actor children," amid criticism of the Trump administration's policy of separating parents from their children at the border.
The policy, announced by Attorney General Jeff Sessions last month, has led to the separation of families at the border when they attempt to enter the U.S. illegally. The parents are taken into custody at a federal jail, while their children are put in custody of the U.S. Health and Human Services Department.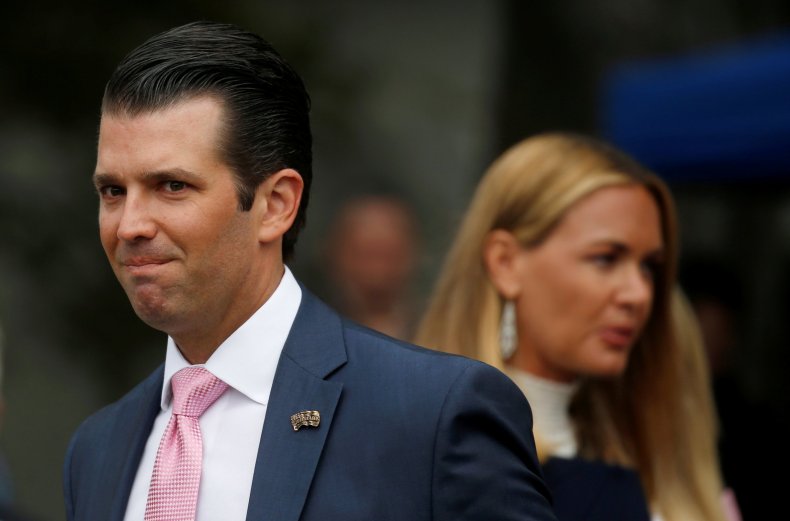 The Breitbart article cited an interview with Coulter on Fox News Channel's The Next Revolution in which she said, "These child actors weeping and crying on all the other networks 24/7 right now: Do not fall for it, Mr. President. I get very nervous about the president getting his news from TV."
"A New Yorker article…not a conservative publication, they describe how these kids, these kids are being coached. They're given scripts to read by liberals, according to the New Yorker," the quote from Coulter, liked by Trump Jr., read.
Donald Jr.'s like of the tweet did not go unnoticed. Former Barack Obama speechwriter Jon Favreau commented, "The President's son likes a tweet about how crying children who've been separated from their parents are actually crisis actors."
Donald Jr. is not the first member of the first family to be criticized for insensitivity over the border separation issue: Trump's daughter Ivanka was recently slammed for sharing a picture of herself and her son on social media.