As the rest of the world absorbed the death of Senator John McCain, and a series of scandals surrounding his father, Donald Trump Jr. spent Sunday leading the charge against men's lingerie.
The president's oldest son took to Twitter in order to share his disdain for an article in the British tabloid The Daily Mirror that highlights an alleged trend of men wearing "lacy lingerie" for their wives. Trump Jr. has long styled himself a "S'mores by the campire" brand of outdoorsman who wears baseball caps and flannel shirts. And for The Trump Organization executive, this trend went too far and his followers immediately began ridiculing the Australian clothing brand as part of a larger "feminization" of "confused" American men.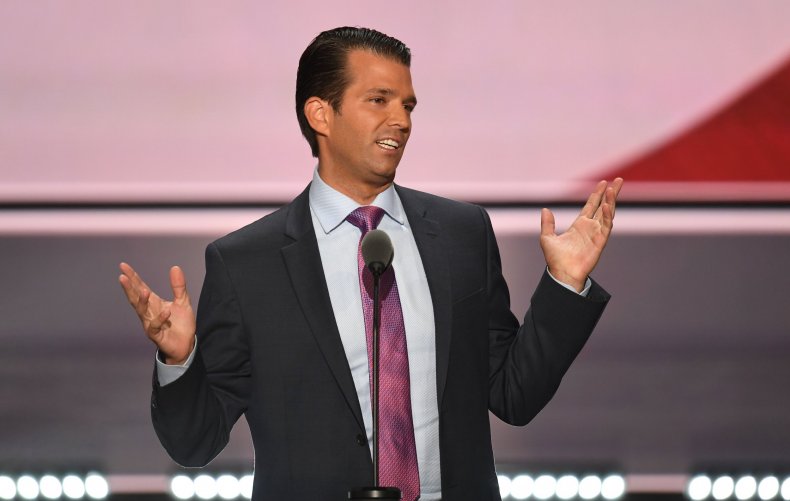 "Maybe on Halloween or if you lose a bet really badly... ah who am I kidding not even then. Who is pushing this garbage?" Trump Jr., 40, tweeted to his nearly 3 million followers Sunday afternoon.
The Daily Mirror article references the Queensland, Australia-based lingerie brand, HommeMystere, which offers panties, g-strings, bras and various other lacy undergarments for men. Dozens of Trump Jr.'s followers tied the company's male underwear to President Donald Trump's 2016 election win, with one user commenting, "Of course it is! Nothing like a bit of deliberate identity-eroding agenda pushing in the MSM these days...every day. S*** like this is why [Trump] won."
But other responses questioned why Trump Jr., who is currently partnered with former Fox News personality Kimberly Guilfoyle, is so concerned about lacy men's underwear when rumors he might be drawn further into the investigation into his father by Robert Mueller continue to grow louder.
Speaking with The Political Insider, Roger Stone said, "I [predict], based on excellent sourcing, that the special counsel is going to charge Donald Trump Jr. with lying to the FBI."